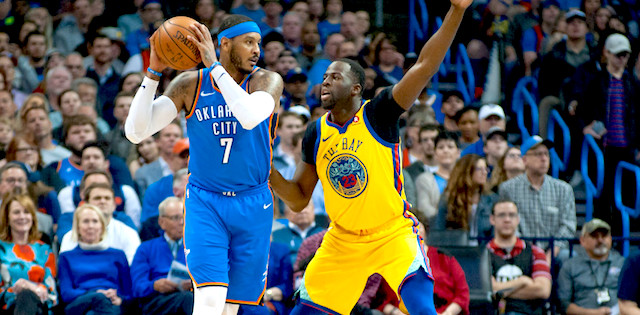 What Appears In This Article?
hide
Welcome to Rotation Watch! Each week this article will break down who is gaining and who is losing minutes around the NBA. You want the players on your team that are getting their opportunity to shine, not the ones who are sitting on the bench and watching from the sidelines.
This week, this space will be used to apologize to Carmelo Anthony. Last week, someone may have written that they wouldn't be shocked if he was out of the league in two weeks. Carmelo shut that guy up by winning Western Conference Player of the Week. Will it last? Not likely. But it is fun and useful for fantasy? You bet.
So without further ado, let's start searching those box scores from November 25th to December 1st and look for those hidden gems that are grabbing some minutes to help your fantasy basketball team.
Editor's Note: Our incredible team of writers received five total writing awards and 13 award nominations by the Fantasy Sports Writers Association, tops in the industry! Congrats to all the award winners and nominees including NBA Writer of the Year, Best NFL Series, MLB Series, PGA Writer and Player Notes writer of the year. Be sure to follow their analysis, rankings and advice all year long, and win big with RotoBaller!
Read More!
NBA Playing Time Changes
Bryn Forbes (PG, SG – San Antonio Spurs)
Season: 26.9 Minutes per Game
Week 6: 23.0 Minutes per Game
Bryn Forbes struggled in Week 6 as he didn't score over 13 points in any of his four games. He has a solid role in the San Antonio system, but has not taken the next step after his breakout season last year. Week 6 saw a dip in Forbes' playing time, but hopefully, it is just a dip and not a trend of things to come.
He still seems to be the most productive guard for the Spurs and should continue to be a consistent source of threes in. He continues to split time with Dejounte Murray, Derrick White, and Patty Mills and that will prevent him from breaking the must-own barrier in 10 and even 12-team leagues.
Khris Middleton (SG, SF – Milwaukee Bucks)
Season: 27.5 Minutes per Game
Week 6: 19.3 Minutes per Game
Khris Middleton returned from a leg injury in Week 6 and saw his minutes limited in a smart move by the Milwaukee Bucks. They have late-season aspirations for the 2019-20 season and want to keep their second most important weapon healthy well into the year. The Bucks could opt to keep Middleton on a longer comeback program, but fantasy owners will just need to ride that out if it comes to it.
Middleton hit double digits in each of his three games during Week 6, but topped out at 16. That number will go up as Middleton sees his minutes slowly increase. On the season he is averaging 17.4 points, 5.4 rebounds, and 3.1 rebounds while draining 1.9 three-pointers per game.
Carmelo Anthony (SF, PF – Portland Trail Blazers)
Season: 30.8 Minutes per Game
Week 6: 33.0 Minutes per Game
Carmelo Anthony is a repeat offender in this article because he deserves an apology. Last week fantasy managers were told to not chase the rabbit and ignore Carmelo. Well, that is no longer the case. Hop on board and enjoy the Anthony train while you can. Sorry!
In Week 6, the reigning Western Conference Player of the Week averaged 21.0 points, 7.5 rebounds, 3.0 assists, 0.5 steals, and 0.5 three-pointers and shut up some overconfident fantasy basketball writers. He's playing alongside two of the most talented guards in the league with Damian Lillard and CJ McCollum, and that should help him settle into a spot up and shoot role. Games against the Kings, Lakers, and Thunder makes Melo an attractive option for the 45% of leagues that he is not rostered in. Go get you some Carmelo Anthony and hope this throwback to 2013 lasts.
Kevin Love (PF – Cleveland Cavaliers)
Season: 31.6 Minutes per Game
Week 6: 27.5 Minutes per Game
Kevin Love is trade bait for the Cleveland Cavaliers and they will be extra careful with their prized asset. If he gets seriously injured, his value will tank and then the Cavs can't cash in. He missed a couple of games last week and now the Cavs are, predictably, working Love back in slowly and surely.
In the three games since his return he has seen 24, 31, and 22 minutes, and only averaged 11 points, 6.0 rebounds, and 3.3 rebounds. Those are well below his season averages of 17.3 points and 11.1 rebounds. Fantasy managers should be prepared for this scenario where the Cavs do a balancing act between showcasing Love's talents and protecting him from injury.
Richaun Holmes (C – Sacramento Kings)
Season: 27.6 Minutes per Game
Week 6: 30.0 Minutes per Game
Marvin Bagley is still out. De'Aaron Fox is still out. Sacramento has to give the minutes to some of its players and one of the benefactors is Richaun Holmes. The Kings center has been averaging 27.6 minutes per game so far this season, but Week 6 saw him increase his workload to 30.0 minutes per game.
This resulted in 12.0 points, 9.0 rebounds, 1.0 assists, and 1.0 steals for Holmes. That quite the productive stat line if fantasy owners are looking for a weekly fill in. It may not last long term as Bagley and Fox are on the mend, but Holmes is still available in 50% of ESPN leagues and should see his ownership percentage trend upwards if this run of form continues.
More Fantasy Basketball Analysis