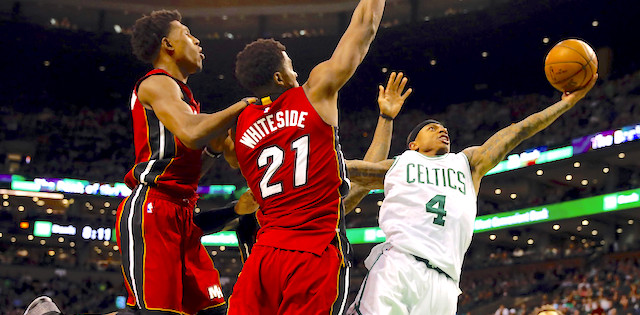 Welcome to the fantasy basketball risers and fallers column, a weekly look at a few players whose stock is rising and a few who've been struggling with some analysis of why that's been the case. As always, this doesn't mean you need to drop these players who are struggling, but this could be a useful piece for making some trade decisions or for making some tough lineup choices.
This week was weird, since there was the whole Thanksgiving thing that meant we had a full day without NBA basketball. Did you watch some football or college basketball that day? Was it not at all the same? Did you sit around and brood about the state of your fantasy basketball team?
If you have any fantasy basketball questions, follow me on Twitter, where I'm always willing to respond to your tweeted questions: @juscarts
Editor's Note: Our friends at Monkey Knife Fight have the best, most fun, fastest growing DFS props game! It's super simple to play and to win real money. Just choose your NBA, NHL or PGA game, and make your picks! Get a 100% instant deposit bonus up to $50 using promo code: BALLER. That's $50 for free - don't miss out!
Play Now!
Fantasy Basketball Risers
Jarrett Allen - C - Brooklyn Nets
After a bit of a slow start and a weird "will he start or will DeAndre Jordan start" dance that stretched into the regular season, Allen has finally put his foot down and said "I'm Brooklyn's best center."
Allen has four straight double-doubles, including a 17/11 and a 17/14 in consecutive games against the Celtics. He also had 22 points and 21 boards against the Cavaliers.
One of the complaints about Allen has been that he doesn't play strong enough inside, which limits his ability to get those rebounds, but he's been proving those doubters wrong while upping his offensive usage.
Bojan Bogdanovic - F - Utah Jazz
I loved watching Bogdanovic last year with the Pacers when I got the chance to watch a Pacers game, but I was a little afraid of his move to Utah working.
Well.
Over the past four games, Bogdanovic is averaging 28.8 points, 5.3 rebounds, and 3.0 assists on 60 percent shooting and 53.3 percent shooting from three. Those percentages will drop, but Bogdanovic has a career-high 26.3 usage rate this season and his three-point attempt rate is back up into the mid 40 percents as it was for every year of his career except last season. He should remain a strong contributor in points and threes.
Hassan Whiteside - C - Portland Trail Blazers
Lots of people thought Whiteside to Portland was one of those "yeah, he's a name, but he's not going to help them" trades.
And while there might be some truth to that as Portland is 8-12, Whiteside does look like he's trying to be a positive for the Trail Blazers, and at the very least he's helping out fantasy owners.
After missing two games, Whiteside's most recent three-game stretch features him scoring 14 points and grabbing 14.3 rebounds per game while blocking 4.0 shots per game. Yes, that number is boosted by a 10 block game against the Bulls, but Whiteside is still taking advantage of his chances and putting up strong numbers in a variety of fantasy categories.
Spencer Dinwiddie - G - Brooklyn Nets
With Kyrie Irving sidelined, Dinwiddie has emerged as a strong fantasy option.
He's started eight games in a row, averaging 24.5 points and 7.8 assists per game over that stretch while making 2.3 threes per game. He's not been great from a shooting efficiency standpoint, though his 93.3 percent mark from the free throw line has been nice.
Irving is bound to come back at some point, so Dinwiddie might be a good sell high candidate right now.
Fantasy Basketball Fallers
Cam Reddish - G/F - Atlanta Hawks
In unsurprising news for anyone who watched Duke last year, Cam Reddish is struggling over the past few games.
A wrist injury is hampering him, but he's still averaging just 5.0 points, 2.3 rebounds, and 1.7 assists on 22.7 percent shooting. His three-point woes continue, as he's still shooting just 21.3 percent from three on the season despite taking 3.6 threes per game.
Maybe the Hawks should consider changing up his role some?
Rudy Gay - F - San Antonio Spurs
Gay's been struggling. In the last four games, he's scored 10 points just once, a 10-point and 11-rebound outing against the Timberwolves.
Other than that, just rough game after rough game. Five points and one rebound against the Lakers. Six points and six rebounds against the Clippers. After a solid start to the year, Gay's numbers are dropping. His season total is still high enough for you to maybe find a buyer on the trade market, but you might just need to hold him and hope he gets things going.
More Fantasy Basketball Analysis