What Appears In This Article?
hide
The 2018 Summer League has come and gone. With every game being available to stream this year, exposure to Summer League was at all-time high. You couldn't get on Twitter without seeing a ton of highlights and analysis. That's great -- more people talking about basketball is a great thing, even if that basketball isn't really the best product. (It was also great to have all the highlights because I didn't watch the Summer League games that conflicted with watching competitive WNBA games, so being able to check out what I missed was extremely helpful.)
So, which players saw their fantasy value rise in Las Vegas (and in Sacramento and Salt Lake City)? Who drops down the rankings? Below are some risers and fallers after the 2018 Summer League.
(A quick stat explainer: There aren't a ton of advanced stats used in Summer League, but one that we have access to thanks to NBA analytics genius Jacob Goldstein and that will be used in this article is Box Plus/Minus (BPM), which is a box score-based statistic that works to put a player's offensive and defensive impact into a single number.)
Editor's Note: Our incredible team of writers received five total writing awards and 13 award nominations by the Fantasy Sports Writers Association, tops in the industry! Congrats to all the award winners and nominees including NBA Writer of the Year, Best NFL Series, MLB Series, PGA Writer and Player Notes writer of the year. Be sure to follow their analysis, rankings and advice all year long, and win big with RotoBaller!
Read More!
Post-Summer League Risers
Jaren Jackson Jr. (PF/C, Memphis Grizzlies)
Oh. My. JJJ was the talk of NBA Twitter during Summer League as each game he seemed to focus on doing very, very well at a particular aspect of his game. Whether it be his seven blocks against the Jazz in Vegas or his eight three pointers against the Hawks during the Utah Summer League, Jackson Jr. seemed to be everywhere at once. He finishes Summer League as the leading blocker (2.3 per game) of the Utah portion and the number two blocker (3.8 per game) in Vegas. His 3.11 defensive-BPM is one of the best of Summer League and the 19 year old should make an immediate impact at the four for the Grizzlies.
Wendell Carter Jr. (C, Chicago Bulls)
I loved watching Wendell Carter Jr. during Summer League. 14.6 points per game on 55 percent shooting, 9.4 rebounds per game, and 2.6 blocks per game. In addition to the counting stats (which are good, but also it's Summer League, so...), his ability to spread the floor offensively and play inside and outside defensively are big pluses for the team. Imagine having a guy who can do this on offense:
and also get offensive boards and put backs on offense:
and can also block a ton of shots like this: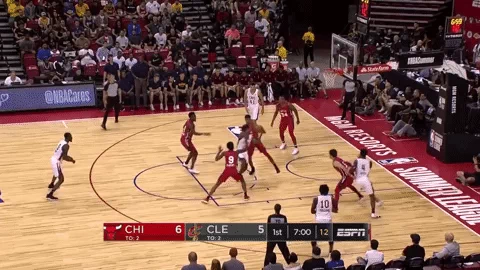 Carter also had the highest BPM of any rookie in Summer League and the third highest overall. His 7.99 mark featured offensive and defensive-BPM's above 3.5. Carter passes the eye test and the analytics test.
De'Anthony Melton (G, Houston Rockets)
It wasn't the best offseason for the Rockets, who lost Trevor Ariza and Luc Mbah a Moute and added James Ennis in free agency. Ennis is good and they'll probably end up with whatever's left of Carmelo Anthony, but Houston's best addition this summer might be Melton. The former USC Trojan had a year off from basketball after being caught up in a corruption scandal. That was partially to blame for his fall on draft night, as the player who many had pegged as a first round pick fell to Houston at pick number 46.
Melton's abilities on the defensive end don't need much introduction, as most of the pre-draft talk centered around that aspect of his game. He'll be able to play in Houston's switch heavy scheme and defend both guard spots and on the wing. Great, but this is a fantasy basketball website and being able to switch defensively doesn't really win you fantasy championships. Where Melton was impressive to me during Summer League was in his ability to score. Over five games, Melton averaged 16.4 points per game. The field goal percentage (38 percent) wasn't great, but he showed some development from three point range that will be huge in determining how much he sees the floor this year. Melton was a 28 percent shooter from three in college. That improved to a not-great 31.5 percent in Summer League, but Space City Scoop's Michael Knight pointed out that if Melton's 0-for-6 first game is removed, that number improves to 37.5 percent. There's obviously some small sample sizing there, but Melton's improvement as the Summer League progressed is a good sign for his usefulness as a rookie and an even better sign for his long term value in dynasty leagues.
Harry Giles (PF/C, Sacramento Kings)
Giles missed his entire rookie season and a lot of people seem to have forgotten that the former Duke Blue Devil existed. While the advanced stats weren't kind to him on the offensive end, watching him play and looking back over the Kings depth chart left me feeling good about his chances of making plays this year. He made plays at the basket, displayed some good passing ability, and even showed that he can step out and hit mid-range shots. He can rebound, can force turnovers, and should be able to block at least a shot per game this season if he gets enough playing time. I'm thinking about last year, when Willie Cauley-Stein was being drafted around the 100th spot in fantasy drafts. That didn't work out as well as it could have for fantasy players, but Giles should be available even later than Cauley-Stein was come draft time. He presents a ton of upside without too much risk.
Mitchell Robinson (C, New York Knicks) and Kevin Knox (F, New York Knicks)
Going two-for-one here with Knicks rookies. Robinson and Knox are both raw players, but their Summer League showings suggest a bright future in New York. Robinson led the league with four blocks per game and was eighth in Vegas in rebounds per game with 10.2. Factor in his 13 points per game and 67 percent shooting and you have a player who showed a ton of promise. Can he do the same thing against actual NBA bigs? Expect the Knicks to bring him along slowly, but Summer League has me pumped about his upside. Not sure what to think of him in re-draft leagues, but loving him in dynasty.
Meanwhile, Knox shot well from deep and averaged 21.3 points per game. There were some WOW moments from the first round pick, he rebounds well, and he should have more of an impact this season than Robinson. With the Knicks starting unit looking, uhh, not...great with Kristaps Porzingis (knee) out until February, Knox could play a big role sooner rather than later. He could be a steal in re-draft leagues and is rising up the rookie rankings in dynasty.
John Collins (PF/C, Atlanta Hawks)
Reading too much into a good Summer League performance by a non-rookie can be really easy to do and is often short-sighted, ignoring the important fact that a second-year player who has already spent time in the NBA should be very good against the kinds of players guarding them in Vegas. But John Collins needs a shout here. Oh my, does John Collins need a shout here.
Collins played in just two Vegas Summer League games, but he led the whole thing in scoring at 24.0 points per game, and he added in 8.5 rebounds per game as well. Collins was making threes as well, an important step in his game that would allow Atlanta's offense to operate more effectively next season. The advanced data, which includes his two games during the Utah portion of Summer League where he wasn't taking over the scoring load as much, isn't great (he actually sports a negative BPM), but I'm willing to go with the eye test a little here because John Collins, who played 38 percent of his minutes at the five last season, might be able to do this more this season after taking just 47 threes during his rookie season:

Yes, yes. I think John Collins is going to be a very valuable fantasy contributor this season.
Post-Summer League Fallers
It's Summer League, so I'm not going to put any rookies in these spots, but there are some non-rookies whose performances have me worried about their NBA future. (Also, keeping these pretty short because it's a little too early to be overly negative.)
Dragan Bender (PF/C, Phoenix Suns)
A defensive-BPM of 1.49 is pretty good! The fact that his total BPM was a -2.06 because of a -3.55 offensive-BPM is telling of just how bad Bender's offense was in Vegas. 6.6 points per game on 13-for-35 shooting over five games. What's Bender's role going to be this season for Phoenix? He has the feel of a guy that you maybe grab off the waiver wire if the rest of the Suns front court goes down with injuries.
Josh Jackson (F, Phoenix Suns)
I'm not, like, intentionally trying to dunk on the Suns, but Jackson shot 24 percent from the field and his BPM of -4.02 was among the worst of players who've spent time in the NBA.
TJ Leaf (PF, Indiana Pacers)
The idea of TJ Leaf is appealing -- a player who can stretch the floor at the power forward position with strong three point shooting. The reality of TJ Leaf so far, though, has been that he's a guy who can shoot the ball very well but isn't able to do much else in the NBA. His advanced defensive stats as a rookie looked bad and his advanced defensive stats in Summer League didn't look any better. That great shooting doesn't matter if he's unable to stay on the court.