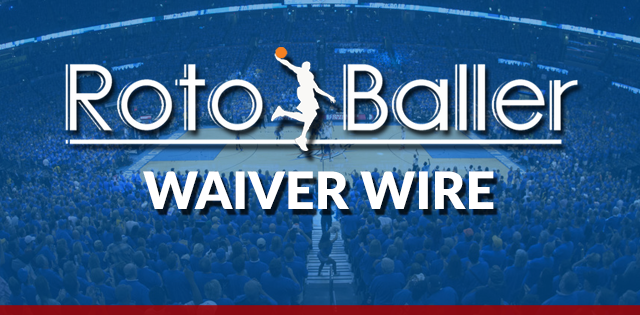 Despite the multitude of injuries to big-time players that have spread out across the NBA landscape, the league is on its way to seeing that frustrating trend head in the opposite direction.
Victor Oladipo, the All-Star guard for the Indiana Pacers, is set to make his season debut on Jan. 29 against the Chicago Bulls according to The Athletic's Shams Charania. The most recent No. 1 overall pick and one of the most hyped prospects ever, Zion Williamson's NBA debut is getting closer with the former Dukie finally participating in some practices for the New Orleans Pelicans.
For those who have patiently awaited their returns, congratulations and reap the benefits. For those who have possibly profited from their absence with specific fantasy pickups of both teammates and backups, now's the time to start looking elsewhere. So, here are some options with five mid-week waiver wire pickup options for Week 12 of the NBA fantasy season.
Editor's Note: Get any full-season NBA and DFS Premium Pass for 50% off. Our exclusive DFS tools, Lineup Optimizer and daily Premium DFS Research.
Sign Up Now!
Week 12 Mid-Week Waiver Wire Pickups
Jordan McRae - PG/SG - Washington Wizards - 45% owned
The Washington Wizards are one of the best teams for individual fantasy production, and Jordan McRae is the latest in a long line of examples why.
After missing nine straight games, the third-year forward has taken advantage of an injury-plagued Wizards roster to stake a name for himself in the league. He averaged 20.6 points, 4.9 rebounds and 2.9 three-point makes in 30.0 minutes a game over his last seven outings.
His 41.0 field goal percentage leaves plenty to be desired, but McRae makes up for the inefficiency by also chipping in 2.9 assists and 1.0 blocks per game during that same stretch.
Washington is as singularly offensive-minded a team as there is in the NBA right now and is still dealing with the absence of Bradley Beal.
Even upon the All-Star's return, McRae has done enough to earn consistent minutes with impressive play for a team that continues to foster offensive explosions from the most unlikely of sources.
Eric Gordon - SG/SF - Houston Rockets - 43% owned
Eric Gordon missed 22 games after undergoing knee surgery back in early November but has returned to the Houston Rockets lineup to provide his reputable marksmanship from beyond the arc.
Across three games since coming back to the court, Gordon has yet to score in single-digits -- 14.6 points per game -- and has drilled a total of nine three-pointers -- or 3.0 a game.
At this stage of his career with a very specified role, the scoring and perimeter prowess are just about all fantasy owners are going to get from Gordon, barring an injury to Houston's All-Star backcourt.
Interested parties with holes elsewhere should let Gordon sit on the market, but those in need of his areas of expertise should act fast for a guy who plays in a system built to maximize those talents.
Sekou Doumbouya - SF/PF - Detroit Pistons - 30% owned
Sekou Doumbouya was a recent 15th overall pick only 19 years of age, but he's slowly begun to garner more attention around the league on account of his recent play.
Over the Detroit Pistons' last four games, Doumbouya has seen an average of 33 minutes per game and has taken advantage after previously riding the bench in the form of 13.0 points and 7.0 rebounds per game -- including double-doubles in the former two of those outings.
Unfortunately for the Pistons, All-Star Blake Griffin underwent surgery on his left knee and is out indefinitely. In all honesty, he's likely gone for the season.
If there is a silver lining in the unofficial end to Detroit's playoff hopes, however, it's the consistent spot in the rotation that's just opened up for Doumbouya that should allow his most recent stretch of performances to move closer to the norm.
Jarrett Culver - PG/SG/SF - Minnesota Timberwolves - 27% owned
Across his first NBA season, Jarrett Culver has slowly come along in his individual development. Recently, he's been entrenched in the starting lineup with more shot attempts at his disposal, so he's used them to his incredible benefit for the Minnesota Timberwolves.
In 32.0 minutes a night over the last five games, Culver has averaged 15.8 points, 5.2 rebounds, 2.6 assists, 2.2 steals, and 1.8 three-pointers per game. He's had two 20-point outings, a four-steal game, and only once did he fail to connect from beyond the arc.
Karl-Anthony Towns remains on the shelf and has been for Minnesota's last 11 games. That's 17.5 shot attempts per game to go around the Timberwolves rotation. Culver won't absorb them all, but he seems to be embracing the opportunities that have been placed in front of him with production that more than warrants a look in most leagues -- and the three positions you can slot him in certainly don't hurt either.
Cedi Osman - SF/PF - Cleveland Cavaliers - 26% owned
Cedi Osman has admittedly taken a step back after an encouraging sophomore campaign, but his recent play has things looking up for the Turkish forward who seems to be part of the Cleveland Cavaliers long-term future.
His last five outings have produced scoring numbers of 14, 17, 22, 7, 17. This, while also chipping in 2.8 three-pointers a game while shooting 50.7 percent from downtown.
With the recent trade of shoot-first guard Jordan Clarkson, Osman suddenly has a bit more wiggle room to look for his own shot. This could even grow larger if the Cavaliers decide to part ways with Kevin Love before the Feb. 6 trade deadline or perhaps Tristan Thompson as well.
For now, it looks like Osman seems to be riding a nice wave of confidence for a Cleveland squad that isn't playing for much. He might cool down a bit in the coming games, but his efficient scoring is worth a look if you need it and could grow to something more in less than a month.
More Fantasy Basketball Analysis