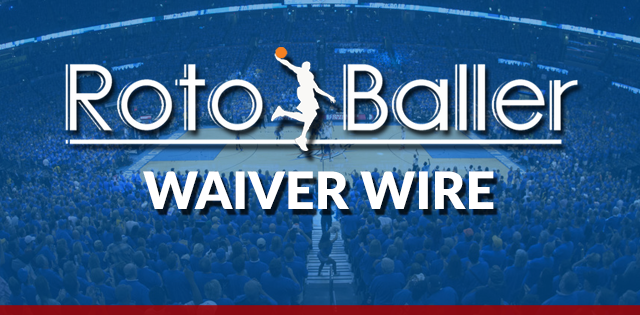 Things are starting to make more sense in the NBA. The Raptors are back in the playoff picture The Cavs have lost six in a row. The post-James Harden Rockets finally look as bad as we thought they would.
Anyway, let's help you figure out some waiver wire additions who can boost your squad in a 9-cat fantasy basketball league!
Our staff at RotoBaller has great insight and daily columns on how to improve your squad and tips to make your team successful, so be sure to check them out! Now, let's get prepared for Week 9. All players in this article are rostered at around 50 percent or less.
Featured Promo: Our friends at Sharp App have created the ultimate tools for sports bettors. Download the FREE app to track bets, compare odds, get daily picks from the most accurate models in the industry, and identify the sharp side of any bet. Use promo code BALLER to get a month free of Sharp Pro access.
Get The App!
9-Category Leagues Waiver Wire
Columns are written based on H2H 9-category standard size leagues:
Josh Jackson, SG/SF - Detroit Pistons
49% rostered - While a big game from Saddiq Bey last time out showed that Jackson isn't guaranteed to have the role of "unexpected Detroit wing who puts up big numbers," he's still been playing some really strong basketball lately.
Over the last six games, Jackson is playing 29.3 minutes per night, with averages of 17.7 points on 47.3 percent shooting. He's also added 6.0 rebounds, 3.0 assists, 1.2 steals, 1.0 blocks, and 2.2 threes per contest over that span.
Jackson's a well-rounded option who can contribute in many ways to your fantasy success. Scoop him off that wire in the roughly half of all leagues where he's still there.
42% rostered - Kendrick Nunn's season has confused the heck out of me.
At one point in the very recent past, Nunn was a DNP-Coach's Decision for three games in a row. In the five games since then, he's averaging 18.2 points per game on 50.7 percent shooting, draining 3.0 threes per night and adding in 4.4 rebounds, 2.0 assists, and 2.0 steals. While you'd like more assists from someone with point guard eligibility, the scoring numbers and steal numbers are a nice addition.
My only concern: is Nunn permanently back in the rotation? We've seen him have a large role before and then suddenly get dropped totally out of the lineup. I don't think that's going to happen again based on his play, but I also thought two weeks ago that Nunn was droppable because the Heat weren't giving him minutes, so...I don't know, y'all. Be a little cautious when you add him.
19% rostered - Tate might be the most unexpected success story in the NBA this season. Undrafted out of Ohio State in 2018, Tate didn't appear in a regular season NBA game until this season, and now he's started in 16 of his 26 games.
Over the past seven games, Tate is averaging 29.5 minutes per night. In that time on the floor, he's putting up 11.4 points, 5.4 rebounds, 1.4 assists, 0.6 steals, and 0.6 blocks. His lack of threes lately -- 0.6 per game during this span -- has been more about him missing than about him not getting opportunities, so expect to see that number start to inch upwards soon.
17% rostered - On Friday, Carter-Williams played for the first time since January 4th, and he very quickly shook off his rust. Carter-Williams was 7-for-16 for 21 points, plus added seven rebounds and seven assists. His role was a little bigger than it would be with everyone healthy, but it's not like the point guard position in Orlando is helmed by an elite player. If Carter-Williams can show a couple more times that Friday wasn't a fluke, the minutes will continue to come, even when the team's other group of point guards get healthy.
12% rostered - Starting Kaminsky beside Deandre Ayton is one of those things that seems really dumb on the surface, but actually it's been good. Kaminsky has started Phoenix's last five games and is averaging 9.8 points, 5.6 rebounds, 3.4 assists, and 1.4 threes per game. The out-of -position assists and threes are the big reason I'd be targeting him right now, as is the 51.4 percent shooting mark over this five-game sample.
Saddiq Bey, SF - Detroit Pistons
11% rostered - This recommendation pretty squarely rides in for one reason: Bey had a 30 and 12 game on Friday. It was the best showing of his rookie campaign, as he was 10-for-12 from the field and connected on seven threes. He's been playing better lately, with double-digit points in four of the last five, so he'd probably be on our radar even without that explosive showing. But considering the dearth of talent on this Pistons team, Bey flashing these kinds of numbers could quickly lead to a boost in role and minutes
Grayson Allen, SG/SF - Memphis Grizzlies
9% rostered - Looking to the waiver wire for three-pointers? Well, since returning four games ago, Allen has made 16 threes, including 11 over the past two games His current role is being boosted by the absence of Desmond Bane and De'Anthony Melton so we shouldn't expect to see Allen draining five-plus treys each night forever, but he's doing it right now. Sometimes you need a short-term boost.
Download Our Free News & Alerts Mobile App
Like what you see? Download our updated fantasy basketball mobile app for
iPhone
and
Android
with 24x7 player news, injury alerts, lineup notifications & DFS articles. All free!
More Fantasy Basketball Analysis
By popular demand, RotoBaller has aggregated all of our fantasy basketball NBA waiver wire pickups into a running list of NBA waiver options, so bookmark the page and check back often for updates.