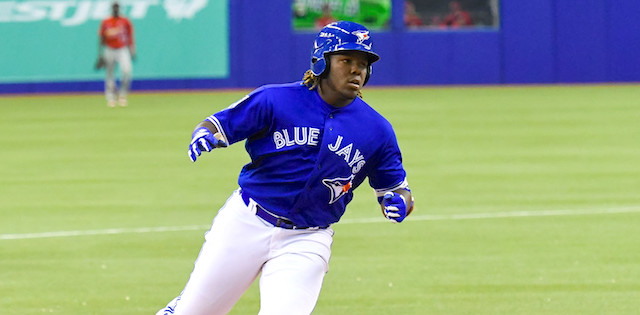 Third base prospects are when things get serious. It is the position where you find some of your big-power hitters. Of course, you'll see your share of warts as no prospect is perfect. I know, I know; some will differ greatly on that topic. Essentially, power is excellent, but sometimes it has a cost to your fantasy lineup (batting average). The important thing, for our purposes, is to maximize the power with other situational factors to find increased fantasy profit.
Finding value is one of the primary purposes of the minor league prospecting venture. The climbs and drops in performance provide fantasy owners an opportunity to move or acquire prospects. That is one of the best methods of making improvements to your dynasty roster. Poor performances don't always correlate to decreased value. As crazy as that sounds, it is true. But good years most definitely mean increased value to someone, especially to the owner. So, we will help you identify prospects that are trending up and down, so you know how best to maximize the values.
Below are three (plus one bonus) third base prospects that are trending with increased value as well as three prospects who have declined in various degrees. Then, there are courses of action to consider for each player. You can read other prospect risers/fallers here: first basemen, shortstop and starting pitchers.
Editor's Note: Get any full-season MLB Premium Pass for 50% off, with exclusive access to our season-long articles, 15 in-season lineup tools and over 200 days of expert DFS research/tools.
Sign Up Now!
Stock Rising
Vladimir Guerrero Jr., Toronto Blue Jays
Thank you, Captain Obvious. This nomination is one of the most obvious players on the rise; everyone in the fantasy community is likely aware of Vladimir Guerrero Jr. Is it possible for him to trend higher?
There's no reason to break down his performance of 2018. If you're interested in knowing some stats, salivate on an average slash line of .331/.414/.529 over his three minor league seasons. So, the facts are that Guerrero is going to hit, not only for average but for power as well. Playing in Rogers Centre will ensure that he hits nearly 30 homers annually.
If there were a negative consideration of having Guerrero on your dynasty team, it would be that he doesn't run. He will not help in the stolen base category. Thankfully, Guerrero produces in so many other categories that you will happily look for speed elsewhere. Now the Captain will retire for the evening.
Reasons to buy: Cornerstone of a dynasty team with power and an elite batting average. An asset in AVG and OBP leagues.
Reasons to sell: Because you're solid at third base and someone is willing to give you one of the only players you'd want in a trade: Trout, Betts. Possibly even Lindor.
Nolan Gorman, St. Louis Cardinals
Nolan Gorman is getting some serious love in his first year of pro ball. Drafted in the first round of the 2018 draft (19th pick), Gorman was already known as a big-power bat coming out of high school. Well, 237 at-bats across Rookie and Low-A provided plenty of support. He hit 17 moonshots and tried to match it with doubles (13). He finished the year with a .291 average and a .570 slugging percentage.
Now that the good news bear has finished, let's bring in the lone bad news bear, whiffs. Gorman smacked air 32% of the time. That is not good at all, and it could potentially get worse as he sees better pitching. Of course, he could improve his craft and get better.
A close relative of this bad news bear is the batting average. Ultimately, it is hard to believe the average sticks without improvement at the plate. If that happens, Gorman is someone to own. Otherwise, there are plenty of players out there that hit for significant power, walk a little bit, and have a mediocre-to-poor batting average. But currently, the people are digging the long ball.
Reasons to buy: Gorman will continue to hit bombs, which is exciting and brings fans. More fans = more hype. More hype = more fantasy profit.
Reasons to sell: There is no reason to sell. He is just getting started, and his marketability isn't at its highest point. However, if Gorman helps you get a major league player you really want, go for it.
Alec Bohm, Philadelphia Phillies
From Wichita State University comes Alec Bohm who was drafted third overall in the 2018 draft. Power was his carrying tool; however, it never appeared in 158 plate appearances across Rookie and Low-A ball. Not one single fly ball got lost and dropped over the wall. If you thought that he hit more doubles, nope; he only had six all season. He had a .252 batting average, which is decent, but it isn't reassuring when his obvious talent resulted in a .324 slugging.
Even knowing that a college bat produced these stats, Bohm is still getting spoke of favorably. It is true that one season (or half a season, in this case) is not indicative of whom a hitter will become. Bohm will try to build around his plate discipline in 2019. It was the one success he had last year, which was consistent with his performance in college. Bohm had a 9% walk rate and a 16% strikeout rate. He will obtain success by maintaining his plate discipline and finding his lost power stroke. 2019 will be a better gauge of Bohm's potential.
Reasons to buy: A high draft pick with a track record of hitting. Might be a small discount available. His value should improve in the future.
Reasons to sell: He didn't have a great season expected of an elite draft selection, yet he still has plenty of love from swooning power-struck (hopeful) fans. If you have one of these fans in your league that will offer more than Bohm's value, sell. However, the better bet is to wait.
Jonathan India, Cincinnati Reds  (BONUS)
"He's awesome," everyone seems to be screaming. What do you expect?  Jonathan India was the fifth-overall pick in the 2018 draft. He came from the University of Florida, so he had plenty of competition in the SEC. So let's see how "awesome" he was in 2018.
In 150 at-bats at Rookie and Low-A ball, India hit six homers, nine doubles, and stole six bases to go with a .240 batting average. For transparency's sake, he hit .229 in 96 at-bats at Low-A. Hmm. It's not the numbers many would expect from the former SEC Player of the Year, particularly against the competition he was facing.
It is likely justifiable to give India a mulligan due to his competitive experience as well as the stress of adapting to professional ball. He demonstrated a keen ability to hit in college. India can move through the minors quickly if he can regain his hit-tool, as well as power while sustaining the few bases he stole in 2018. The only issue is that he will likely not be playing third base for the Reds. There is no room for him on the major-league squad, as Eugenio Suarez screams "SEAT's TAKEN!" Well, shortstop might be the best avenue.
Reasons to buy: Despite a great stumble in his professional debut, India is entrenched in the Top-100 prospect rankings. He could be a serious fantasy contributor if he regains his college skills. If he is undrafted in leagues, grab him.
Reasons to sell: Skepticism. You don't believe the hype, which is building up. The helium might present an opportunity to improve your fantasy roster with proven talent. Just don't give him up for mediocrity.
Stock Falling
Michael Chavis, Boston Red Sox
Michael Chavis started the season late thanks to an 80-game PED suspension. Upon his return, he played five games at Low-A before reintegrating with Double-A, where he finished his breakout 2017 season. Chavis continued some of his success with six homers and a .303 batting average compared to .250 in 2017. Chavis also improved his OPS (.897). Unfortunately, his strikeout rate increased as well to 25%.
Chavis earned a promotion at the end of the season and got 34 plate appearances at Triple-A. In that time, he hit two bombs and had a .273 batting average. Unfortunately, it came with a 35% strikeout rate. Both of Chavis's batting averages in Double- and Triple-A were drastically elevated due to an inflated BABIP of .383 and .368, respectively. However, that isn't likely to continue at the major league level.
The basis for Chavis in the "falling" category is not entirely due to his skills at the plate. Chavis also suffers because the team he currently plays for has an abundance of talent at the major league level. The path to playing time is blocked unless Rafael Devers becomes a complete liability at third base. A position change is possible and would be very beneficial to Chavis. A change of scenery would be even more helpful.
Reasons to buy: He was a Top-100 prospect in 2018, but the suspension delayed his season and limited some of his production. If not for that, he would possess a little hype. Therefore, the suspension has created a buying opportunity.
Reasons to sell: You're tired of waiting on Chavis, even though he is close to the majors; so, you wouldn't have to wait much longer to find out what happens. You don't believe the Red Sox will trade him.  Ultimately, if you decide to move him, don't just sell him for a box of Cracker Jacks in hopes of getting your favorite tattoo.
Austin Riley, Atlanta Braves
Prospect fatigue. Pure and Simple. How can you not? How long has Austin Riley been the future for the Braves at the hot corner? Honestly, Riley wasn't ready to be called up as quickly as the masses wanted. More seasoning is the better move for him.
Riley had already served some time at Double-A in 2017, so he only spent 27 games there in 2018. He demonstrated that he was well acquainted and ready to move to the next challenge. Riley hit six homers with a .333 batting average. The one item that Riley needed to work on was plate discipline; he struck out 26% of the time. In early May, the Braves decided to promote him to Triple-A; not surprisingly, his strikeout rate got worse, increasing to 29%. On the bright side, Riley hit 17 doubles and 12 homers with a .282 average.
The signing of Josh Donaldson was the last straw that forced fantasy owners to throw their hands in the air. Keep in mind that Riley will play the 2019 season as a 22-year-old. If he can improve upon his solid performance at Triple-A, his stock will surely rise again.
Reasons to buy: The Riley owner is disgusted, impatient and willing to sell. The Braves offense is young and ready to run around the bases. His stock will surely soar if Donaldson's performance is unsatisfactory.
Reasons to sell: You can market his proximity to the majors, success at Triple-A, and a favorable offensive situation at the majors into a proven major league player.
Lucas Erceg, Milwaukee Brewers
Lucas Erceg, a second-round pick in the 2016 draft, jumped onto the radar quickly slugging seven homers in 180 at-bats with a .281 batting average. That set the prospect market into a frenzy that he would take over the Brewers hot corner with little-to-no contenders.
In 2017, Erceg gave us power but little else. He hit 15 homers and had a .256/.307/.417 slash line at High-A. It was not what we expected, but the hope was that in 2018, he would combine the power with the average he demonstrated the previous season. Erceg started the 2018 season hamstrung as he had a bulging disc in his back causing pain in his leg. He didn't miss too many games but returned to hit 13 bombs with a .245 average in Double-A. The encouraging sign is that his strikeout rate (16%) continued to drop. Erceg was invited to major-league camp to start 2019, but it is unlikely he will open the season with the team. He needs to be sent back down to continue his development.
Reasons to buy: The Brewers offense has the potential to score many runs on any day of the week. Everyone should want to get a piece of that action. Erceg costs nothing to take a chance if you have a roster spot. Or, you could leave Erceg on waivers but keep a close eye on him.
Reasons to sell: You can convince someone of the "buy" justifications, but don't expect a lot in return. Otherwise, he is droppable in most leagues.
More Fantasy Baseball Prospects & Dynasty