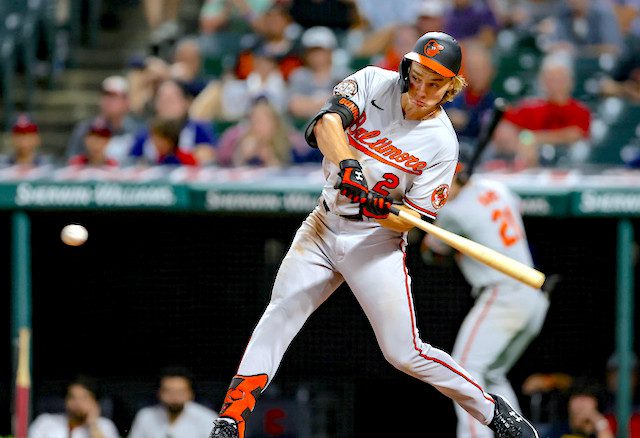 We continue our ADP positional series with the always interesting hot corner. This position has long been known for power and elite, top-end talent.
That's still the case in 2023, but the problem is this position dries up more quickly than it used to. Let's begin by taking a look at third base ADP since January 1 in NFBC DC drafts.
| | | | |
| --- | --- | --- | --- |
| Rank | Player | Team | ADP |
| 1 | Ramirez, Jose | CLE | 3.24 |
| 2 | Witt Jr., Bobby | KC | 9.17 |
| 3 | Machado, Manny | SD | 15.11 |
| 4 | Devers, Rafael | BOS | 20.92 |
| 5 | Riley, Austin | ATL | 21.24 |
| 6 | Arenado, Nolan | STL | 35.15 |
| 7 | Bregman, Alex | HOU | 78.47 |
| 8 | Henderson, Gunnar | BAL | 91.09 |
| 9 | Muncy, Max | LAD | 139.54 |
| 10 | Chapman, Matt | TOR | 157.56 |
| 11 | Suarez, Eugenio | SEA | 159.48 |
| 12 | Miranda, Jose | MIN | 160.2 |
| 13 | Hayes, Ke'Bryan | PIT | 172.7 |
| 14 | Bohm, Alec | PHI | 183.82 |
| 15 | Drury, Brandon | LAA | 201.74 |
| 16 | McMahon, Ryan | COL | 204.45 |
| 17 | Jung, Josh | TEX | 218.72 |
| 18 | Rojas, Josh | ARZ | 219.7 |
| 19 | Walker, Jordan | STL | 235.37 |
| 20 | Urias, Luis | MLW | 241.02 |
| 21 | Rendon, Anthony | LAA | 241.64 |
| 22 | Turner, Justin | BOS | 242.86 |
| 23 | Kim, Ha-Seong | SD | 251.06 |
| 24 | Diaz, Yandy | TB | 257.71 |
| 25 | LeMahieu, DJ | NYY | 258.5 |
| 26 | Moncada, Yoan | CWS | 288.84 |
| 27 | Berti, Jon | MIA | 298.18 |
| 28 | Rengifo, Luis | LAA | 303.25 |
| 29 | Donovan, Brendan | STL | 308.76 |
| 30 | Paredes, Isaac | TB | 323.47 |
| 31 | Flores, Wilmer | SF | 331.05 |
| 32 | Escobar, Eduardo | NYM | 350.12 |
| 33 | Wendle, Joey | MIA | 355.92 |
| 34 | Castro, Rodolfo | PIT | 363.64 |
| 35 | Urias, Ramon | BAL | 381.82 |
| 36 | Urshela, Gio | LAA | 390.16 |
| 37 | Candelario, Jeimer | WAS | 393 |
| 38 | Steer, Spencer | CIN | 397.56 |
| 39 | Davis, J.D. | SF | 412.82 |
| 40 | Donaldson, Josh | NYY | 412.93 |
| 41 | Baty, Brett | NYM | 418.56 |
| 42 | Wisdom, Patrick | CHC | 439.96 |
| 43 | Farmer, Kyle | MIN | 442.63 |
| 44 | Dozier, Hunter | KC | 451.05 |
| 45 | Anderson, Brian | MLW | 451.29 |
| 46 | Peterson, Jace | OAK | 475.25 |
| 47 | Villar, David | SF | 477.76 |
| 48 | Longoria, Evan | ARZ | 503.35 |
| 49 | Lopez, Nicky | KC | 516.06 |
| 50 | Montero, Elehuris | COL | 524.75 |
You'll see a 43-pick drop from Nolan Arenado to Alex Bregman and then a 48-pick gap from Gunnar Henderson to Max Muncy. That's a whopping four rounds in 12-team leagues and three rounds in 15-team leagues. These are important as they lead into my strategy for attacking this position in your drafts this season.
Third Base Strategy
Ideally, this is a position to attack early. In a perfect world, I'm going to have my starting third baseman by the time pick 100 rolls around. But the problem with this strategy is that nearly everyone else in your draft is approaching this position the exact same way. Nobody really wants to lose out on one of the top options, but there are actually some fine options after this top tier that can provide solid production at a fair price tag.
Grabbing one of the elite options 100% depends on your draft slot. Obviously, Jose Ramirez will be a top five pick in drafts and Bobby Witt Jr. will be going somewhere around pick 10 or so. Following them, that second tier of Austin Riley, Rafael Devers, and Manny Machado are all in that 15-23 range. If you want an elite option, you're going to need to use one of your first two picks.
Third Basemen to Target at ADP
Gunnar Henderson, Baltimore Orioles
Wait, am I really recommending a rookie hitter with a top 100 ADP as an ADP value target this season? You bet I am! This goes back to what I mentioned above about how this position really begins dropping off after the top 100 picks, and Henderson is the player that signals the beginning of that dropoff.
Obviously, as someone that also covers prospects, I've followed Gunnar Henderson's career for a while now. And let me tell you, plain and simple, I'm a fan. In the upper minors last season, Henderson slashed a robust .297/.416/.531 with 19 home runs and 22 stolen bases in 503 plate appearances. On top of that, Henderson recorded a stellar 15.7% walk rate while keeping his strikeout rate in check at 23.1%.
Once Henderson got to the Majors late in the season, it didn't take him long to put all of his exciting offensive skills on full display. In 132 plate appearances, Henderson racked up seven doubles, four home runs, and a steal with a respectable .259/.349/.440 slash line.
But the underlying metrics were even more impressive. Henderson's quality of contact metrics stood out, especially with his 92.4 mph AVG EV and 53.7% hard-hit rate. Beyond that, Henderson also recorded a 12.1% walk rate and a 91st-percentile sprint speed. While it was only 132 PA, no other hitter in baseball last season had a hard-hit rate over 50%, a walk rate above 12%, and a sprint speed in the 90th percentile or better.
There are some minor swing-and-miss concerns, but Henderson shows patience at the plate and doesn't chase much. With his blend of skills, I think we could easily see a season in 2023 where he hits more than 20 home runs and finishes in the 10-15 steal range as well as solid AVG, OBP, and run production totals. If he's able to keep the strikeouts in check, Henderson could easily return a significant ROI on his draft-day price and cut his ADP in half or more next year.
Without question, the power department is the X-Factor when it comes to Ke'Bryan Hayes' fantasy value this season and long-term as well. Raw power isn't the question and never has been. In each of his three seasons in the Major Leagues, Hayes has posted a hard-hit rate above 45%, including 46.8% last season. He also has a career 90.9 mph AVG EV. However, the problem has been that Hayes simply hits too many balls into the ground, which is why he could only muster a 3.9% barrel rate last season. Barrel rate factors in launch angle, and Hayes' average launch angle last season was only 5.2° and sits at 4.4° for his career. For comparison, the league-average launch angle last season was 12.1°.
When you're routinely posting groundball rates near or above 50% (49.6% in 2022), it really doesn't matter how hard you hit the ball. Well, it still helps to hit the ball hard, of course, but with the ground ball rate and launch angle that Hayes has, you're not going to hit many home runs. That's why Hayes had seven home runs in 560 plate appearances last season.
When drafting Ke'Bryan Hayes, one thing you know you'll be receiving is stolen bases. Hayes stole 20 bases last season, and projection systems have him in the 15-19 SB range this season, too. And who knows, with the new rules, Hayes could exceed 20 this season. On top of the speed, that additional power projection still remains. Hayes already possesses the decent quality of contact metrics that I mentioned above, but he's going to need to elevate more.
If early Spring results are any indication, he's already cranked his first home run and added a triple with a 23° launch angle. Hayes getting up into the 15-20 home run range is very possible and would make him a great draft day value.
Although Jordan Walker has transitioned to the outfield, he will have third-base eligibility this season in all formats.
While I'm not 100% sure that Walker makes the Opening Day roster, he's going to be up early in the season, and you're going to want him on your roster. Walker is coming off a phenomenal season in Double-A last year with a .306/.388/.510 slash line in 119 games with 31 doubles, 19 home runs, and 22 steals. Those 22 steals aren't a fluke either or boosted by the rules and restrictions in Single-A that elevated stolen base totals. While Walker is a big guy (6'5/220) with big power, there's a sneaky-good speed that also often gets overlooked and undervalued. Don't sleep on his speed.
But of course, the bat is going to lead the way, and I believe this is a bat that could stand out immediately. Walker possesses elite raw power with a 30+ homer upside annually, maybe even flirting with 40 home runs some seasons. He's far from an all-or-nothing slugger, too. Walker has shown that he can hit for average, draw walks at a high clip, and keep the strikeout rate in check as well. I've said multiple times in articles and on The Toolshed podcast that Walker could be 95% of what Julio Rodriguez or Eloy Jimenez is with speed. Those are lofty and exciting, yet realistic and possible outcomes.
Walker is going in the 220-250 range on average so far in 2023 drafts, and given his blend of ceiling, floor, and proximity, he has a solid chance of providing a MASSIVE ROI this season. Between the time I started and finished this article, Walker went 6/7 with two doubles and two home runs over two games. One of those home runs is shown above. There was no statcast at this park, but this had to be 115 mph or so off the bat. His ADP is only going to keep rising from here. And if Walker keeps raking, maybe it even pushes too high.
It appears that Walker's ADP over the last week since Spring training began has snuck into the top 200. I'm still fine with that. I'd be willing to go as high as pick 150 or so on him in drafts. However, if he starts flirting with a top 100 ADP, that's a bit harder to buy into.
Third Basemen to Avoid at ADP
Josh Rojas, Arizona Diamondbacks
With how quickly this position falls off and dries up, it's difficult to select players to avoid completely. If you avoid too many, you're going to be left with plenty of regrets after your draft when you see who you winded up with as your starter at the hot corner. However, one that I'm not too keen on the ADP is Josh Rojas.
If you're drafting Rojas, it's because you didn't attack speed well enough early in your drafts, and now you're scrambling to try and make it up in the middle and later rounds. And I'll fully admit that this exact scenario has happened to me once in my 2023 drafts thus far. However, it's not a strategy I endorse in general.
With Rojas, outside of the speed, the bat underwhelms. He's coming off a .269 AVG and nine home runs last season, and that's probably the best-case scenario for 2023. To start, Rojas' metrics aren't that impressive outside of his approach metrics. His xBA was an underwhelming .242, and he was in the bottom 30% of hitters last season in hard-hit rate, barrel rate, and xSLG. On top of that, Arizona also has Evan Longoria on the roster now, who still mashes left-handed pitchers.
This very well could be a platoon situation where Rojas receives fewer plate appearances than he did in 2022. After racking up 550 PA in 2021 and 510 PA in 2022, ATC projections have Rojas at 478 this upcoming season and I think it could even dip a little lower than that. Well, assuming that Longoria can remain healthy.
When I'm analyzing ADP throughout the draft season to identify my ADP targets and avoids, there are three things I look for when determining which players to avoid:
Poor performance/metrics
Injury issues
Playing time concerns
If a player checks off one box, it's usually not enough to cause me to avoid them in drafts. However, if a player checks off two boxes, that's when I cross them off my draft list. In the case of Anthony Rendon, he checks off the top two boxes.
Starting with his injury issues, Rendon has been limited to just 105 games combined over the last two seasons. But at least he's been productive in those 105 games, right? Wrong. Rendon has hit .234 over the last two seasons with 11 home runs combined. Over the last three seasons, we've seen Rendon's metrics slip from his peak seasons in 2018 and 2019, specifically in the power department. The approach and contact metrics are still solid but have also dipped. Rendon also doesn't run anymore.
Could some of that be attributed to his injuries? Sure. But even if Rendon can remain healthy for 140-150 games, it's a low percent chance that he can return a positive ROI in my eyes. Not with zero speed contributions and slipping offensive skills.
Download Our Free News & Alerts Mobile App
Like what you see? Download our updated fantasy baseball app for iPhone and Android with 24x7 player news, injury alerts, sleepers, prospects & more. All free!


More Fantasy Baseball Advice