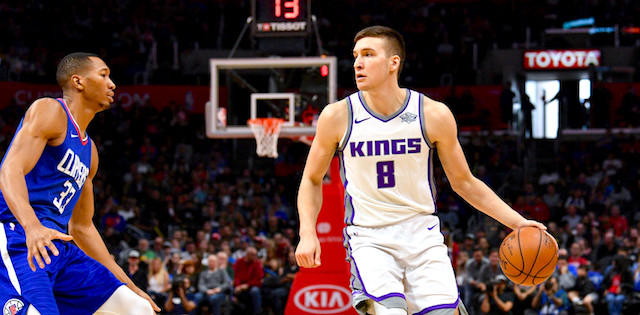 With seven games on the slate, all I can really think about is why NBA players keep going at Serge Ibaka like he won't punch them in the face. Regardless, with a seven game slate tonight, there are two games that pop out as one's you should consider stacking. In the Mavericks/Spurs game, target the Dallas backcourt and look to roster the likes of Bryn Forbes, Patty Mills, and DeMar DeRozan. Other than that, Julius Randle, Elfrid Payton, and Nikola Mirotic should be some of the top contributors in the Pelicans/Bucks game.
If Joel Embiid does play tonight, I don't think you will will be able to fade him. The Cavaliers would be a perfect game that the 76ers need to win, but won't pose much of a threat in the long run. It allows for Embiid to face a weak defense and ease his way back into the rotation without risking too much in terms of his health.
In this article, I will be providing you with my daily fantasy basketball lineup picks for FanDuel on 3/11/19. These DFS lineup picks can vary from higher-priced players and elite options to lower-priced players and value picks on FanDuel. You can also check out today's DraftKings lineup picks. Find me in the NBA Chat Room and @HalfCourtJester on Twitter.
Editor's Note: Our friends at Monkey Knife Fight have the best, most fun, fastest growing DFS props game! It's super simple to play and to win real money. Just choose your NBA, NHL or PGA game, and make your picks! Get a 100% instant deposit bonus up to $50 using promo code: BALLER. That's $50 for free - don't miss out!
Play Now!
FanDuel DFS Guards
Monte Morris - SG, vs. MIN ($3,500)
After scoring 17 points last game, it's easy to see why I am going with the hot hand here. Since Gary Harris seems to be still working his way back into his regular form, Monte Morris has been fantastic as a backcourt reserve. Yes, this production came at the hands of a blowout from the Warriors, but production is still production and his minutes aren't going anywhere. His usage has managed to stay consistently above 15% for more than a month, so I wouldn't worry about Morris posting a dud. The Timberwolves rank in the bottom half in the league versus opposing shooting guards as it is, so I wouldn't be surprised if multiple Nuggets guards exceed their projected tonight.
T.J. McConnell - PG, vs. CLE ($3,600)
Much like Morris, T.J. McConnell understands his role as a backup guard. While he very rarely posts a dud and always finds a way to contribute in the box score, he does have minimal upside because he won't play a starters share of minutes. He will assist, get steals and score, but it's not guaranteed he will break double-digits in any category. Luckily, that's why his price is so low and rostering both McConnell and Morris can open up your salary for a ton of options tonight.
FanDuel DFS Forwards
Bojan Bogdanovic - SF, vs. NYK ($6,800)
Bojan Bogdanovic's game log is quite the sight. His last two games have been his lowest scoring in around two weeks and he's only failed to score 20 points in four of his last eleven games. The only thing to worry about is whether the Pacers blowout the Knicks using their starters, or the entire team just plays well and the scoring is balanced. The Knicks defense pushes the balanced scoring narrative but it's hard for me to see the Knicks doing anything to keep Bogdanovic from hitting shots while the Pacers get an easy win at home.
Channing Frye - PF, @ BKN ($3,500)
As you can clearly see, Channing Frye really hasn't played much this season. The first game of the season he played 21 minutes, and 10 days ago he played a tad over 20. It doesn't mean much, but since Marqueese Chriss is most likely facing a suspension and Kevin Love could rest this game, the Cavaliers don't have many other options at forward. Look for Ante Zizic, David Nwaba, and Cedi Osman to get a bump in usage as well.
FanDuel DFS Centers
Robin Lopez - C, vs. LAL ($5,500)
If you aren't spending up for Joel Embiid then value with Robin Lopez is your next best bet. He has been playing close to 40 minutes when the Bulls are keeping games competitive and this is one of those games. The Lakers have all but called it quits on this season and you don't need an announcement from the front office to notice that. With that being the case, look for them to start losing more and more games to rebuilding teams and that means suffering at the hands of Robin Lopez's turnaround hook all night long.
More Fantasy Basketball Analysis