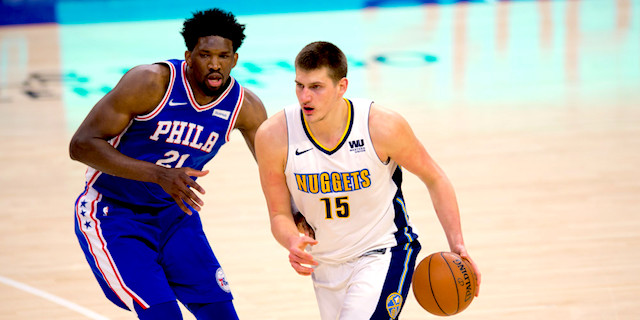 Sorry for the late jump on the article, but I'll make this quick and as informative as possible. There is a lot of value tonight and I'll get to that, but we need to focus on the superstars. There's a common theme of top-tier players facing stingy defenses. Luckily this does nothing more than scare away the few common fans. Devin Booker faces the seventh best ranked defense versus shooting guards, Anthony Davis plays the Spurs at home and DeAndre Jordan is going to try and out rebound the Grizzlies.
Instead of avoiding these dead zones, I say indulge. These players cannot really be contained and even proper game-planning has little hope if they are playing well. Giannis Antetokounmpo is facing the Nuggets defense who will struggle to stop him, but also have the tools capable of making it very difficult for him. The Nuggets know they will have to find a way to keep him from getting to the rim, so expect Antetokounmpo to have upside in shooting, but if he can't hit he will ultimately waste an expensive pick that could have been better utilized on Anthony Davis. Either way, I'm 75% confident Giannis scores below 50 FPTS tonight. Consider this my boldest of the bold picks tonight.
In this article, I will be providing you with my daily fantasy basketball lineup picks for FanDuel on 11/19/18. These DFS lineup picks can vary from higher-priced players and elite options to lower-priced players and value picks on FanDuel. You can also check out today's DraftKings lineup picks. Make sure you don't set your lineups too early and also be sure to check player statuses and availability prior to opening tip. if you have questions, find me in the NBA Chat Room or @HalfCourtJester on Twitter.
Editor's Note: Get any full-season NBA and DFS Premium Pass for 50% off. Our exclusive DFS tools, Lineup Optimizer and daily Premium DFS Research.
Sign Up Now!
FanDuel DFS Guards
Markelle Fultz - SG, vs PHO ($3,800)
Here we go, Markelle Fultz has ultimate value without any real risk. Even if he has a bad game, which can be reeeaaallly bad from Twitter's perspective, really isn't that bad from a DFS standpoint. He is still a point guard that fills in a much-needed gap in the second unit. Yes, the free throws and shooting is a bit wonky, but it's not like he fails to get to the rim or forgot how to dribble. His usage rate is decent, but since he contributes across the board with a clear emphasis on getting to the rim and passing up jumpshots, his ceiling is extremely relevant to his minutes. The 76ers are playing the Suns and Fultz is getting minutes. End analysis.
Terry Rozier - PG, @ CHA ($3,800)
If you don't feel confident taking Markelle Fultz, which I can't blame you for, maybe Terry Rozier is more your flavor. While Kemba Walker is dominating the production in Charlotte, look for Rozier to have a weirdly spacious night. The Hornets aren't really good at the whole defense thing so the Celtics will be able to free themselves up for the first time in a few games. Rozier didn't get to do much in Boston's last back-to-back, so expect this an above-average rebound game from a well-above-average backup.
FanDuel DFS Forwards
Tyreke Evans - SF, vs UTA ($4,700)
This fits tonights theme of superstars in bad situations. Tyreke Evans on the Pacers is not a bad situation whatsoever and you can tell by his rapidly increasing DFS prices. What is a bad situation is playing DFS against the Jazz. Either they dismantle your matchup by slowing the pace down, or they just lock them down through face-up defense. Either way, recipe for disaster. That being said, Tyreke Evans is walking half-court offense is unstoppable when hitting. Evans commands the second unit and can run with some of the best in the league. When he get's going it won't be pretty and this type of matchup plays right into his strengths. Can't guarantee production, but I can guarantee attempts.
Trey Lyles - PF, at MIL ($4,400)
This is bold, but Trey Lyles has so much upside it's annoying fading him on most nights. The Bucks don't have a strong frontcourt and Lyles can stretch out any defense. He hasn't been able to convert from deep, but he scored 16 points in just 20 minutes last outing against the Bucks and there were no real signs of that changing moving forward. You could go Paul Millsap as well, but Lyles offers much more value and is more inclined to getting rebounds and put back points rather than boxing out and sacrificing production for the sake of the team...silly role players.
FanDuel DFS Centers
Nikola Jokic - C, at MIL ($9,500)
I mean, you spent the last two minutes about me hyping up the Nuggets frontcourt so go with Nikola Jokic and make it easy. Brook Lopez can stay in front of Jokic, but it won't keep the rest of the Nuggets from cutting up the Bucks defense from the inside out. There is too much offense for Milwaukee to account for and the Nuggets should really be able to use this game to establish themselves as a contender. Both teams are an up and coming and have the chance to steal the show tonight. The game will starts with Giannis Antetokounmpo dominating early, but it will end with Jokic cleaning up the scraps in Milwaukee.
More Fantasy Basketball Analysis