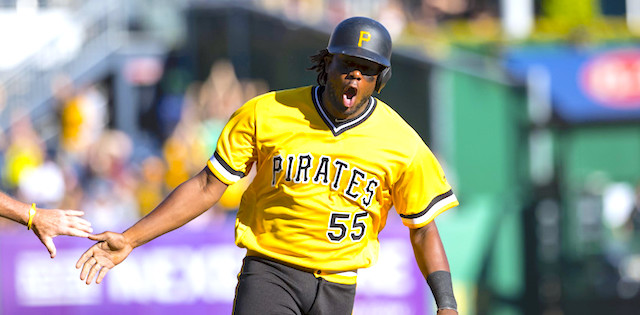 Welcome to Thursday baseball on FanDuel. With college football kicking off in a major way tonight, tons of eyes will gravitate that way. We still have baseball to pay attention to and plenty of edge if you put in the time. As for tonight, there are six games on the main slate. While it may not seem like a lot, there is plenty to dive into at both pitcher and hitters.
Jacob deGrom is on the mound, but we'll have to decide if that Cubs match-up is one we want to stay away from. There are a few other various options at pitcher, but they all dictate what type of roster you want to build. Let's jump into the top plays on the slate!
Be sure to also check out all the Vegas Odds for today's slate. You can also read more DFS advice and lineup picks for sites like FanDuel, and other sports too. If you have any questions or comments, feel free to hit me up on Twitter @DFSVarney
Editor's Note: Get our 2020 MLB Premium Pass for 50% off, with exclusive access to our draft kit, premium rankings, player projections and outlooks, our top sleepers, dynasty and prospect rankings, 20 preseason and in-season lineup tools, and over 200 days of expert DFS research and tools.
Sign Up Now!
FanDuel DFS Pitchers
Jacob deGrom - NYM vs. CHC - $11,500
The match-up isn't great against a Cubs team that is locked into winning every game at this point. With that being said, it doesn't really matter if deGrom is on his game. He's one of the best pitchers in baseball and the Cubs can try their little hearts out. It won't matter if his fastball is being pinpointed and his slider sweeping across the plate to take a seat on the outside edge. deGrom has struck out 10+ batters per nine innings on the season and walking under two. There's certainly some risk here, but if you have value you like and can afford deGrom, he's quite clearly the top pitcher on the slate.
Chris Paddack - SDP @ SFG - $7,000
Chris Paddack has certainly had his fair share of troubles recently, but there's no arguing that this price is correct. Facing off with the Giants in pitcher-friendly San Fransisco, this is the perfect spot for Paddack to right the ship. The Giants rank 27th against righties on the season with a team .288 wOBA and strikeout 25% of the time. AT&T Park has ranked in bottom five for both righty and lefty power, giving Paddack some room for error. He's a great young pitcher that will eventually be consistent, but still working on his secondary pitches. The Giants are a terrible offense by every measure and Paddack is my favorite pitcher on the slate, given the price.
FanDuel DFS Infielders
C/1B - Josh Bell - PIT @ COL (Gonzalez) - $4,300
Let's get these Pirates out of the way. With Coors Field on such a small slate, the attention will be on the Rockies, Pirates, and how to fit as many as possible in your lineup. Both teas can put up 10+ runs in this match-up and there's a good chance one of them do. I'll take the nine innings of guaranteed hitting and the match-up with Chi Chi Gonzalez. He's given up a .361 wOBA to lefties and it drops to a .387 at home in Colorado. Josh Bell is one of the best fly-ball hitters in baseball and should demolish Coors Field. He's expensive, but you have plenty of funds to spend if you're paying down for Paddack.
2B - Rougned Odor - TEX vs. SEA (Hernandez) - $2,700
Rougned Odor is an average at best hitter against most pitchers. Against the sinker, he's held a .421 wOBA and hits the ball hard 52% of the time. Rougned Odor demolishes the sinker. The Rangers are facing off with Felix Hernandez, who is nowhere near the pitcher he once was. The Rangers are expected to put up six plus runs at home and Odor should have numerous RBI opportunities. His price is low on FanDuel and he won't be very popular. I love Odor in all formats and am willing to take a stand on a guy that's HR or bust against the only pitch he smokes.
3B - Jose Osuna - PIT @ COL (Gonzalez) - $3,200
I know we already looked at the Pirates, but third base is ugly and Jose Osuna is way too cheap for Coors Field. Especially if he's hitting sixth, like expected. Chi Chi Gonzalez has been absolutely putrid against lefties and has a huge issue with home runs in Coors Field (well, duh). The Pirates hold an 7.25 implied total and will get a guaranteed nine innings of at-bats. Jose Osuna is no great hitter, but he's posted a .327 wOBA on the season and is a switch-hitter, so you don't have to worry about him getting pinch hit for. The Pirates are my favorite offense on the slate and Osuna is simply too cheap for his upside.
SS - Corey Seager - LAD @ ARI (Kelly) - $3,200
The Dodgers are a team that often fly under the radar, and I expect that trend to continue tonight. Corey Seager is back to being a dominant hitter vs righties, posting a .362 wOBA and accounting for 41 XBH. He comes to the plate with RISP it seems like every time, but it's more like twice a game. Merrill Kelly is an extremely underwhelming arm that's allowed a .371 wOBA to lefties on the season. The Dodgers may fly under the radar and I'll make sure I have my fair share of exposure.
FanDuel DFS Outfielders
Charlie Blackmon - COL vs. PIT (Williams) - $4,400
The Pirates are my favorite offense in Coors Field, but the Rockies have their own claim to domination tonight against Trevor Williams. He's an average pitcher that doesn't strike anyone out and relies on weak contact. His curve won't move in Coors Field and these Rockies will drive the ball. Both of these pitchers will be lucky to last five innings. Blackmon has posted a ridiculous .436 wOBA against righties in Coors Field and has hit 80% of his homers in Coors vs righties. If you make me pay up for an outfielder, it comes down to Bryan Reynolds and Charlie Blackmon. I lean Blackmon.
Joc Pederson - LAD @ ARI (Kelly) - $3,400
Joc Pederson is too cheap to be hitting lead off for a Dodgers squad that's expected to put up five plus runs. Merrill Kelly, as I've already touched on, struggles mightily vs lefties with power. That's about all Joc Pederson is. A lefty with power. He's up to a.358 wOBA on the season vs righties and has hit all 27 of his homers against them. He's affordable on FanDuel and a great play in both cash games and tournaments.
MLB DFS News and Injury Alerts