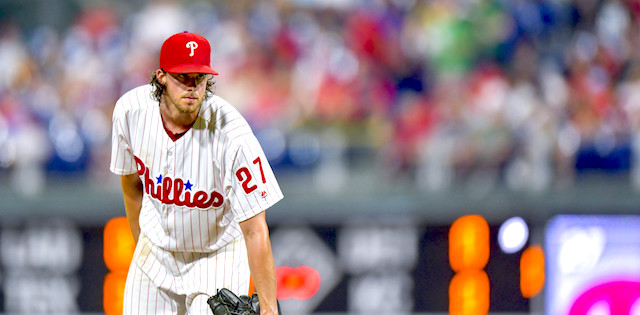 Welcome to Tuesday baseball over on FanDuel. We have plenty to look forward to in terms of contests, with the $10 Rally ($25K to first) and $88 Slam ($20K to first) headlining the $66 FWBC Qualifier. It'll be a fun night on FanDuel, so let's make sure we have our targets on point so we can at least contend for some of these glutinous prizes.
There is plenty to look at, with at least five or six pitchers worth considering in cash games. You then have another few tournament options and pitcher turns into a beautiful mess. As for the bats, it's more of the same. We have four or five pitchers who have been pitching way over their head and the regression monster should come a knockin'. Let's dive in!
Be sure to also check out all the Vegas Odds for today's slate. You can also read more DFS advice and lineup picks for sites like FanDuel, and other sports too. If you have any questions or comments, feel free to hit me up on Twitter @DFSVarney
Editor's Note: Get our 2020 MLB Premium Pass for 50% off, with exclusive access to our draft kit, premium rankings, player projections and outlooks, our top sleepers, dynasty and prospect rankings, 20 preseason and in-season lineup tools, and over 200 days of expert DFS research and tools.
Sign Up Now!
FanDuel DFS Pitchers
Aaron Nola - PHI @ DET ($10,500)
It seems like we haven't had one of these in a while, but it's a night with a ton of options at pitcher. We'll hone in on just a couple guys, but there are legitimately 8-10 options you can consider in tournaments. It's going to be a fun night. On the high end, let's look at Aaron Nola. He's been one of the leagues most underrated pitchers, sporting a 10.81 K/9 and .306 wOBA against. He gets up to 110 pitches constantly and has the leash to go nine. He goes into Comerica Park to face baseballs 28th ranked offense against righties, holding a .284 team wOBA against while striking out over 25% of the time. Nola is going to go seven + innings and strikeout 8+. I don't want to miss out in any format.
Yu Darvish - CHC @ SFG ($8,500)
If you're looking to save a few dollars, Yu Darvish is extremely affordable and in a tremendous match-up. Not only is he pitching in the best ballpark to reserve power, but the lineup is just as weak. On the season, the Giants rank 25th against righties with a .301 wOBA against. They strikeout 23% of the time and boast a criminally low .170 ISO. All of those numbers drop in Oracle Park. Darvish struggled to start the season, but he's dominated over the last couple months. He's now striking out 10.21 batters per nine innings and has given up a .303 combined wOBA. He'll now be protected by a gigantic ballpark and Vegas has the Giants implied for under four runs. Darvish is affordable on both sites and a great play in all formats.
FanDuel DFS Infielders
C/1B - Josh Bell - PIT vs. STL (Hudson) $3,700
Josh Bell hasn't been great in the second half, but he made hard contact in three at-bats last night and looked back to himself. On the season, Bell has sported a .410 wOBA and has hit 20 of his 27 home runs against righties. He may be a switch-hitter, but he's a completely different hitter against righties and lefties. As for Dakota Hudson, his main struggle is vs lefties. On the year, he's given up a .380 wOBA and 10 home runs in just 46 innings of work. PNC Park is a downgrade from Busch Stadium and I love the Pirates lefties tonight.
2B - Ozzie Albies - ATL vs. KC (Duffy) $3,300
Anytime a lefty takes the mound against the Braves, Ozzie Albies is on my radar. He's absolutely dominated left-handers on the season, sporting a .430 wOBA five home runs in just 80 at-bats. The Braves hold the second highest implied total on the slate, and Albies will be hitting fifth or sixth with plenty of RBI opportunities. They're facing off with Danny Duffy, who's fallen off a cliff this season. He's given up a 5.04 xFIP to righties and has extreme HR issues. Albies is affordable on FanDuel and a phenomenal play in all formats.
3B - Jose Ramirez - CLE @ TOR (Sanchez) $4,200
Jose Ramirez is officially back, and he's hitting the ball hard in what seems like every at-bat. He has eight hits in his last six games, including two homers and four doubles. The Indians now get to face off with one of the worst pitchers in baseball in Aaron Sanchez. He's taken a turn for the worst, holding a 5.41 xFIP on the season with a .365 wOBA allowed. Ramirez has always been better against righties and his wOBA over the last month is over .350. The Indians are one of the top stacks of the night and this is a strong way to get exposure.
SS - Alex Bregman - HOU vs. OAK (Fiers) $4,400
Mike Fiers is one of the luckiest pitchers in the league and it''s going to fall off sooner or later. The Astros are a gauntlet of an offense and I don't think Fiers makes it to the fifth innings. Since the start of the season, Fiers has given up a 5+ xFIP and a wOBA below .300. He's consistently dominating while guys are absolutely plastering the ball. They're just somehow plastering the ball directly into gloves. I'm all in on fate catching up with Fiers tonight and the Astros are my favorite stack of the entire slate.
FanDuel DFS Outfielders
Ronald Acuna Jr. - ATL vs. KC (Duffy) $4,400
There are quite a few pricey outfielders and of course they all have upside. I love Springer, Trout, and Judge nearly as much as I do Acuna. However, I think the Braves get to Duffy tonight and Acuna Jr. should be a big reason why. He's plastered lefties to the tune of a .412 wOBA and has hit six homers in just 80 at-bats. He'll get two or three more shots tonight and has a great shot of hitting one out. He's expensive, but has as much upside as any hitter on the slate. Especially with the recent stolen base trend.
Curtis Granderson - MIA @ CWS (Covey) $2,000
Curtis Granderson is an easy play on FanDuel. He may not be much of s hitter anymore, but he's facing off with an even worse pitcher. Dylan Covey has held onto a 6.13 xFIP and has allowed a .400+ wOBA to left-handers. The Marlins are projected to put up nearly five runs and Granderson will be hitting leadoff. He's only $2K on FanDuel and close to a must for me in cash games. He allows you to do so much elsewhere while still give you as much upside as someone well over $3K. Good luck tonight and please do reach out on Twitter with any questions!
MLB DFS News and Injury Alerts