Whether or not Tuesday represents the swan song of the 2020 baseball season, the journey to crowning a new champion has been a wild ride, full of exhilarating, historic moments inside the bubble. 
Blake Snell and Tony Gonsolin are running back their Game 2 matchup, in which the latter recorded just four outs, seemingly by design. With L.A. likely to feature myriad arms, in addition to the Rays' backs being pushed up against elimination, there's an even higher level of variance built into lineups than usual. With FanDuel forgoing pitchers, we're able to hone in on the bats that will either put an end to the 2020 year or extend it a night longer.
This article will provide you with my daily fantasy baseball lineup picks for FanDuel on 10/27/20. The lineup picks will range from some of the elite players to mid-priced options and value plays. Be sure also to check out all the Vegas Odds for today's slate. You can also read more DFS advice and lineup picks for sites like DraftKings, and other sports.
Editor's Note: Our incredible team of writers received 13 award nominations by the Fantasy Sports Writers Association including Baseball Writer of the Year, Football Writers of the Year, Golf Writer of the Year and many more! Be sure to follow their analysis, rankings and advice all year long, and win big with RotoBaller!
Read More!
FanDuel DFS MVP Selections
Justin Turner, LOS vs. TAM ($8,000)
Turner enters Game 6 on the precipice of a potential World Series MVP trophy (in hot competition with Corey Seager) with another top notch performance. After going without an extra-base hit during his 23 plate appearances in the Wild Card Series and NLDS, Turner has been a terror to get out during the World Series, having delivered at least one hard hit ball (95+ MPH exit velocity) in each game. With 11 hard hit balls across five games, combined with his premier launch angle skills, Turner is a perpetual threat to leave the yard. While Mookie Betts can also draw considerable MVP slot attention due to his stolen base acumen (four in the WS), Turner's offensive upside and slightly lower price tag should also earn him a look.
FanDuel DFS STAR Selections
Max Muncy, LOS vs. TAM ($7,000)
The left-on-left nature to begin Game 6 is likely to scare a considerable number of fantasy managers off of Muncy's prospects. But this postseason, Muncy has collected just one fewer hit in the same amount of at-bats (28) against southpaws, producing a .447 on-base percentage, which helps elevate his floor. In addition to having plated six runs in the first five games of the World Series, Muncy had the two hardest hit balls in Game 5, both of which reached at least 109 MPH off the bat. With an elite eye that is honed in, in addition to a lethal power bat that is making loud contact, Muncy should be up for consideration in any style format.
FanDuel DFS Utility Selections
Randy Arozarena, TAM @ LOS ($8,500)
One of the lasting memories stemming from the 2020 postseason will be the emergence of Arozarena, whether Tampa Bay is able to storm back or not. If they do, their new star will almost undoubtedly play a major role. With hits in each of his last four contests, and an RBI in the most recent three, Arozarena retains his tremendous floor, while also having homer potential every time he steps to the dish. With an OPS above 1.000 against both righties and lefties this postseason, there is no potential Game 6 matchup in which Arozarena would be fighting an uphill battle.
Brandon Lowe, TAM @ LOS  ($7,500)
Despite having been a beacon of consistency at the keystone for much of 2020, Lowe has developed into something of a feast-or-famine bat during the World Series in the throes of his prolonged slump. He'll begin Game 6 by facing Tony Gonsolin, whom he socked a booming home run off back in Game 2, a ball that had a 1.000 xBA. With three home runs to his credit in the five games -- his only hits of the series -- Lowe has GPP intrigue due to the thunder that he can conjure when he squares the ball up.
AJ Pollock, LOS vs. TAM ($5,000)
The nature of the FD pricing gaps means that rostering a player at $5K or below is likely in many lineups where the top tier talent will also earn a spot. With that in mind, consider Pollock, who despite having received only five plate appearances in the World Series, has been a masher of left-handed pitchers this season. During the regular season, Pollock slashed .345/.367/.818 versus southpaws, metrics which others at his price tag have not compiled.
RotoBaller Sample DFS Lineups
Sample FanDuel Lineup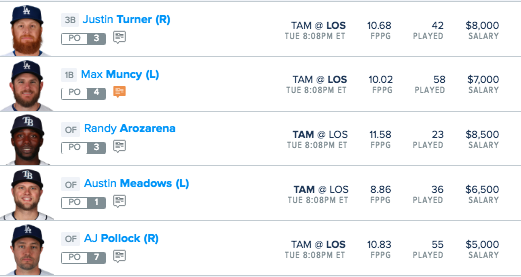 Please note that these are sample lineups designed only to show how you might use the above lineup picks in your own lineup. You should always check the weather and lineups before they lock to ensure players you are choosing are playing tonight.
MLB DFS News and Injury Alerts