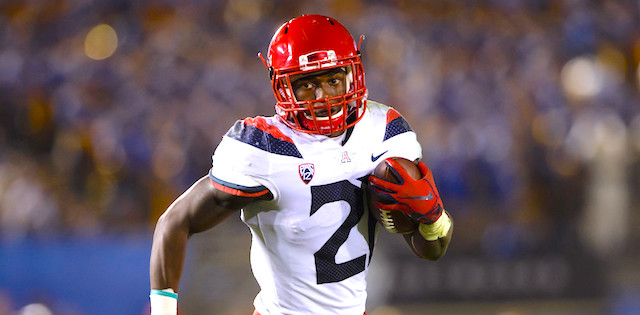 The 2019 College Football season is upon us. We kick off this year with one of the more exciting opening games in recent memory. The Florida Gators and Miami Hurricanes will battle for Florida bragging and both will look to avoid a disastrous start to what has the potential to be a prosperous season for both. Whichever team comes out on the bottom will be working from a huge hole, so expect as much intensity as ever out of these two teams.
With that being said, it's expected to be a low scoring affair. We get to watch an exciting football game to start the night, and finish it off with a fantasy barn burner. Arizona will travel to Hawaii and face off with the Rainbow Warriors at 10:30. The over/under is nearly double that of the early game and rightfully so. There may only be two games to choose from, but there is an edge if you put in the time.
In this article, I will be providing you with my daily fantasy college football lineup picks for FanDuel and DraftKings on 8/24/19. The lineup picks will range from some of the elite players to mid-priced options and value plays. If you have any questions or comments, feel free to hit me up on Twitter @VarneyDFS.
Editor's Note: Get any rest-of-season NFL Premium Pass for 50% off. Our exclusive DFS Tools, Lineup Optimizer and Premium DFS Research through the Super Bowl.
Sign Up Now!
College Football Vegas Lines
7:00 - Florida Gators (-7) vs. Miami Hurricanes - 47.5 O/U
10:30 - Arizona Wildcats (-11) @ Hawaii Rainbow Warriors - 70 O/U
FanDuel, DraftKings DFS Quarterbacks
Khalil Tate, ARI (FD $10,100 - DK $9,000)
With the Gators and Hurricanes captivating the nation on opening night, there is an edge to be had. With all eyes on the 7:00 game, there will be a few guys with very inflated ownership. We see it every year with college football. Because there are so many unknown names, people tend to favor the game they'll be watching. It'll be a fun game no doubt, but it's 47 O/U can't stand up to the 71 we see in Hawaii. We can get a huge edge by focusing on this Arizona @ Hawaii affair that's likely to be a shootout.
The Wildcats are favored by 11 points, meaning Vegas expects them to put up 41 points. Khalil Tate is entering his second full season in the Kevin Sumlin system after injuring his ankle in week 2 last year. The offense never got in rhythm and they ended up going 5-7. Tate is one of the more talented quarterbacks in all of college football and he'll be ready to remind folks of that come Saturday night. He's a pass-first QB, but only because of this system. Here's a six-week period of rushing yard numbers for Tate in 2017. 327-230-137-146-161-206 with 11 combined touchdowns. That's 1,100 yards over the course of six games. Tate is even better at throwing the ball, which should tell you enough about his versatility.
The Hawaii Rainbow Warriors ranked 111th out of 130 teams in 2018 when it came to points allowed. They play fast and give opposing offenses too many opportunities to score. They return all five defensive backs and haven't added a soul. Tate is the clear top play at QB and could easily break the slate. I'd consider him a must, especially with a super FLEX.
Cole McDonald, HAW (FD $10,700 - DK $8,800)
In a world where Arizona starts sluggish, Cole McDonald and this Hawaii offense will not let off the gas. McDonald threw for 3,790 yards and 35 touchdowns last season while throwing just eight interceptions. He's more expensive than Tate on FanDuel and while I think the odds are definitely not in his favor, he's worth a tournament look.
We saw how sluggish this Arizona offense can be last year and the Hawaii offense never let up at home. He has two dynamic options on the outside and 300+ yards is close to a guarantee. I personally prefer Tate with the immense running upside and the Wildcats being favored by nearly two touchdowns, but they should both have great games and McDonald may be a bit safer.
Feleipe Franks, UF (FD $8,800 - DK $7,200)
If you're looking to save at QB, it's been Feleipe Franks and Jarren Williams. There's a reason Williams beat out top prospect Tate Martell and last years starter in N'Kosi Perry. He's had a great feel for the offense in camp and OC Dan Enos has high praise for the red-shirt freshman. He may very well be worth a roster in upcoming weeks, but this Gators defense ranked top 25 against the pass last season and return a sturdy bunch. They're projected for just 21 points and it's hard to justify the play. Felipe Franks has a bit more upside, as this offense will run through him and he has a ton of weapons to utilize. Van Jefferson is his WR1, but the Gators have four five-star receivers to play with.
The offense showed some promise last season and Franks is now entering his second year under Dan Mullen. The Hurricanes were one of 2018's elite defenses, but lost CB's Sheldrick Redwine and Michael Jackson to the draft. There is only one starter remaining in Trajan Brady, and he was the worst of the bunch last season. There are plenty of names ready to step up and fill the holes, but there will inevitably be a learning curve with this defensive backfield never playing together. Franks is nowhere near as safe as Tate or McDonald, but he's been know the run the ball and could combine for four touchdowns if this game goes right. He saves you nearly $3k and let's you spend up elsewhere. You just have to figure out where to spend your money. Let's get to it.
FanDuel, DraftKings DFS Running Backs
J.J. Taylor - ARI (FD $9,800 - $7,700)
If you're not playing J.J. Taylor on this slate, you're doing it wrong. While Arizona derives a lot of their upside from QB Khalil Tate, J.J. Taylor is the man who sets it all up. Taylor ran for 1,434 yards in 2018 on 5.6 YPC. He's going to be drafted in the first couple rounds of next year's draft and is going to be fun watching this season. Hawaii has an all-around susceptible defense and they ranked in the bottom third against the run in 2018. Taylor averaged 20+ carries a game in 2018, and there's no reason to expect that number to go down. Do not worry about pairing Tate with Taylor, either, as this is not the NFL. There is plenty to go around and both of these guys can have huge games. He's the safest play on the slate and a priority as the only guarantee at running back.
Malik Davis - UF (FD $5,200 - DK $3,700)
Lamical Perine is the starting running back for the Gators, but Malik Davis is a very talented back and is going to see a similar amount of carries. He's better catching out of the backfield and has the most upside in this group. We'll likely see a three-headed attack with Dameon Pierce getting some touches as well, but I see Davis as the best back of the bunch and who Mullen eventually wants to take over the job. He's cheaper than Perine and I don't expect him to be very heavily owned.
Fred Holly III - HAW (FD $5,400 - DK $5,100)
There's a lot left to be loved at the running back position on opening night, but we have to make it work. You only have to roster two of these guys and one should be filled up with J.J. Taylor. Holly will lead this backfield and split time with Dayton Furuta. He's a bit too cheap on both sites and makes for a rather safe cash game play. Points should be plentiful in this game and it wouldn't be crazy to see a RB find the end-zone a time or two. The Arizona Wildcats struggled against the run in 2018, but that's not why we're targeting Holly here. He's just a under-priced as a starter that has a solid shot at scoring a touchdown. With only one safe play at the position, the opportunity cost is minimal.
Kadarius Toney - UF (FD $6,200 - DK $3,300)
Toney is listed as a RB on DraftKings and severely under-priced, but is a wide receiver by every measure. He may line up in the backfield often, but no more than Tavon Austin or Percy Harvin ever did. He's the Gators most versatile playmaker and someone they can plug into any spot on the offense. He'll be heavily targeted by Franks and his price is far too low. Toney is my favorite under the radar play on the slate. The Gators have a ton of weapons, but Toney looks like a human joystick with the ball in his hands and you can rest assured that Dan Mullen will make sure he's involved. At just $3,300, I've found my RB2 on DraftKings.
FanDuel, DraftKings DFS Wide Receivers
Jojo Ward - HAW (FD $9,300 - DK $6,000)
John Ursua and his 1,346 yards and 16 touchdowns are gone. Cedric Byrd and JoJo Ward both had over 800 yards in '18 and got in the end zone nine times each. They'll both be asked to step up in a big way this season and it all starts against a porous Arizona pass defense. I went with Ward over Byrd, but it's really a coin toss. Where Ward is more expensive, I'm fine with the pivot. I just expect fifth-year senior Jace Whittaker to cover Byrd, who's one of the best cover corners in all of college football. McDonald is going to throw for 300+ yards and these two guys will see a combined 30+ targets. You need to have one of these guys, at least, in your lineup.
Cedrick Peterson - ARI (FD $8,400 - DK $5,900)
It's a huge change of scenery for the Wildcats at the WR position, with all four of their top options leaving. Cedrick Peterson caught just 18 balls last year and is expected to be the favorite of Khalil Tate this season. Four of his 18 catches were touchdowns and you can expect him to be peppered with targets in the red zone. Peterson has emerged as the senior leader of this group and is the clear number one option in the eyes of the coaching staff. We may be getting a discount on a guy that's going to end up as one of the most productive wideouts in college. This offense is going to throw the ball a ton and it's fair to expect 10-15 targets to Peterson.
Van Jefferson - UF (FD $8,100 - DK $5,100)
The Gators top option at wideout this season will be Van Jefferson. That's not saying much, though, as it's fair to expect all three starts to see a similar amount of targets. Jefferson, Grimes, Cleveland, Toney, and Hammond will all see five to ten targets, but Jefferson is the most talented of the group and will see a few extra looks. He's also the favorite of Feleipe Franks in the red-zone, which matters a lot when it really comes down to things. You can take any of these Gators wideouts as a flier, but Jefferson, while still holding the same upside. is a bit safer and won't break the bank.
Bryce Wolma - ARI (FD $4,900 - DK $3,100)
Wolma emerged as a freshman in 2017 for Arizona and caught 28 passes to go along with 241 yards and a pair of touchdowns. He then transitioned into more of a blocker in 2018 with the Wildcats having one of the best WR sets in the nation. With everyone and their brother gone, Wolma is expected to step back into that pass-catching role. He's now two years stronger and knows this offense like the back of his hand. He's probably the biggest unknown on this team and a guy that could end up going in the first round of next year's draft if he show his tools with Tate at the helm.
Jeff Thomas - MIA (FD $7,500 - DK $5,300)
I expect to see most exposure to the Miami Hurricanes in the form of DeeJay Dallas and K.J. Osborn. I'll be avoiding both like the plague. Dallas is in a RBBC and on the team with the lowest implied total on the slate. They'll be playing from behind and will be forced to throw the ball. K.J. Osborn transferred to UM this offseason and is expected to be the top receiver for the Canes. All that means to me is that he'll draw one of the nations best cornerbacks in C.J. Henderson. Jarrell Williams is a young quarterback and will have no want to go anywhere near Henderson. That leaves Jeff Thomas, who's a sure-handed wideout and going to see 10+ targets. If you're looking for a flier on this Hurricane offense, Evidence Njoku and Mark Pope will both see the field and have a ton of upside. As for your cash games, Jeff Thomas in the only guy I have much interest in.
Melquise Stovall - HAW (FD $5,500 - DK $5,700)
Cedric Byrd and JoJo Ward are certainly the safe routes to go at WR for Hawaii, but this situation with Melquise Stovall is very interesting. Jason-Matthew Sharsh has held the starting slot role all spring, but Stovall transferred just last year and is now seeing looks with the first team. Talent-wise, he has the ability to put up 100 catches as a target-hog slot wideout. It's just about getting the opportunity and drawing targets away from Ward and Byrd. If you recognize the name, Stovall was a big prospect for Cal in 2017, but ended up transferring. He's more of a tournament play as we don't know how they'll use him and how many looks he'll get in week one, but the upside is there and he won't be highly owned.
More DFS Analysis