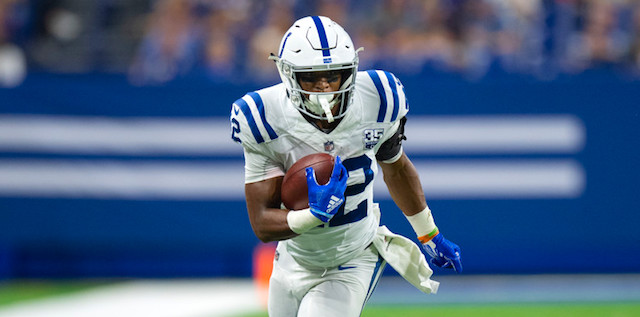 As an addendum to our famous waiver wire pickups list, and our weekly waiver wire columns by position, in this column we also present suggested waiver wire bidding percentages for fantasy football owners in leagues using a Free Agent Acquisition Budget (FAAB).
As a caveat, these prices do not by any means indicate how much these free agent players will go for. Each league values players differently and will continue to do so. These auction values are here to provide a baseline to understand roughly how much you should be targeting to spend on a particular player. If you want to go wild and blow a chunk of your budget on a guy you believe in, by all means, carry on. However, these players are not a dime a dozen. Guys get injured, and other guys replace them and their production all the time, every year. You only have so much FAAB money, spend it as wisely as possible.
Playoff time is here and that FAAB is as close to useless as possible. Every week is a must win (unless you have a bye) which means that you should have no qualms spending all of your money if you must. With that being said, below are our FAAB auction bidding recommendations for Week 14. Good luck, and happy bidding!
Editor's Note: Get any rest-of-season NFL Premium Pass for 50% off. Our exclusive DFS Tools, Lineup Optimizer and Premium DFS Research through the Super Bowl.
Sign Up Now!
FAAB Waiver Wire Bids - Quarterbacks
Josh Allen (QB, BUF) - FAAB Bid: 3-5%
5% owned
One of the earlier editions of this FAAB article included a blub on Josh Allen that quickly fell flat. Allen was looking productive after the first few weeks of the season but was immediately hindered by an elbow injury. Once again, he is a viable add. Allen ran for 135 yards on just nine carries Sunday and provided a great fantasy stat-line for the second week in a row. If he's healthy, he's productive. With a QB-favorable schedule coming up, Allen is a hail mary option at QB in deeper leagues.
Lamar Jackson (QB, BAL) - FAAB Bid: 2-4%
42% owned
There is no guarantee that Lamar Jackson starts the rest of the year but he should. This decision rests on the Ravens organization alone. Do they want to be one foot into the future or the past? Joe Flacco is bad an has been bad for the past few seasons. Jackson, while still young and raw, is electrifying and fresh. He's going to be a fantasy stud in the future, but there are definite questions of his current status. If this turns into a QB timeshare stay away. For now, he's been productive and provides a safe weekly floor due to his ability to run the ball.
FAAB Waiver Wire Bids - Running Backs
Jaylen Samuels (RB, PIT) - FAAB Bid: 40-50%
10% owned
This is entirely dependent on the news we receive regarding James Conner's injury. So far, the reports are that it is a lower leg contusion and not that serious. If something comes out prior to waivers processing that Conner is expected to miss several weeks, bid everything you have on Samuels. If it's just this week and you want to win, bid a relatively high amount as suggested. Samuels seems to be the next man up but could split carries with Steven Ridley. Samuels will likely assume the passing down role which could be very profitable. The Raiders should be a cakewalk for the Steelers and Samuels should eat if he plays. The bonus here is that he is tight end eligible and could allow a team to essentially have an extra flex.
Jeffery Wilson (RB, SF) - FAAB Bid: 20-25%
3% owned
Matt Breida has been declared out for Week 14 which opens the door for Wilson. Jeff Wilson is a random running back off of the street who happens to have a Shannahan favorable play-style. He is small, quick and can catch the ball. The 49ers are not going to want to throw the ball too much on Sunday, allowing Wilson to once again see plenty of work. He was very efficient on the ground against a solid Seahawks defense and saw plenty of action in the passing game. He will be used plenty against Denver but probably won't be as pretty because of how stout they've been against the run. Preferably buy him in PPR but he's a viable flex in all leagues.
Jalen Richard (RB, OAK) - FAAB Bid: 8-10%
39% owned
Despite fumbling, Richard looked great on Sunday against a poor Chiefs' defense. Richard rushed just six times but gained 95 carries and caught three passes for 31 yards. His snap-share has remained just below fifty percent since Marshawn Lynch went down and without an injury to Doug Martin, it should remain that way. Richard is a solid PPR add who is flex-able (especially in Week 14 against Pittsburgh). Ignore him in standard leagues.
Justin Jackson (RB, LAC) - FAAB Bid: 15-20%
23% owned
This depends on Melvin Gordon's status for next week. If he's on track to play, don't bother adding Jackson. Otherwise, Jackson could be fairly valuable. The Chargers play the Bengals who get ripped by opposing RBs. Jackson will probably see more carries after being so efficient these past two games. He doesn't have the pass-catching acumen that Austin Ekeler does but he can be effective there as well. He's preferable to add in standard leagues but should be decent anywhere else (if Gordon's out).
Nyheim Hines (RB, IND) - FAAB Bid: 4-6%
26% owned
Nyheim Hines had a heavy role Sunday against the Jaguars. Marlon Mack was fairly inefficient against a stout Jaguars defense and the Colts relied on passing heavily in the second half. Hines role is fairly game-script dependent, so he's not worth adding outside of full-point PPR leagues. He's not someone to trust unless Mack goes down but still worth owning.
Rex Burkhead (RB, NE) - FAAB Bid: 4-6%
24% owned
Rex Burkhead was activated from the Injured Reserve and regained some sort of role in New England. Don't expect too much from him going forward given the emergence of Sony Michel and the breakout campaign by James White but grab him if you need some potential. Burkhead saw some work in his first game back, accruing nine touches but not making too much of it. His role will be different game-to-game. He's more of a handcuff to Michel or White for the playoffs.
Damien Williams (RB, KC) - FAAB Bid: 3-5%
24% owned
Well, it's come to this. With Kareem Hunt out of the picture, Damien Williams has become a viable target off of the waiver wire. He isn't a world beater, but he will get touches in an explosive Chiefs' offense. Williams will see more passing down work than anything but should see a few carries. He looked solid in Sunday's game against Oakland, but then again, it would be more concerning if he hadn't given that it's Oakland. Give him an add in deeper leagues or as a Spencer Ware handcuff. Not someone worth starting for now.
FAAB Waiver Wire Bids - Wide Receivers
Courtland Sutton (WR, DEN) - FAAB Bid: 20-25%
49% owned
Sutton is back on the menu. After a disappointing outing two weeks ago, there was a significant drop in ownership. However, that should not be the case. Sutton is a WR2 in a decent offense that unfortunately doesn't love throwing the ball. He has talent and should grab another touchdown or two before the season ends. Sutton has a great matchup this week against the 49ers where he could exploit the side of the field not covered by Richard Sherman.
Adam Humphries (WR, TB) - FAAB Bid: 12-20%
51% owned
Adam Humphries should be owned in all PPR leagues. This is not a drill. The guy is producing some real numbers and cannot be as ignored as he's been. As much as I want to say that this is a fluke, it's not. They trust him down in Tampa as he consistently finds ways of getting open. With DeSean Jackson out, Humphries received an increased target share (the most on the team) and provided WR1 numbers in PPR. He has a knack for finding the end zone and will be involved plenty.
Curtis Samuel (WR, CAR) - FAAB Bid: 15-20%
18% owned
Curtis Samuel is used all over the field, and that continues to benefit his fantasy stock. Typically, he isn't the most targeted WR on the field, but his ability to make a play with the ball in his hands makes him plenty viable. The Panthers limited Devin Funchess's snaps this past game as he returned from injury which opened up more time for Samuel. Four double-digit scoring games over the past five weeks do not go unnoticed, grab him up for kind of cheap if you can.
Dante Pettis (WR, SF) - FAAB Bid: 15-20%
5% owned
Pettis has been a monster these past two games. Mullens appears to have a great connection with him, and now that he's healthy there is no stopping him. Pettis caught a 75-yard bomb this past weekend against the Seahawks and will look to reak havoc these next few weeks to solidify his role in the offense next season. Add him as a potential high-upside WR these last few weeks.
Anthony Miller (WR, CHI) - FAAB Bid: 10-12%
34% owned
Unfortunately, Miller only caught one pass against the Giants. Fortunately, that one pass was a touchdown. With Mitch Trubisky due back sooner than later, Miller should regain fantasy form. He's a solid cheap add right now if he's still available on the waiver wire.
Chris Godwin (WR, TB) - FAAB Bid: 10-15%
46% owned
If DeSean Jackson continues to miss time, Godwin becomes the best WR available on the wire (if he's there). Godwin has put up monster stat-lines while Jackson has been out and should continue to see an increased target-share if that remains the case. He's a better add in standard than PPR due to his scoring proficiency but is viable across all leagues.
John Ross (WR, CIN) - FAAB Bid: 10-12% 
9% owned
John Ross is officially back in the picture (again). A.J. Green is out for the season, and Ross will be the benefactor. Ross has seen around 90 percent of snaps this year with Green out, and unless he's in the doghouse with Coach Lewis again, he should continue to do so. The dud against the Broncos should be ignored given the talent of the Broncos' defense. Driskel prefers Boyd as a target, but Ross should get some looks his way these next few weeks. He's a boom-or-bust flex in all leagues who should be owned.
FAAB Waiver Wire Bids - Tight Ends
Chris Herndon IV (TE, NYJ) - FAAB Bid: 2-5%
13% owned
With Sam Darnold due back, Herndon should see an uptick in quality targets. Darnold often looked for Herndon in the red zone, and hopefully, that will continue upon his return. Otherwise, Herndon has been targeted plenty and is a decent fill-in TE for anyone who is just desperate for something better than a dud.
CJ Uzomah (TE, CIN) - FAAB Bid: 2-5%
26% owned
QB Jeff Driskel loves his tight end. Uzomah's seen a spike in usage these past few weeks with Dalton out and that should continue going forward. Uzomah's more of a safety blanket than a downfield target so don't expect much but in PPR he will be solid. Don't give up too much unless you have to.
FAAB Waiver Wire Bids - Defense/Special Teams
Buffalo Bills D/ST - FAAB Bid: 5-8%
30% owned
The Bills play at home against the Jets and Lions these next two weeks. These should be extremely favorable for their D/ST as long as they stay true to form. The Bills D has been killer this season and is the only reason they have stayed close and won a couple of games. The only reason I would hesitate to start the Bills this week is if Jerry Hughes is suspended for his post-game actions against a referee on Sunday.
Tennessee Titans D/ST - FAAB Bid: 2-3%
47% owned
The Titans get to face the Cody Kessler led Jaguars at home on a Thursday. Hard to find a better matchup for a D/ST on paper than this. The Jaguars do get their best offensive weapon in Leonard Fournette back but that shouldn't matter given how ravaged their offensive line is. Kessler isn't exactly the turnover machine that Bortles was but he isn't as talented either (weird, but true). Fire up the Titans if they're available.
More Waiver Wire Adds and Pickups