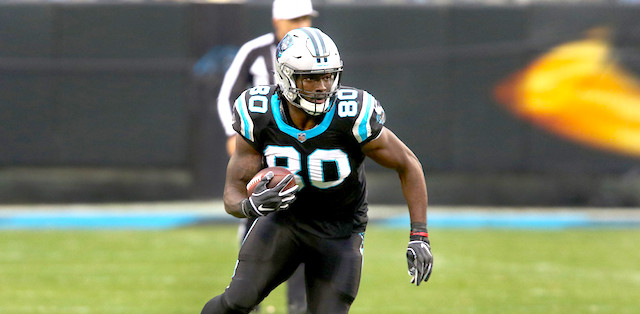 As the 2019 NFL season and all the fantasy football-related stuff that comes with it approaches, you're going to eventually have to wade into the muck that is the tight end position.
Especially with the new prevalence of tight end premium leagues, there are lot of guys who don't look great on the surface, but who can help your fantasy team if the right things happen. The tight end position is becoming more and more important for fantasy owners, because the talent pool at the position feels so flimsy. You can't grab just anyone and get solid production.
Let's look at some tight ends who have a chance to be breakouts in 2019.
Editor's Note: Get any rest-of-season NFL Premium Pass for 50% off. Our exclusive DFS Tools, Lineup Optimizer and Premium DFS Research through the Super Bowl.
Sign Up Now!
I think we could technically call 2018 Howard's breakout, except his season was derailed by foot and ankle injuries and ended up on the Injured Reserve, so his final numbers still have some people not fully seeing how good Howard's going to be.
Here's my bold prediction of this article: Howard's going to finish at least fourth among tight ends in fantasy scoring as long as he's healthy, and he's got a chance to do even better than that.
Last year, Howard had 11.2 percent of Tampa Bay's air yards in the games he played. He was third on the team in average depth of target (aDOT), and he turned all four of his red zone receptions into touchdowns.
Jameis Winston looks to be the full season starter this year for Tampa Bay, and that stability should enable Howard to put up the true breakout year that he just missed out on last season. He's got the right mix of skill and speed and strength to make him one of the NFL's best tight ends for years to come.
While Herndon is likely going to be serving a two-game suspension to open the season, he's still got the upside of someone who can finish as a top-12 fantasy tight end. Herndon's rookie campaign was an unexpected surprise, as he finished with 502 yards on 39 receptions and caught four touchdowns. With quarterback Sam Darnold another year older and a new coaching staff in New York, Herndon's second NFL season should see him improve on last year's numbers.
Herndon's per-play efficiency is part of what makes him so intriguing. He led all tight ends in true catch rate, while his actual catch rate of 69.6 percent ranked 13th at the position. That disparity came from Herndon not getting a ton of catchable balls thrown his way, as Herndon was 30th among tight ends in catchable target rate. One easy way Herndon improves this year? His quarterback play improves and he gets more catchable targets.
Herndon can also get more involved as a downfield threat for the Jets. He was fifth among tight ends in average target distance, so getting more on-target passes thrown his way can have more value than it would for a guy who was used more in short yardage. These passes can turn into big plays for Herndon.
Remember last year when the Ravens drafted two tight ends? Well, the first one they drafted, Hayden Hurst, had a pretty mediocre rookie year, but the other, Mark Andrews, flashed a lot of potential to be a key part of the Lamar Jackson-led Ravens.
In the seven games that Jackson started, Andrews had 13 catches for 308 yards and a touchdown. The reception total isn't great, but Andrews proved to be an adept downfield threat for the Ravens and produced those numbers in a run-first offense. The Ravens should still be a team built around the run this season, providing Andrews with a chance to get involved in play action. Baltimore should use their right ends often, and things like his seven targets in the team's playoff loss to the Chargers show that if defenses gameplan to keep Lamar Jackson from running, Andrews will be one of his most used targets.
Andrews was third among tight ends in average target distance, and quarterbacks had a 124.8 rating when targeting him, the second-highest mark among tight ends. He's able to bring in balls and then make things happen once he's brought the ball in, as evidenced by 74 and 68-yard receptions late in the year.
The names above are going to be on a lot of people's lists of players who are primed to break out, but here's my pick among all the names who aren't getting talked about as much: Carolina's Ian Thomas.
We know that Cam Newton likes to target his tight ends, and for years now that's been Greg Olsen. But there comes a time in every NFL player's career where he just isn't the guy he was before, and Olsen has played just 16 games over the last two seasons. He has 482 yards and five touchdowns over those 16 games. In the three years before this stretch, Olsen was averaging over 1000 yards per season. He's just not the same guy at this point.
Ian Thomas is set to benefit from Olsen's struggles. Thomas caught 36 passes for 333 yards and a pair of scores last year for the Panthers and had at least four targets in the last five games, including 11 targets in a start against the Browns.
Now, both of his touchdowns came at the end of the year after Newton had been taken out of the lineup due to injury, but there was still a lot of strong production from Thomas over that time that speaks to his ability to be a key cog with Newton starting again.
Thomas was also eighth among tight ends in catch rate and seventh in target separation. The combination of his ability to get open and then to haul in whatever pass comes near him will make him a valuable safety valve for the Panthers this year. If Olsen's healthy, I'd say Thomas ends up starting slow but working his way into being a consistent part of the offense, but if Olsen misses time, I'd peg Thomas as a streaming option at worst for any game that Olsen isn't playing in.
More ADP Values and Sleepers