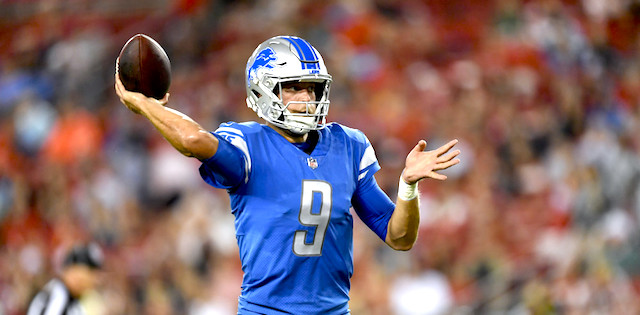 With the Scott Fish Bowl finally drafting, two things are clear: The first is that charity is alive and well in the fantasy industry. The second is redraft leagues are starting to get geared up for the 2019 season.
Of course, dynasty leagues have been drafting for a while now and the trade markets are active. Let us take a look at some dynasty quarterbacks who have a chance to rise or fall based on their current price.
There is no right answer when it comes to the perfect time to buy or sell a player. What is right for some may be wrong for others, depending on the team makeup or the other players in your league. All we can do is give you the best advice possible in a fluid situation before training camps are underway. So, let's get started.
Editor's Note: Get any rest-of-season NFL Premium Pass for 50% off. Our exclusive DFS Tools, Lineup Optimizer and Premium DFS Research through the Super Bowl.
Sign Up Now!
Players to Buy
Matthew Stafford, Detroit Lions
ADP: QB24, Pick 14.9
2018 was a bad year for Matthew Stafford, both on the field and off. 2019 should be far different for the man from Georgia.
At 31 years of age, he is seasoned but not as old as you may think. This makes him a great value for your dynasty team. Not only is he a low-cost player but he is a high potential player for many more seasons in Detroit.
Kenny Golladay will look to take a third-year jump in the offense and Marvin Jones can provide a WR2 type season until he is ready to take over. It was just two seasons ago when Jones was a top-12 receiver along with teammate Golden Tate. With Golladay getting better each year, it may be time for the Lions to have another set of players in the top 15 at the position.
Rookie running back Kerryon Johnson was having a remarkable season before injuries forced him out. In 10 games in 2018, Johnson had 641 rush yards and three touchdowns on 118 carries. He also had 32 receptions for 231 yards and one touchdown on 39 targets in the passing game.
The common sentiment is that Theo Riddick is the pass-catching back for the Lions, but it may be 2019 where Riddick is not on the roster to start the season. This bodes well for the all-around back in Johnson taking a major step forward. With this step to finally having a solid running game comes an immediate boost to the value of Stafford.
If the run game can finally get something going to complement the pass game, the entire field will open up for Stafford to bounce back from a season in which he only compiled 3,777 yards and 21 touchdowns in 2018. Rookie T.J. Hockenson and free agent Jesse James will provide both blocking and receiving production from the tight end position and the ability for both of them to get on the field will only add another dimension to an offense which already looks to take a big step forward as Detroit tries to remain competitive in an increasingly better NFC North.
Matthew Stafford will not finish as a top-five fantasy quarterback. With players like Aaron Rodgers, Andrew Luck and Patrick Mahomes around, this is far from likely. But at only 31, just entering into his prime years and at a depressed value, you could easily get him for the price of a bad cup of coffee and he could finish as a top-12 quarterback for a good half-decade more. And really, what more could you ask for?
Kyler Murray, Arizona Cardinals
ADP: QB16, Pick 12.1
No, we don't know what to expect from Kyler Murray or Kliff Kingsbury's offense this year or in the future. But why risk missing out on the next Pat Mahomes in fear of getting JaMarcus Russell?
At QB16 in drafts, Murray is being drafted at his floor at least for this season. One thing about rookies is their value can only go up for a while. Even if he comes out hot and you want to flip him, the ability will be there during the season. If he pulls off a season like Mahomes or Baker Mayfield? Just imagine the bounty you can get for him.
The Arizona offense has to get better this season. It is impossible for them to get worse. They not only moved at the slowest pace in the NFL last season at only 65 plays per game, but they also scored only 13 points a game. Kingsbury has said he wants to run 90 plays per game. This may be unrealistic, but the fact is they are going to be much more fast-paced. This starts with the Heisman winning Kyler Murray and his command of the offense - an offense similar to the scheme he was exposed to during his time at Texas A & M before his transfer to Oklahoma. Kingsbury wanted Murray at Texas Tech and missed out because, well because no one wants to live in Lubbock. In the 2019 draft, he finally got his man.
Surrounded by talent in Larry Fitzgerald and David Johnson, Murray will use his throwing ability, over 4,000 yards last season and his run ability, over 1,000 yards to make his mark in his rookie year. With Christian Kirk coming back healthy to add to the weapons, a top-12 finish is likely in the desert. If this happens, you have your dynasty quarterback for the next decade or more. Or if you prefer a big trade chip to use to improve your team next offseason.
Either way, QB16 is a small price to pay to find out what you have out of the rookie. Late-round quarterbacks are all the rage and getting Murray in the 12th round of drafts should make you excited for the opportunities he could provide. Don't be scared off by the season that was Josh Rosen in 2018. This is a far different offense and Kyler Murray is a far different quarterback.
Dak Prescott, Dallas Cowboys
ADP: QB14, Pick: 11.4
As painful as it is for me to say, Dak Prescott deserves to be listed as a buy for your dynasty team. Personal feelings about the Cowboys aside, we are here to give you the best advice possible. The weapons are undeniable. Amari Cooper is entering his prime and likely to get a new contract. Add to this Ezekiel Elliott being one of the top running backs in the NFL. The future for Prescott is only getting brighter than the lights of Dallas.
Since entering the league from Mississippi State, Dak Prescott has been a seamless transition at quarterback for the Cowboys. Tony Romo was being driven to mediocrity by injury and it was time for Dallas to move forward. They lucked into Prescott after not being able to land Paxton Lynch in the first round of the draft. A move which could have set the franchise back a number of years had it happened.
Instead, they end up with a quarterback who, while not flashy, has provided stability at a position where it is of the utmost importance. With rushing ability to match his passing ability, Prescott has run for six touchdowns in each season of his career and as the offensive line gets healthy again this should continue to be a theme in 2019. Travis Frederick, one of the top centers in the NFL, looks to return to the lineup this season. Lining him up next to All World guard Zach Martin will provide protection which was missing for much of 2018.
People love the flashy play of Aaron Rodgers or Patrick Mahomes, yet Dak Prescott has never finished outside the top-11 fantasy quarterbacks since entering the league. With Cooper and Elliott in the fold, not to mention Michael Gallup looking for year two improvement, this will continue to be his floor going forward.
Amari Cooper is the oldest of the core group of players being compiled in Dallas. At 25, he is also the one who is re-invigorated after a move away from Jon Gruden and his soul-sucking ways in Oakland. As all of these players enter their prime together, it will be fun to see what Prescott can do. He will come into his own and as he finds his comfort level can only go up from here. Buying him now at his lowest is a great move for your dynasty investment.
As the price of Cooper, Elliott and Gallup continue to grow, so will the cost to attain the services of the man who distributes the ball to all of them. Buy how and avoid the mad rush which is to come after the 2019 season. A season which could see Prescott explode in production with finally elite weapons surrounding him on all sides of the ball.
Players to Sell
Cam Newton, Carolina Panthers
ADP: QB9, Pick 7.11
At 6'5" and 245 pounds, Cam Newton is a big man. At the position of quarterback, big men do not typically possess longevity. While players like Ben Roethlisberger are of similar size and have latest, they have also not continued to run the way Newton has. They also have something Newton doesn't possess - throwing ability.
Yes, Cam Newton has an arm. Maybe even one of the strongest in the league. But it doesn't matter the strength when you cannot hit anyone. His 59.7% career completions are not exactly on the level of Drew Brees or even Eli Manning. His 67.9% in 2018 was better, but after offseason shoulder surgery, the second of his career, what can we expect now?
Entering into his ninth NFL season and being drafted as the number nine QB is a steep price to pay. Especially with players like Dak Prescott QB14, Kyler Murray QB16 and Josh Allen QB19 being taken far later in drafts. All of these players among many others provide far more upside long term than Newton does. They also come at a lower cost making them far better options when starting up a dynasty team or when trying to make a trade.
If you have Newton on your roster, now is the time to bail out. He still has the name people love to get on their team and he will bring you back valuable pieces. But his production is going to continue to fall off dramatically over the next few seasons. There are some players you will want to die on your roster. Julio Jones or A.J. Green for sure. But when it comes to a position like quarterback where only one, maybe two are started? This is not the place for you to allow this to happen.
Jared Goff, Los Angeles Rams
ADP: QB6, Pick 6.4
Is he old? No. Is he a good quarterback in a good offense? Yes. But this is where the goodness stops for Jared Goff.
His draft price is far too high for a scheme quarterback. While you can say Aaron Rodgers or Tom Brady would fit in any system, the same cannot be said for Goff. In his first season under Jeff Fisher, he was terrible. Some of this can be due to Fisher for sure. But not all of it. Goff has to share some of the blame.
Enter Sean McVay and everything changes. But why did it change? He had McVay in his ear telling him everything to do until the last second. He had the best running back in the NFL for two seasons and he had great receivers. Todd Gurley is at 24, already getting worn down. This is why the Rams already had to trade up to take a backup and possible replacement in Darrell Henderson in the 2019 draft. Gurley has arthritis. Everyone knows this, as it is the biggest story in the NFL this offseason. I am not a doctor, but I think a knee is important to a running back, don't you?
They also have one elite receiver in Cooper Kupp coming off an ACL injury. While both of these players should be there a few seasons longer, Kupp will take a year to be fully healthy and this will mean one less season of production with Woods who may only have one further season on the roster.
The Rams are a great team. This leads to their players wanting to get paid. Goff and Kupp will both want to get paid soon. Gurley is already getting paid and so is Aaron Donald. They cannot pay everyone, and hard choices are going to have to be made. Jared Goff will get his. Quarterbacks whether right or wrongly, always do. But this leads to others having to be sacrificed for the cause. Kupp may leave in free agency or he may be traded before this happens to make sure the Rams get something of value in return. Add this to a possible departure of Woods and there is not much left surrounding Goff and Brandin Cooks on the offense.
Jared Goff has been everyone's darling for the past two seasons. In the next two seasons, he could become someone's headache. Better it be someone else than you.
Goff is a good player. But unlike Dak Prescott or Kyler Murray, he does not have the elite upside. If you want a year in and year out QB12-15 you can do worse than Goff. But at a draft price of QB6, is this really what you want to settle for?
More Dynasty League Strategy