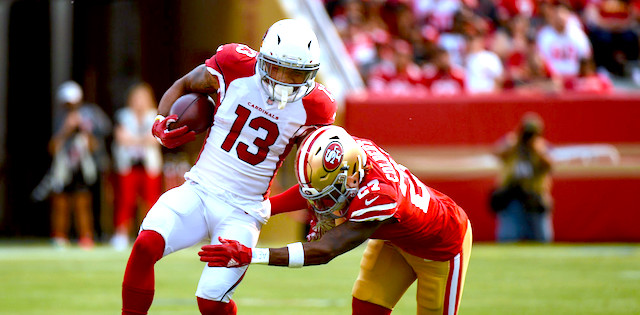 The NFL draft is completed, and, as the offseason continues to wind, dynasty drafts are slowly taking place. The wide receiver position has steadily risen in prominence in recent years as the game has taken more of a wide-open approach. While there are the clear top guys at the position when you move your way down, there become some instances of debate in how you prioritize players, and wide receivers Christian Kirk and N'Keal Harry are a perfect example of this scenario.
Kirk is a second-year receiver that was brought in to be the heir apparent to Arizona Cardinals legend Larry Fitzgerald. He was an athletic player that was a top performer at a number of positions during the 2018 NFL combine. His major issue as a rookie, besides a broken foot that cut his season short, were the struggles of the quarterback trio of Sam Bradford, Mike Glennon, and Josh Rosen. With first-overall pick Kyler Murray under center, he's gotten a talent upgrade passing him the ball.
In the case of the New England Patriots' Harry, he was the second wide receiver off the board in the 2019 draft in what was a pretty loaded class at the wide receiver position. Unlike Kirk, there is no question mark at quarterback for him. He has future Hall-of-Famer Tom Brady standing back there slinging passes to him. Both are young and talented players, but which one should you be aiming at when your dynasty drafts get started?
Editor's Note: Get any rest-of-season NFL Premium Pass for 50% off. Our exclusive DFS Tools, Lineup Optimizer and Premium DFS Research through the Super Bowl.
Sign Up Now!
The Case for Kirk
When you're playing dynasty, you're in it for the long haul. You need to make sure your guys are going to be playing in a good situation for years to come. If the Murray and Kliff Kingsbury combination work as hoped, this figures to be one of the most explosive offenses in the NFL. Kirk was one of the best testers at the combine last year, and he played in the wide-open Texas A&M offense during his college career. He'll be given the opportunity to be a key component of the offense in his first season.
When looking at the Cardinals' depth chart, Fitzgerald and third-year wide receiver Chad Williams are the other two wide receivers to fill out the top three. Fitzgerald had just 69 receptions last year while averaging just 10.6 yards per reception. He'll also be 36 before the season kicks off. He still has something in the tank, but he doesn't have the legs to be a top receiving threat that he was earlier in his career. In regards to Williams, he has just 20 receptions to his name through two seasons. Kirk had 43 last season alone despite missing four games. He looks primed to be Murray's main weapon.
Murray has a great arm. He can make any throw down the field, but, with the offensive line still a work in progress, he'll need to get the ball out quickly. That's where a slot guy like Kirk comes in. He averaged 13.72 yards per reception last year. Kirk will get plenty of targets, and he should come down with them more often than not. In PPR formats, he's got a lot of value for a team that's going to need to score points to remain competitive.
The Case for Harry
Wide receiver Julian Edelman is the top target for this team, but it's wide open after that with the retirement of tight end Rob Gronkowski.  The team added Harry in the first round to be a key contributor right away for them. They have Dontrelle Inman, Phillip Dorsett, and Demaryius Thomas, who is still recovering from a torn Achilles. Harry will be given every opportunity to succeed from his first day with the team.
Harry was the main offensive weapon for Arizona State last year, and the team made sure to manufacture touches for him. He finished with 155 receptions over the last two years. He gives them the big-bodied, 6'2" and 228 pounds, receiving threat they don't currently have, especially with Gronkowski out of the picture. He didn't score a ton with an offense that was 58th in points per game last season, but he still managed to score 17 touchdowns in his final two seasons combined.
The one drawback for Harry as a long-term prospect is the career of Brady. Brady has been around the NFL for two decades, and he could retire after next season with no transition plan in place for the Patriots. There is going to be a steep drop off to the player that replaces him, and that will directly affect the prospect of Harry as a future player.
The Verdict
At the end of the day, this ultimately comes down to how you view the pro prospects of Murray. If you have faith in him being successful, you're going to prefer Kirk. If you don't, Harry is a safe bet to go after to be a decent player for many years. Harry doesn't have the same athleticism that you get if you go with a guy like Kirk. Kirk also is likely going to cost you less in startup formats because he doesn't come with the pedigree of Harry or playing in New England.
Kirk has played in the NFL, but they are both learning new offenses this season. Both are playing with a new quarterback. The similarities are uncanny, and they each have their own drawbacks for different reasons. At the end of the day though, it comes down to who you think is going to produce at a consistent for an extended amount of time. That guy is Harry. He may never be an elite WR1, but he's always going to be a relevant player as a WR2 which is what you look for in toss-up situations like this one.
More Dynasty League Strategy
Check out all of RotoBaller's fantasy football rankings. Staff rankings are updated regularly for all positions and include standard formats, PPR scoring, tiered rankings and dynasty leagues.