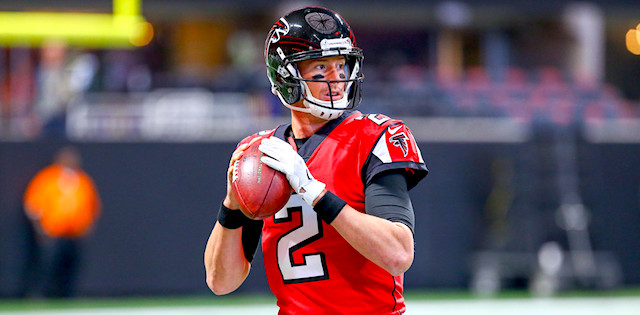 Hello RotoBallers and welcome to this season's last edition of Power Pivots! I hope you all had a very Merry Christmas and wish you well as we head into 2019! I appreciate those of you that have joined me here each week. While I want you to win money in DFS tournaments, the ultimate goal is to improve our DFS process and way of thinking about lineup construction. I hope you feel that this article has done that a little bit each week and I look forward to writing it again next season. Those of you that enjoy PGA DFS can catch me right here at RotoBaller every week of the golf season by checking out my Horse For The Course article each Tuesday. Ok, enough with the pleasantries. We have one more NFL slate to tackle, so let's dig in!
The Week 17 main slate carries with it a unique set of challenges. More so than any other week of the season, we must be aware of motivating factors for each team. Some squads are either locked into playoff seedings or have absolutely nothing to play for. These are the scenarios that we want to be mindful of, as players in these situations are the most likely to see reduced or zero playing time. The final week of the regular season is usually my lightest NFL DFS week of the season for this reason. This year's scenarios aren't as cloudy as some I've seen in the past, but I will still scale back the amount of money I have in play on this slate.
All ownership projections in this article are courtesy of the awesome folks at UFCollective. They provide the most accurate ownership projections that I have found in the DFS industry and now offer their content directly to the public. It is a premium product that is worth every penny and available here. They offer NFL, NBA, and MLB content for both DraftKings and FanDuel. You can follow them on Twitter @UFCollective.
Editor's Note: All you early birds can get a full-season NFL Premium Pass for 50% off. Our Draft Kit, In-Season tools and over 150 days of Premium DFS.
Sign Up Now!
Week 17 NFL DFS Power Pivots for DraftKings GPPs

As I mention every week, ownership considerations should come at the end of your weekly research process. Ownership projections change throughout the week, and I highly recommend that you refer back to this column before finalizing your lineups. I will update ownership projections and add injury notes with additional strategy thoughts on Saturdays.
QB CHALK: Patrick Mahomes ($7,100)
Projected DraftKings Ownership: 18%
POWER PIVOT: Matt Ryan ($6,300)
Projected DraftKings Ownership: 3%
While we would like to focus only on players that are highly motivated and have tons to play for, those players will garner the majority of ownership this week. In order to gain leverage in large-field GPPs we must sometimes color outside of the lines.
While the Atlanta Falcons have been out of playoff contention for several weeks, QB Matt Ryan hasn't slowed down. The former NFL MVP has played well this year and has been forced to cover for Atlanta's horrible defense. Ryan has pushed to ball down the field and ranks fifth in the league in Air Yards Per Attempt. Despite not having a ton to play for, Ryan has posted 20-plus DK points in four of his last five games.
The Tampa Bay defense is one we've picked on throughout the season. While the Bucs have improved since firing defensive coordinator Mike Smith, this is still an attackable spot. Tampa ranks 31st in Yards Allowed Per Pass and coughed up 355 passing yards and three TDs to Matt Ryan in their Week 6 meeting earlier this season.
This is an excellent matchup for DFS purposes. We get a "high and tight" (high projected Over/Under and close point spread) division matchup between two teams with sub-par defenses and highly competent offensive attacks. If these teams were in playoff contention we would be talking about this as one of the best DFS games of the week. I'll happily grab Ryan in a game that will go overlooked on this slate.
SATURDAY UPDATE: Thanks for stopping by for the SATURDAY UPDATES! Mahomes makes tons of sense this week and his salary isn't a problem with all the value available on this slate. He will be extremely popular, so a pivot to Ryan is viable from a game theory standpoint. One of the few QBs on the slate that might outscore Mahomes is Green Bay's Aaron Rodgers ($6,300), who seems intent on finishing out the season strong and is facing what has turned into a true funnel defense in the Detroit Lions.
RB CHALK: Royce Freeman ($3,500)
Projected DraftKings Ownership: 23%

POWER PIVOT: Saquon Barkley ($8,200)
Projected DraftKings Ownership: 6%
With Denver's Phillip Lindsay ruled out, the Broncos other rookie, RB Royce Freeman, will take over lead back duties in the season finale. This was supposed to be Freeman's job from the start, but the combination of injuries and Lindsay's explosive play have pushed him down the depth chart.
You know how senior citizens are always shopping for deals? Well, I don't know how old you are, but let me throw a little "two for one special" at you. Let's pair Freeman and his dirt cheap $3,500 price tag with the RB that has perhaps the highest upside on the slate.
New York's Saquon Barkley has been quiet by his standards over the last two weeks. We can argue that Barkley is the only true "elite" RB on the slate that we can comfortably project to see his normal workload. At $8,200, Barkley is the fifth-highest priced RB on the salary scale, but the four backs priced above the rookie all have serious usage concerns this week.
Vegas has put the writing on the wall for us in this one, with the 5-10 Giants coming in as a six-point favorite over the playoff-bound Cowboys. This tells us that the Cowboys are expected to rest players (i.e. Ezekiel Elliott), while the Giants will attempt to finish the season strong and take some momentum into the offseason.
Dallas isn't normally a run defense that we want to target, but as previously mentioned, we shouldn't expect to see very much of their starters in Week 17 and we know that Barkley has the ability to take it to the house on any play. Saquon against a bunch of second-stringers? Sign me up.
SATURDAY UPDATE: Saquon carries the highest RB upside on the slate and has a nice floor. With all the value spread across Week 17, I don't know that we need to go to Freeman, as Devontae Booker ($3,200) will play a huge role in the Broncos pass game and mix in for a few carries. Pittsburgh's James Conner ($7,500) practiced fully this week and appears good to go. He's in a slam-dunk spot against the Bengals, but we have to be concerned about how he will be used in his return to action...he's a high-risk/high-reward play. We've got a couple of running backs named Williams that we can consider at the $6k range. I prefer KC's Damien ($6,100) over Green Bay's Jamaal ($6,000) due to his explosiveness, but both are in play. Everybody's favorite comeback teddy bear C.J. Anderson ($5,400) will once again handle the majority of the Rams rushing work, but we have to think last week's 167 yard game was an outlier. The Jets/Pats matchup contains two viable RB plays, as both Elijah McGuire ($5,300) and Sony Michel ($5,200) should see plenty of work. San Fran has mercifully ruled the ever-injured Matt Breida out, which will propel Jeff Wilson Jr. ($4,400) into the lead back role. Wilson has looked solid when given work and figures to see all he can handle this week.
WR CHALK: Antonio Brown ($8,700)
Projected DraftKings Ownership: 30%
POWER PIVOT: Marquez Valdes-Scantling ($3,900)
Projected DraftKings Ownership: 5%
Now that Antonio Brown is confirmed: NOT WASHED, everyone is excited to hop back on the AB train. While I've never questioned Brown's talent, I do worry about his volume this week in a game that the Steelers are listed as huge favorites.
Those of you that want to go bargain shopping, should keep a close eye on the Green Bay injury report as we head into the weekend. With both Randall Cobb and Equanimeus St. Brown in the league's concussion protocol, speedster Marquez Valdes-Scantling would be a huge benefactor if both Cobb and St. Brown are ruled out.
Valdes-Scantling successfully stepped into the slot position after St. Brown went down last week, garnering nine targets which he was able to convert into five catches for 75 yards. MVS has proved that he can produce when given the opportunity, as he ran off five straight weeks of 10-plus DK points in an earlier stretch of the season.
The slot position in Green Bay's offense is often times the second read for Aaron Rodgers when he can't find Davante Adams. If Cobb and St. Brown are out, MVS will be in line for a large usage bump in a matchup against a Lions defense that ranks dead last in the league in Yards Allowed Per Pass. At just $3,900, the talented Packers receiver is a great value play.
SATURDAY UPDATE: Green Bay has thrown a wrench in our MVS plans by clearing Randall Cobb ($5,000) to play this week, but the plot thickens as Davante Adams ($8,000) has been listed as QUESTIONABLE and is shaping up to be a game-time decision. This is a complicated situation...but if Adams is able go, he's perhaps the best WR play on the board (he's chasing the Green Bay single-season receiving record). MVS would be out of consideration with both Adams and Cobb in the lineup, but if Adams can't suit up, MVS pops back into the conversation. Pittsburgh's Antonio Brown ($8,700) hasn't practiced all week and looks like he might be a game-time decision. If AB can't go, JuJu Smith-Schuster ($8,000) would slide into the number one role and James Washington ($3,100) would become a legitimate value option. Robby Anderson ($5,600) has been producing at a high level for the New York Jets, but he's received an $1,100 price bump and draws a difficult matchup against the Patriots. Tampa Bay has been forgotten about after a couple of brutal matchups, but the Bucs are set to close out the season against a soft Atlanta defense. The matchup and absence of Desean Jackson brings our old buddies Adam Humphries ($5,400) and Chris Godwin ($4,300) into play. Buffalo's Robert Foster ($5,100) finally busted me last week, but he was "oh so close" to having a huge day, I'm willing to go back to him against Miami. San Fran's Kendrick Bourne ($3,800) is perhaps my favorite value play at WR. I don't know that he's a "good" football player, but the absence of basically the entire Niners receiving corps makes Bourne the team's number one WR option by necessity.
TE CHALK: Travis Kelce ($7,200)
Projected DraftKings Ownership: 28%
POWER PIVOT: Chris Herndon ($3,400)
Projected DraftKings Ownership: 1%
If you are looking for a sure thing you've come to the wrong position. Sure, you can pay a whopping $7,200 for KC's Travis Kelce, but we are always looking to save money at the TE spot.
If you can't afford Kelce, Jets TE Chris Herndon is a solid discount pivot this week. I realize that Herndon isn't a name that inspires excitement, but the rookie TE has been low-key solid in this New York offense that is surprisingly trending in the right direction.
Rookie QB Sam Darnold has looked Herndon's way 11 times over New York's last two games. Herndon has responded with nine catches for 135 yards and a TD in those two contests. New England isn't a great matchup, but the Pats are much better at defending perimeter receivers and have been susceptible to opposing TEs.
SATURDAY UPDATE: There will be a lot of Kelce/Mahomes stacks this week and I love the play in cash games and single-entry tourneys. If we want to gain some leverage in GPPs we might need to pivot from Kelce. San Fran's George Kittle ($6,300) brings big-play ability to the table and will be option A, B, C, and D for a Niners offense that has been ravaged by injuries. I've had great success with New York's Evan Engram ($5,300) since OBJ's injury. OBJ is out again and I love Engram's matchup against a Cowboys team that will go to the bench early, though Engram's price has skyrocketed since Week 14. Herndon is locked in for me as my "cheap TE" of the week and I will be using him as a salary saver in GPP lineups.
D/ST CHALK: Minnesota Vikings ($2,500)
Projected DraftKings Ownership: 12%
POWER PIVOT: New York Giants ($2,100)
Projected DraftKings Ownership: 3%
We've already touched on our belief that the Cowboys won't be playing their starters very long in Week 17. There are a couple of things that we know; the Giants are a six-point home favorite and that the Cowboys have a projected team total of just 17.5 points.
Similar to the TE position, I like to save money at the DEF/ST spot when possible. At just $2.1k, $100 over the bare-minimum price, the Giants offer an intriguing way to save salary this week.
SATURDAY UPDATE: At almost the stone minimum, a Giants defense that will be facing a backup QB and offense for most of the day makes sense. Buffalo ($2,700) is a home favorite against the Dolphins. The Bills have been a better "real life" defense than fantasy defense this season, but have the opportunity to rack up some DK points in this matchup.
More Weekly DFS Analysis