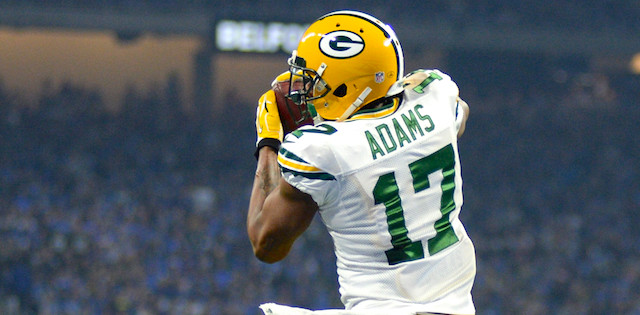 Happy Holidays RotoBallers! Welcome back to Power Pivots, the article where we examine each position in search of players that will offer us leverage in large-field DraftKings tournaments.
If you read last week's edition, you might remember that I was concerned about the lack of great matchups in Week 15. Those concerns proved to be well warranted, as the main slate was frustratingly low scoring. Things look a little better in Week 16, but at this point of the season, we are often faced with teams that have little to play for. This forces us to be mindful of situations that are unique to the last couple of weeks of the NFL season when constructing our DFS lineups. I always recommend that you check out the updates that I make to this article on Saturday afternoons, but I REALLY want to stress the importance of it this week, as I expect that we'll see lots of breaking news throughout the latter portion of the week and I wouldn't be surprised to see a couple of prominent players "shutdown" for the remainder of the season (Literally as I typed this sentence, I received a notification on my phone that Cam Newton won't play again this season).
As far as the Week 16 main slate goes...there are some things to like, but not a lot to love. As of this writing, there is only one game that carries an Over/Under above 50 points (NO vs. Pitt) and one of our favorite offenses to target, the LA Rams, comes with huge blowout concerns. Things are going to be tricky over these last couple of weeks; I'm glad you've joined me here at RotoBaller, let's finish the season strong together!
Editor's Note: Get any full-season NFL Premium Pass for 50% off. Our exclusive In-Season Lineup Tools, Lineup Optimizer and over 150 days of Premium DFS Research.
Sign Up Now!
All ownership projections in this article are courtesy of the awesome folks at UFCollective. They provide the most accurate ownership projections that I have found in the DFS industry and now offer their content directly to the public. It is a premium product that is worth every penny and available here. They offer NFL, NBA, and MLB content for both DraftKings and FanDuel. You can follow them on Twitter @UFCollective.
Week 16 NFL DFS Power Pivots for DraftKings GPPs

As I mention every week, ownership considerations should come at the end of your weekly research process. Ownership projections change throughout the week, and I highly recommend that you refer back to this column before finalizing your lineups. I will update ownership projections and add injury notes with additional strategy thoughts on Saturdays.
QB CHALK: Dak Prescott ($5,700)
Projected DraftKings Ownership: 18%
POWER PIVOT: Josh Allen ($5,800)
Projected DraftKings Ownership: 11%
I understand why folks are targeting Dallas QB Dak Prescott, but I'm not sure that I agree with it. Earlier in the season, one of the first things I would do in my weekly DFS preparation was to locate the Tampa Bay Bucs on the schedule. However, the Tampa defense has tightened up a bit over the last several weeks, and we all know the Cowboys first, second, and third option is running the ball with Ezekiel Elliott.
Like the Cowboys, the Buffalo Bills would also prefer to run the football the majority of the time. Unlike the Cowboys, the Bills have had very little success in getting their run game going. In fact, the Bills most reliable runner over the last month has been quarterback Josh Allen.
Allen's surprising athleticism and running ability have put him squarely in the DFS QB conversation over the last few weeks. The rookie has rushed for an eye-popping 351 yards in his last four games and has also punched in three TDs on the ground in the same span.
While Buffalo would love to control the time of possession by handing the ball to a RB, that likely isn't in the cards against the New England Patriots this week. The Patriots are expected to be leading throughout this one, which should force the Bills to rely on Allen. We all know the kid has a cannon arm and some recent roster moves have actually had an "addition by subtraction" effect on the Bills receiving corps, as Robert Foster and Isaiah McKenzie have proven to be surprisingly talented over the last four games.
While Allen has relied heavily on his rushing ability to rack up fantasy points, I wouldn't be surprised if he tops a career high in pass attempts against the Pats this week. The expected game script should force Allen and this sneaky-explosive group of receivers into action downfield and will lend itself to Allen's scrambling ability against a New England defense that ranks dead last in the NFL in yards allowed per carry to opposing QBs.
SATURDAY UPDATE: Thanks for dropping by for the SATURDAY UPDATES! Lots of moving parts to consider this week at every position. The elephant in the room at the QB position is Carolina's decision to shutdown Cam Newton. The Panthers will roll out Old Dominion alum Taylor Heinicke ($4,000) for the first start of his NFL career. It's obviously a dart throw on an unknown player, but Heinicke's $4k price tag harkens back to the old days of DraftKings QB pricing and frees up tons of salary when building lineups. If you want to go the other way and spend up at QB, Houston's Deshaun Watson ($6,600) is in a great spot against Philly. Watson has a solid floor, tournament-winning upside (though we haven't seen it in a while) and could see an uptick in volume with Houston RB Lamar Miller officially OUT.
RB CHALK: Christian McCaffery ($8,800)
Projected DraftKings Ownership: 23%

POWER PIVOT: Saquon Barkley ($7,900)
Projected DraftKings Ownership: 13%
It feels really weird to say that one of the greatest rookie running backs in NFL history is considered a mid-tier play this week, but that's where we are with New York's Saquon Barkley. I obviously don't say mid-tier as a description of his abilities, but instead to describe where he sits among DFS RBs this week when it comes to price and projected ownership. Barkley's $7,900 price tag marks just the second time he's had a sub-$8k salary in the last nine weeks, and there are currently six RBs with higher ownership projections than the Giants rookie.
Barkley's matchup is tricky. We saw the Indianapolis Colts limit Ezekiel Elliott's effectiveness last week after jumping out to a big lead and that is once again a very real possibility against the Giants in Week 16. However, I'm relieved by the fact that the Colts have struggled against pass-catching backs and have yielded the second-most receptions in the league to opposing RBs.
Barkley is coming off the worst game of his career, an ugly Week 15 performance against the Tennessee Titans, but is primed for a bounce-back game after having rushed for over 100 yards in five consecutive games prior to last week. This is a spot that I'm willing to bet on Barkley's raw talent and ability. It's not often that we see this type of multi-use RB with both a reasonable price tag and low-ish projected ownership. While lots of players will be going up to C-Mac or down to one of this week's many discount options, Barkley has slate-breaking upside and appears to be hiding in plain sight in Week 16.
SATURDAY UPDATE: We have to think that the Panthers will lean on McCaffery, but this is a player that was already playing every snap and getting tons of touches, so I'm not sure how we much we can realistically expect his usage to increase. He does draw a great matchup against the Falcons. I'm still all aboard the Saquon train. I love his price, but I expect his ownership to continue to game steam. It's hard to ignore Ezekiel Elliott ($9,000) who had a "bad" game against the Colts last week and still logged 19.9 DK points. He offers the best floor on the slate. Nick Chubb's price is up to $7.3k, but he might be worth every penny in a matchup against the horrible Cincinnati Bengals. Chubb will get all the touches he can handle, as the Browns are a big home favorite. Pittsburgh's James Conner has been ruled out, but Jaylen Samuels ($6,700) received a massive $1.5k price bump and faces a Saints defense that has been lockdown against the run. A tough matchup also awaits Minnesota's Dalvin Cook ($6,900), who exploded last week, but faces a Lions defense that has bricked opposing RBs since acquiring Damon Harrison. Packers RB Jamal Williams ($5,400) isn't a player we're overly excited about putting in our lineups, but he will be in a "workhorse-by-default" role this week, with Aaron Jones on IR and Ty Montgomery in Baltimore. Williams will garner any goal line carries and is a capable receiver out of the backfield. Miami's refusal to get Kenyan Drake ($3,900) the ball is baffling to me, but reports indicate that, despite Frank Gore's injury, Drake's role will stay the same and Kalen Ballage ($3,700) will see early-down work. LA's Todd Gurley ($9,200) is a game-time decision that looks closer to doubtful. As a Tennessee Vols fan, I'm a John Kelly ($4,000) truther, but I don't think I can go there on this slate with all the question marks surrounding the situation. In some injury news that just broke, Houston's Lamar Miller will be OUT this week, which brings Alfred Blue ($4,500) and even D'Onta Foreman ($3,600) into the cheap RB discussion. Like Jamal Williams, Blue isn't a player that we get fired-up to play, but he should handle the majority of Houston's carries, with Foreman mixing in for relief purposes.
WR CHALK: T.Y. Hilton ($7,100)
Projected DraftKings Ownership: 22%
POWER PIVOT: Davante Adams ($8,500)
Projected DraftKings Ownership: 7%
In last week's SATURDAY UPDATE of the WR position, I described T.Y. Hilton's $6,800 price tag as "curiously low". That is again an accurate description of Hilton's price this week and ownership projections indicate that lots of people are on the T.Y. savings train.
While I'm almost always on TEAM "Save As Much Salary As Possible At The Volatile WR Position" (Wow, that's a really long team name!), there is something to be said for locking in safety on a slate that has tons of question marks.
I don't consider WRs a great source of "guaranteed points", but if you're in search of a nice combination of floor and ceiling at receiver, look no further than Green Bay's Davante Adams. The Packers workhorse has been a usage beast this season and has received 10 or more targets in eight of Green Bay's 14 games. Adams is also leading the NFL in red zone targets and TD receptions. While Adams always sees a huge workload, his usage might even see a small bump with RB Aaron Jones now on IR and WR Randall Cobb looking doubtful with a concussion.
In addition to his massive volume, Adams will get to square off primarily against Morris Claiborne and Trumaine Johnson...two members of a New York Jets defense that has allowed opposing WRs to go over 100 yards receiving on nine different occasions this year.
With both a surprisingly tight point spread (GB -3) and appealing Over/Under (47), this is one of the most DFS-friendly spots on the Week 16 slate and Adams is the best play on either side of this matchup. While I'm often looking to save salary and willing to embrace the volatility at WR, Adams is a very nice "spend-up" option at the position this week.
SATURDAY UPDATE: Both Hilton and Adams feel "safe" on a slate that has a lot of uncertainty. New York's Odell Beckham Jr. has been declared out for the third straight week, but Sterling Shepard ($4,800) has produced next to nothing in his absence and is off my radar. OBJ's absence provides a bigger bump to Saquon and a player that we'll get to in a moment, than any Giants WR. Houston's DeAndre Hopkins ($8,600) just continues to ball out and is right there with Davante Adams as the best "spend-up" option at WR, as he draws an Eagles secondary that's been decimated by injuries. We'll want to keep an eye on Pittsburgh's JuJu Smith-Schuster ($8,000) who suffered a groin injury in practice Thursday and has been sidelined since. The Minnesota Vikings have re-committed to running the football, but both Adam Thielen ($7,800) and Stefon Diggs ($7,400) feel too cheap against a terrible Lions secondary. Bengals WR Tyler Boyd has been ruled out, but there is no viable pivot option in this Bengals receiving corps in a tough matchup against the Browns. Man...I just "know" that Bills WR Robert Foster ($4,900) has a dud coming at some point, but I've had him in the majority of my lineups for the last two weeks and he's performed amazingly. I will go back to well again in Week 16, despite another salary increase. Jets WR Robby Anderson ($4,500) is shaping up to be the most popular WR option of the week. I like Anderson in this spot, but there is a strong argument that can be made for fading him in large-field tournaments, as he does have a scary-low floor. Despite logging 13-plus DK points in four consecutive games, San Fran's Dante Pettis ($4,300) had a $100 price decrease this week. He has a scary-sounding matchup against the Bears, but we should expect his volume (6-8 targets) to stay the same.
TE CHALK: Eric Ebron ($5,700)
Projected DraftKings Ownership: 22%
POWER PIVOT: Evan Engram ($4,100)
Projected DraftKings Ownership: 5%
No, you are not experiencing deja vu! Those of you that read Power Pivots last week might notice that the same two players highlighted in the Week 15 TE section are once again listed in the header above. I promise I'm not being lazy! If you have read this column regularly throughout the season, you might be aware that I'm not at all shy about going back to the well on certain plays and that is exactly where I find myself at the TE position this week.
I recommended New York's Evan Engram last week as an "injury dependent" play, and I'm once again going to force you to work a little by keeping an eye on Odell Beckham Jr.'s injury status. If OBJ can't go, I will be firing Engram up in Week 16.
While Engram has received a $500 salary bump this week, his price still hasn't caught up to his role in New York's "OBJ-less" offense. It has been easy to sleep on Engram's talent this season, as injuries have severely hampered him in 2018, but we've been reminded of the second-year player's abilities with the absence of Beckham over the last two weeks.
Engram has led the Giants in targets with OBJ out of the lineup, garnering 17 looks in the last two games. Despite BRUTAL positional matchups against the Redskins and Titans, Engram has converted those 17 targets into 11 catches for 152 yards. He gets a matchup on the other end of the spectrum this week when he will square off against an Indy defense that has allowed the most receiving yards to TEs in the NFL and the second-most receptions. We are always looking for players with the magical combination of opportunity and matchup...Engram fits the bill this week.
SATURDAY UPDATE: Just as usual, there isn't exactly a bevy of options at the TE spot. With OBJ officially ruled out, I'm hopping right back on Evan Engram in the best matchup he's seen in weeks. This Giants offense is really bad, but it does have very concentrated usage when OBJ is off the field, with Barkley and Engram being the biggest benefactors. There's not much else to love at TE. San Fran's George Kittle ($6,000) draws a brutal matchup against Chicago, but has the ability to blow-up in any situation. Zach Ertz ($5,900) isn't the same player with Carson Wentz off the field, but TEs have caused problems for an otherwise sound Texans defense. Ebron is in a nice bounceback spot after throwing up a dud last week, but he will be the highest-owned TE on the slate. Things are ugly when we go below Engram at $4.6k and an attempt to save salary will be a true "hope to hit" play.
D/ST CHALK: New England Patriots ($2,500)
Projected DraftKings Ownership: 7%
POWER PIVOT: Chicago Bears ($3,500)
Projected DraftKings Ownership: 6%
Ownership projections at DEF/ST are extremely spread out this week, with 10-12 different teams expected to garner between 4-7% ownership. Obviously, this makes it difficult to gain much leverage on tournament fields. In weeks like this, I like to do one of two things...either save as much salary as possible by going absolutely dirt cheap or spend way up for the defense you feel is the best on the board.
While I normally lean toward going dirt cheap at defense, I find it hard to pass up what has been the NFL's most dominant defensive unit. The Chicago Bears wrapped up the NFC North title last week by shutting down Aaron Rodgers. This week they will travel to San Francisco to take on Nick Mullens and the Niners.
While San Fran has been playing better football over the last two weeks, I don't expect them to be any match for the Bears. Chicago has been superb at creating turnovers this season and has unbelievably logged an interception in 13 of 14 games.
Look for Khalil Mack and company to make it an uncomfortable day for Nick "Happy Feet" Mullens, who has been sacked 13 times over his last four games. The Bears rank first in DVOA in both rush and pass defense. There aren't many times that I'm willing to pay up for the most expensive DEF/ST on the board, but Chicago is very tempting on a week where there isn't a consensus chalk play to pivot from.
SATURDAY UPDATE: While Chicago stands out to me as the best option at DEF/ST, they are also the most expensive. If you can't afford the Bears, there are lots of "good, not great" plays around the $3k price range. Cleveland ($3,000) is in a dream spot as big home favorites against the injury-depleted Bengals, the Rams ($3,200) are facing a totally inept Cardinals offense, and Houston ($3,100) is always solid, but could come up huge if the bad version of Nick Foles shows up. While I'm on the Buffalo offense, I can still say that the Patriots ($2,500) defense makes a ton of sense as huge home favorites against a mistake-prone Josh Allen.
More Weekly DFS Analysis