The only game tonight is Game 5 of the Eastern Conference Finals between the Hawks and Bucks. This series wasn't supposed to be tied, but Atlanta game out without Trae and rolled the Bucks in Game 4, so now we're tied heading back to Milwaukee. There is no structural damage to the knee of Giannis Antetokounmpo, but he will miss Game 5. He will join Donte DiVincenzo and De'Andre Hunter on the sidelines. Young and Bogdanovic are expected to play, but Clint Capela may not after being hit in the face in Game 4. That's the only one that we really need to keep an eye on.
We will stay in Showdown mode for DFS on DraftKings tonight. To build our rosters for this particular format, we need to identify a Captain and five utility players. It's just like the analytics nerds dreamt it up: positionless basketball. The Captain will earn 1.5 times the amount of points he regularly tallies, but it also drives up the price for your more prominent players.
This article will provide you with my daily fantasy basketball lineup picks for DraftKings on 7/1/21. You can also check out today's FanDuel lineup picks. With COVID-19 a significant factor, remember to monitor injury news as the slate can completely change before lineups lock.
Milwaukee Bucks (-2, 215.5 total) 
Khris Middleton - SG/SF (Captain: $15,600, Utility: $10,400)
Giannis has already been ruled out, so I'm all-in on Middleton at any position in any format. There is no other cash game play. His numbers have been strong all series anyway. Even with Milwaukee getting blown out of the building on Tuesday, Middleton still had a solid 35.5 DraftKings points. He had his worst shooting night since Game 1, but I still see him carrying the team or failing trying.
Jrue Holiday - PG/SG (Captain: $14,400, Utility: $9,600)
Once again, Holiday outscored Middleton despite another lackluster shooting effort. It's the peripheral stats that make Holiday the single safest play on the slate. His ceiling is lower, but this is one way to guarantee that your captain has solid output. If Holiday shoots like he can, he'll break 50. That's still not close to Middleton's ceiling, but the floor is much safer. Holiday hasn't been below 36 DraftKings points in this series. Middleton has missed that mark twice in four games.
Bobby Portis - PF/C ($4,400)
DraftKings jacked up the price on Brook Lopez with Giannis out, but Bobby Portis was the one that had a much higher ceiling with Giannis off the court this season. That's not saying that Portis is a guaranteed value. For all of his talent, he's still a pretty inconsistent player. That said, Portis could score double what everyone else at this price does if he's in the starting lineup. His ceiling is that high.
Other options: P.J. Tucker ($4,000), Pat Connaughton ($3,600)
Want more NBA DFS tools and content? Our NBA Premium package includes our daily DFS Cheat Sheets, Research Station, Optimizer, and access to our Premium Slack Chatrooms where members can chat with our NBA analysts. Check out this recent big win from RotoBaller premium member Bsuperak on FanDuel - join in on the winning!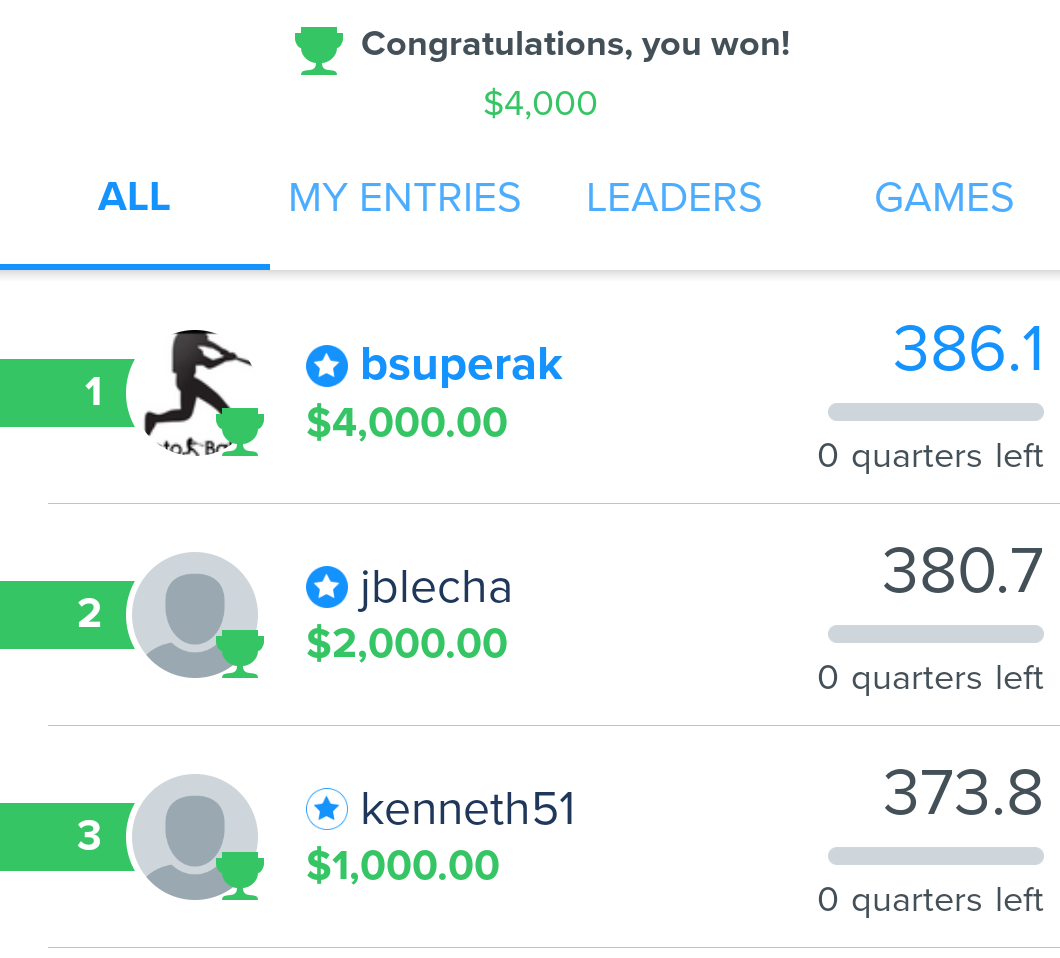 Atlanta Hawks (+2, 215.5 total)
Kevin Huerter - SG/SF (Captain: $12,600, Utility: $8,400)
Huerter has been a big factor in each of the last two games with Young ineffective in Game 3 and out in Game 4. It's hard to trust anyone else fully when Young is in the game because his usage rate is so high. However, there is reason to think that Young may be limited if he does play. The Hawks now know that the have the option to have Huerter run the offense, perhaps even with Young on the court. He's worth the risk with the status of Young up in the air. If Young remains out, run Lou Williams everywhere, perhaps even at captain.
Bogdan Bogdanovic - PG/SG ($7,200)
Bogdanovic has the highest ceiling of anyone but Young no matter who is or isn't on the court. The bad news is that we saw what his floor is in the first three games of this series and at the very end of the Philly series. It finally seems as if the knee is no longer bothering him, which gives the Hawks a lethal outside shooter. It was his defensive contributions and six made threes that put Bogdan over 40 in Game 4. That game may represent the ceiling for Bogdan, but it also shows that the first three games of the series may represent the floor. I'll use him aiming for something in the middle.
Cam Reddish - SG ($3,200)
Reddish finally plays and plays well, and DraftKings slashes the price by $1,600. Man, I love those guys who do pricing sometimes. LouWill had the ceiling game, but Reddish might have been the most efficient guy on the court. If he is going to play around 20 minutes again, I absolutely love him at this price. Of course, the last time I took a chance on Cam it was in Game 3 and he didn't play. This is still a severe case of caveat emptor with Reddish tonight.
Other options: Trae Young ($10,800), John Collins ($8,000)
NBA DFS News and Injury Alerts
More DFS Lineup Picks and Analysis