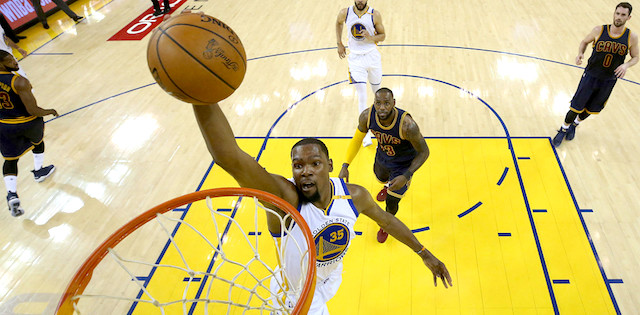 It's about time the playoffs started. These last two months have been entertaining, but dreadful from a competitive standpoint. Teams absolutely pumped the brakes in March and April, which makes sense, but also made it annoying to track games that started true upward trends or were just flukes. Hopefully you are still playing and truth be told, you are running out of time for quality DFS contests this season. There is only a main slate, so make sure you get your lineups in before the first game starts.
With the playoffs starting today, you need to toss-out those end of the season narratives and make sure you are playing "sure-things", rather than "hopefuls." Teams like the Nuggets, Nets, and Magic will all have players with no playoff experience, so make sure you take that into consideration when creating lineups. While it's a toss-up how some players will perform, some players like Evan Fournier, Jamal Murray, and D'Angelo Russell have been coming in clutch for their teams all season. Expect them to take advantage of their situations and live up to the moment.
In this article, I will be providing you with my daily fantasy basketball lineup picks for DraftKings on 4/13/19. These DFS lineup picks can vary from higher-priced players and elite options to lower-priced players and value picks on DraftKings. You can also check out today's FanDuel lineup picks. As always, don't set your lineups too early. Be sure to check all the NBA starting lineups and player statuses. If you have any questions or need to talk NBA during the downtime, feel free to find me on Twitter @HalfCourtJester.
Editor's Note: Our friends at Monkey Knife Fight have the best, most fun, fastest growing DFS props game! It's super simple to play and to win real money. Just choose your NBA, NHL or PGA game, and make your picks! Get a 100% instant deposit bonus up to $50 using promo code: BALLER. That's $50 for free - don't miss out!
Play Now!
DraftKings DFS Guards
Kyle Lowry - PG/SG, vs ORL ($6,800)
Kyle Lowry has only posted one solid stat line versus the Magic this season, but that was also the only game where the Raptors were really complete as a team. If this matchup becomes Lowry vs. D.J. Augustin, everything favors Lowry posting an easy double-double and exceeding his projected. This is still the first time this Magic team has been to the playoffs and it doesn't help they are playing on the road. The Raptors should win this game handily with Lowry, Leonard and Gasol leading the way.
The only downside to this pick is if the Raptors run away with it early and the bench just keeps piling it on. The Raptors are a good team, but they still have to shake the "playoff slump" cloud that rightfully looms over them. It was clearly still a thing last year and it wasn't just DeMar DeRozan and Kyle Lowry. Everyone on Toronto has a point to prove and Lowry needs to be on tonight to avoid more criticism and pressure.
Jamal Murray - PG/SG, vs SA ($6,000)
Speaking of new faces in the playoffs, Jamal Murray is going to be under one of the biggest microscopes. The entire Nuggets squad is going to be watched with a keen eye, specifically looking for the one or two players that might be struggling to deal with the pressure of the playoffs. Paul Millsap is in elite company as one of the only Nuggets with playoff experience. I'm not really making a solid case for Muray, but since the Spurs guards aren't the best defensively, he should actually have no problem getting used to the playoff atmosphere. Even if he isn't hitting his shot early, I still expect him to get so many chances that eventually they will start falling. Jamal Murray versus Derrick White WILL be the matchup to watch.
DraftKings DFS Forwards
Kevin Durant - SF/PF, vs LAC ($8,000)
Kevin Durant crushed the Clippers this year and he is going to do it again in the playoffs. The worst/best thing about the Warriors and their relation to DFS is that any one of them can go off for a record-breaking night against any team. The only problem is that there are four of them and you literally have to pick one or two and just hope. Sometimes when the matchup favors Steph Curry, it opens the door for Durant and Klay Thompson. Sometimes when Thompson has the favorable matchup, it allows Draymond Green to have a ton of assist upside. There are so many things that can happen with this team, but there's one certainty tonight and it's this game revolving around Durant.
Tobias Harris - PF/C, vs BKN ($6,400)
We saw what happened last season in regards to Ben Simmons and it is what it is. But this season they added shooting and Tobias Harris. It doesn't completely cover the fact that Ben Simmons can't shoot and it won't be hard to stop that, but it just means there will be more productive offense in the hands of other players, mainly Harris. Since he joined the team his impact has been positive and like every other team he's been on, he fits perfectly.
It will be tough for him to stay productive throughout the series since Brooklyn has a fairly persistent defensive core, but in Game 1 he is going to create a presence that forces Brooklyn to focus their efforts to stopping Harris.
DraftKings DFS Centers
Jarrett Allen - PF/C, at PHI ($4,400)
This is the cheapest play I'm going with tonight and it's fairly risky. Joel Embiid is still listed as doubtful, so in the off-chance he doesn't play tonight, Allen becomes a must-play. With Embiid playing, it's tough to really gauge Allen's upside. In the two games he double-doubled against the 76ers, Philadelphia played Markelle Fultz in one, and Embiid scored 32 on 19 shots in the other. In other two contest, Allen was barely able to score five points and grab five boards.
He will be getting a heavy dose of playoff experience tonight and while I expect it to take him a few games to get used to it, I do expect his floor to be fairly high considering his usage should be fairly high. Brooklyn relies on their shooting and playmakers in isolation, so expect both Spencer Dinwiddie and D'Angelo Russell to be doing everything they can to find Allen for easy buckets at the rim.
More Fantasy Basketball Analysis