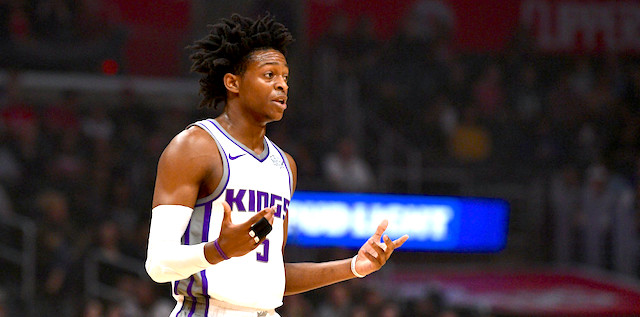 Six games total today, but DraftKings only has five on the main slate. With the Sacramento Kings and Los Angeles Lakers having the highest projected point total tonight, you do not want get totally blinded by that projection. With the Trail Blazers facing the 76ers and the Mavericks taking on the Thunder, there are more than enough directions to go in. Even the Bulls versus Raptors game has plenty of scoring potential, so like stated before, do not get distracted by the Vegas point totals. The Lakers will be looking to work through Lonzo Ball, so while he has upside tonight, the only player on the Lakers that has the statistical upside is JaVale McGee. Obviously, that is a flaw in the system because McGee is out, but it shows the lack of individual upside in that game as a whole.
You won't need to spend up tonight and the better strategy is to go with the safer, mid-tier level picks. Realistically, there are only three higher-priced options to go with tonight and Joel Embiid should be among the top of the top by the end of the night. Portland won't be able to defend Embiid, but they should be able to keep up with his scoring to keep the game competitive.
In this article, I will be providing you with my daily fantasy basketball lineup picks for DraftKings on 12/30/18. These DFS lineup picks can vary from higher-priced players and elite options to lower-priced players and value picks on DraftKings. You can also check out today's FanDuel lineup picks. As always, don't set your lineups to early and check player statuses before the opening tip.
Editor's Note: Our friends at Monkey Knife Fight have the best, most fun, fastest growing DFS props game! It's super simple to play and to win real money. Just choose your NBA, NHL or PGA game, and make your picks! Get a 100% instant deposit bonus up to $50 using promo code: BALLER. That's $50 for free - don't miss out!
Play Now!
DraftKings DFS Guards
De'Aaron Fox - PG, @ LAL ($8,400)
His price isn't ideal, but his upside is. Normally, this is the perfect time for a "Lonzo Ball won't play" joke, but realistically, it's better for De'Aaron Fox if Ball does play. With his price so high you need to get a solid outing from Fox, but it shouldn't be difficult and he has the recent track record to prove it. The Lakers rank 16th against opposing point guards, which hopefully should deter most players from assuming Fox is the right play, and his price should scare away another good chunk of DFS players. Even with his price that high, I think it will be fairly easy for him to top a 35-40 FPTS performance tonight. I expect him to do more scoring than facilitating tonight so, expect a few bonus three's to put him over.
Rodney McGruder - PG, vs. MIN ($3,500)
We went with a sketchy high-priced option with De'Aaron Fox, and now we have a sketchy sleeper pick. Regardless of his most recent outing which actually work in his favor, the Justise Winslow at point guard experiment is directly benefitting Rodney McGruder. As an athletic, score-first guard, he finds himself in the right spot more times than not, and seeing how the Timberwolves will need to focus their defense on the Heat's heavier hitters like Josh Richardson, Dwyane Wade, and Tyler Johnson, McGruder should find himself with more than enough spacing to generate offense.
DraftKings DFS Forwards
Justin Holiday - SF/PF, @ TOR ($4,700)
The Toronto Raptors have struggled to guard opposing wings and Justin Holiday is the epitome of the wing they don't want to defend. He won't be a hard person to guard when he has the ball, but it will be annoying to have to close out on him on every single one of his off-ball cuts. When Holiday get's the ball, it's in a reaction situation where he either needs to pull the trigger from deep, or drive to the lane and draw other defenders. This is perfect because it's puts all his production in his own hands, and seeing how he has been playing well alongside Kris Dunn and Lauri Markkanen, I expect this upside to be higher than ever against an very talented Raptors team. The Bulls will lose, but Holiday, Markkanen, Zach LaVine, and Dunn will be sure to get theirs in terms of production. Holiday plays better against a the top teams, so this means he will need to step up his defense specifically for this game, so expect him to sit in the passing lanes and get a block or two in.
Mike Muscala - PF/C, @ POR ($3,700)
This is pure risk seeing how Mike Muscala has the ability to go ice-cold from the field you have to worry that he could leave you with a fat goose egg in the box score. Although the Trail Blazers frontcourt is horrible defensively, and Jusuf Nurkic should be able to produce on his hand, I'm expecting Muscala to provide perfect spacing throughout this game. Over the last week his usage has increased and Joel Embiid sitting this game would put the cherry on top. As a stronger stretch facing a weak backcourt, his ability to rebound shouldn't be capped and there are no defenders that can really keep Muscala from getting his shots off. He isn't a superstar, so don't think I'm making him out to be this consistent stretch. He's honestly been anything but consistent when it comes to producing, but that doesn't take away from the potential he has tonight.
DraftKings DFS Centers
Hassan Whiteside  - C, vs. MIN ($7,100)
It's bad to see Hassan Whiteside's price this low because you know it's a result of some fairly weak recent production. He will see extended minutes against Karl-Anthony Towns and playing against a frontcourt that lacks a strong body in the paint, Whiteside could be looking at another one of his 20-20 games with minimal effort. When going up against other quality bigs, Whiteside tends to play up to his competition. He rebounds with more tenacity and he is looking to score whenever he get's the ball. Granted, it looks selfish and it is selfish, but that doesn't matter when Whiteside is single-handedly carrying your team into the green tonight.
More Fantasy Basketball Analysis