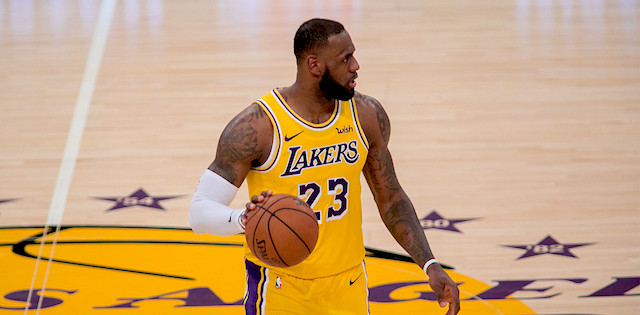 Today is a weird day of basketball. With only four games on the main slate, I'll be sure to throw in some picks for the early game at the end of the intro. Although the Nuggets-Raptors game is not projected to be the highest-scoring, it should be the most competitive with the major players doing the heavy lifting. Nikola Jokic, Serge Ibaka, Fred Van Vleet, Danny Green, and Jamal Murray have a ton of upside and Murray is going to be in every lineup I play tonight. There is some value in that game that I will get to, but do not hesitate to stack this game. It's between this game and the Wizards-Lakers if you are looking to stack, so make sure you are rostering players like Jeff Green and Sam Dekker for the extra usage.
Of any of the main slate games, the Pelicans-Heat is the most likely to fly under the radar. There's still plenty to unpack in that game and you can go in multiple directions. Julius Randle, E'Twaun Moore, James Johnson and Tyler Johnson should all be lowly-owned options tonight that should see a ton of usage. The Heat and Pelicans are both teams with solid defensive structure that are going to need to resort to isolation scoring to find production. Anthony Davis will be sure to get his fair share of production, but look for the better shooters in this game to dominate box score. For the early slate, Joel Embiid, Victor Oladipo, Trae Young, Tyreke Evans, and DeAndre' Bembry are players you must consider.
In this article, I will be providing you with my daily fantasy basketball lineup picks for DraftKings on 12/16/18. These DFS lineup picks can vary from higher-priced players and elite options to lower-priced players and value picks on DraftKings. You can also check out today's FanDuel lineup picks. As always, don't set your lineups to early and check player statuses before the opening tip.
Editor's Note: Get any full-season NBA and DFS Premium Pass for 50% off. Our exclusive Preseason Draft Kit, 10 In-Season Lineup/DFS tools, and daily Premium DFS Research.
Sign Up Now!
DraftKings DFS Guards
Malik Beasley - PG/SG, @ TOR ($3,300)
Jamal Murray is still my guy for tonight, but Malik Beasley is a hybrid guard that is going to cause problems for the Raptors. He won't get matched up against any of Toronto's best defenders, so expect him to get to the rim but he will be passing out more than not. The Nuggets offense is fairly free-flowing and revolves around making the simple pass. That's not great for DFS standards, but the way it all works out, Beasley is usually the one making the scoring decision. HIs past two games were horrific, but he played two slower paced teams with quality defenses. The Raptors will be a good change of pace and Beasley should be able to run the floor to the tune of around 25 minutes and 13-15 points off the bench.
Buddy Hield - SG/SF, @ DAL ($6,100)
Another game that has a ton of value spread throughout, but each team is dealing with consistency problems. Younger teams tend to struggle with consistency and it's infectious. If one player isn't hitting his shots, it directs the usage and production to other players, sometimes taking them out of their comfort zone. This can work in two ways, either the player thrives and explodes, or he fails miserable and probably doesn't make but one or two shots. Buddy Hield has a hair-trigger and is usually the guy they need to be hitting his shots. The Kings don't absolutely need Hield to win every night, but he makes it easier for them and usually the one that jumpstarts production. The Mavericks defense is not very good at guarding wings that can shoot so look for Hield to go mostly uncontested for most of this game.
DraftKings DFS Forwards
Harrison Barnes - SF/PF, vs. SAC ($5,600)
If you are going with Buddy Hield because you know the Mavericks struggle to guard wings, then you almost have to go with Harrison Barnes versus the 26th ranked defense against opposing forwards. Barnes production has been spotty and Luka Doncic has taken nearly all of Barnes' playmaking opportunities. It's probably for the best of the team, but luckily Barnes is still a quality second-fiddle. Although he is playmaking significantly less, he still sees a ton of usage and the ball is usually in his hands in the half-court. If you can name me one Kings player that you can see shutting down Barnes from the git-go, I'll pull this reasoning.
LeBron James - PF,  @ WAS ($10,900)
Bear with me but this is a total hunch pick. "Oh, you are taking LeBron James versus a dilapidated Wizards squad, SO insightful." Yeah, I know no one saw this pick coming, but for some reason I think James is going to use this game as a cornerstone for this season. It's not like he doesn't have big games against everyone, there are just some teams that open up some type of "LeBrondora's Box." I don't know if these teams did something specific to James, but he has a vendetta against the teams and the Wizards are near the top of the list. For years the Wizards have had to find a way to de-throne James and they were never able to. Even though they won't meet again for some time, expect James to make them thankful for that fact tonight.
DraftKings DFS Center
JaVale McGee - C, @ WAS ($4,700)
If you are going with LeBron James, you might as well take his "handcuff" too. McGee gets plenty of minutes and I'm not going to try and manipulate stats to make McGee look like a safe pick. I don't want to say we know what McGee will do every night because that is a factually disproven. We literally can't predict McGee, but we know he will be the main force around the rim, against a team that only has Thomas Bryant and Markieff Morris in the frontcourt. Even though McGee is a persistent shot-blocker, his success rate could be much better. John Wall and Bradley Beal are stronger players that can get to the rim against anyone, so expect McGee to be impacting the non-Wall/Beal Wizards more than anything.
NBA News and Player Updates