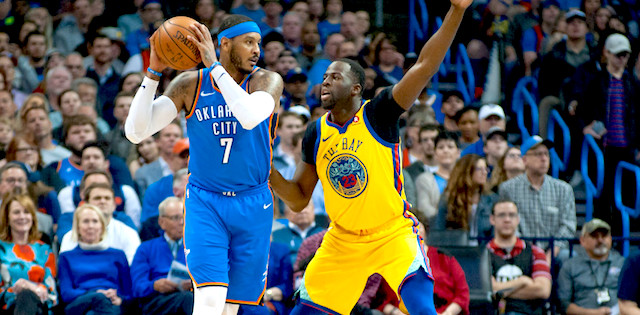 Six games, two-and-a-half intriguing matchups, and plenty of value to be found in our DraftKings lineups on this Thursday, January 31st.
No need to fire up the League Pass app tonight as TNT brings us a doubleheader featuring a potential Eastern Conference Finals preview between the Bucks and Raptors, followed by a potential Finals showdown between the 76ers and Warriors. We could likely build respectable lineups from those two games alone, but the Nets head to San Antonio to take on the Spurs -- which has potential, low-key -- while the Pacers-Magic, Mavs-Pistons, and Lakers-Clippers will all face off in matchups of equal, "meh..."
I've sifted through the meh, as well as the intrigue, and below you'll find a few of my favorite plays from the mid-to-lower-priced tiers... I find no value in detailing the ways Nikola Vucevic is good at playing basketball.
Editor's Note: Our friends at Monkey Knife Fight have the best, most fun, fastest growing DFS props game! It's super simple to play and to win real money. Just choose your NBA, NHL or PGA game, and make your picks! Get a 100% instant deposit bonus up to $50 using promo code: BALLER. That's $50 for free - don't miss out!
Play Now!
DraftKings DFS Guards
J.J. Redick - SG/SF, at GS ($5,500)
At 113 points per game, the Warriors have allowed opponents to score at a higher rate than all but seven teams in the month of January. Their opposition has also hit 39-percent of their three-point attempts this month; good for the third-highest clip. On the flip side, they've held their opponents to just 44-percent from the field overall this month -- which is good for the sixth-lowest rate -- and their defensive rating of 110 puts them 14th.
Golden State Warriors defense is becoming an oxymoron.
Arbitrary numbers aside, these are two of the leagues top scoring offenses and Redick has put up double-digit points in every game this season. All he does is shoot, so neither the occasional rebound or assist offer him much upside. However, the consistency mixed with a relatively high floor makes for a more than solid lineup-filler given his salary.
Reggie Jackson - PG/SF, vs. DAL ($4,700)
Blake Griffin remains the first, second, and third option in this offense, but Jackson's scoring numbers have been on the rise over Detroit's last three and the absence of Reggie Bullock (he's questionable tonight - ankle) was a contributing factor in Jackson tying his season-high with 25 on Tuesday night.  I should also point out that Jackson is one of just eight guards on tonight's slate who is averaging more than four assists per game, and at least .75 DraftKings fantasy points per minute with a usage and assist percentage each over 20. The other seven? Eric Bledsoe, Lou Williams, DeMar DeRozan, D'Angelo Russell, Luka Doncic, Ben Simmons, and Stephen Curry. Not bad company - Jackson is the only one of them who is priced under $6,000.
DraftKings DFS Forwards
Serge Ibaka - PF/C, vs. MIL ($6,100)
The Raptors have faced the Bucks three times this season. Ibaka averaged a team-leading 26 points to go with eight rebounds and three assists over those three contests. He also comes into this one riding a four-game double-double streak.
Rudy Gay - SF/PF, vs. BKN ($5,900)
Forget all of the numbers. It took a Rudy Gay buzzer-beater for the Spurs to pull out a home victory against the league's second-worst team in the Suns Tuesday night. All of the Spurs players mauled Gay following the shot, faces full of delight, and then this happened...
Pop wasn't too happy with the Spurs win over the Suns 👀 pic.twitter.com/1RMSeUqDsz

— SportsCenter (@SportsCenter) January 30, 2019
You can bet they got the message.
DraftKings DFS Centers
Draymond Green - PF/C, vs. PHI ($6,200)
In case you missed it, DeMarcus Cousins made his Warriors debut 13 days ago. And yes, they look as scary as we all envisioned. At a price point of $6,700, Cousins could easily land here on the strength of his 15 points, seven rebounds, and four assists since joining the lineup. However, we'd be shortsighted to overlook the impact that his presence has had on one, Draymond Green.
Green still doesn't score very often. In fact, his already meager point totals have dropped since Cousins' debut. However, in the four games he's played alongside Boogie (he sat out Monday for rest purposes) his rebounds are up, his assists are up, and he's collected two steals per game. He leads the team in all three categories, and all three are weighted more heavily in DraftKings scoring than points. He'll continue to be just fine without putting the ball in the basket, and given the matchup, we could very easily be in for yet another single-digit scoring, double-double. Only the Suns, Lakers, and Hawks turn the ball over more frequently than the 76ers, so we could also very easily be in for another non-points, triple-double... Kidding, of course. Kinda.
More Fantasy Basketball Analysis