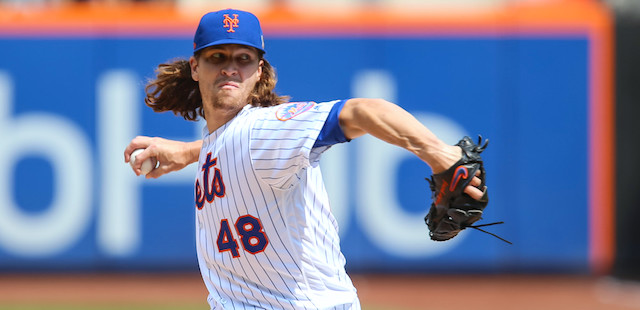 Welcome to Friday baseball on DraftKings! There are plenty of tournaments to get excited about tonight, including a qualifier to the $4M MLB live Final. The featured contest of the night is the "Mega $888s" Where the top winner will bring home $100k. If that's too rich for your blood, the Hidden Ball trick will award $20K to just an $11 entry. Let's get to it!
We have plenty of options on this slate, in terms of both pitching and offenses. There are four or five aces worth considering and none of which should be overly popular. There are then another three of four quality step-down options, so I think you'll have the chance to make the right call tonight without the masses all being with you. As for the offense, we have three offenses with run projections over six runs. It's going to be a fun night!
In this article, I will be providing you with my daily fantasy baseball lineup picks for DraftKings on 7/19/19. The lineup picks will range from some of the elite players to mid-priced options and value plays. You can also read more DFS advice and lineup picks for sites like FanDuel, and other sports too.
Editor's Note: Get any full-season MLB Premium Pass for 50% off. Exclusive access to our Draft Kit, premium rankings, projections, player outlooks, top prospects, dynasty rankings, 15 in-season lineup tools, and over 200 days of expert DFS research.
Sign Up Now!
If you have any questions or comments, contact me on Twitter @Varneydfs.
DraftKings DFS Starting Pitchers
Jacob deGrom - NYM @ SF (Beede) $10,600
Pitching is pretty interesting tonight. On the high-end, Verlander and Ryu will both be relatively popular and have solid match-ups. With that being said, I prefer the discount on Jacob deGrom given the match-up and ballpark he's pitching in. Oracle Park is the league's best pitching park and the Giants rank 28th against right-handed pitching. They strikeout 26% of the time and sport a pitiful .171 ISO. deGrom has been one of the best pitchers in baseball, sporting a sub .294 wOBA against both sides of the plate while striking out 11.27 batters per nine. deGrom is a safe, but has insane CGSO upside with a leash over 100 pitches.
Brendan McKay - TB vs. CWS (Lopez) $8,700
We've witnessed three outings out of McKay thus far, and he's been great twice. He struggled against the Yankees, but I'm not sure we can hold that against him with that gauntlet of a lineup. This White Sox lineup is a lot like the last team he faced, the Orioles. They have a few good hitters in the middle of the order, but fall off quickly and strikeout plenty (25.6%). Brendan McKay has consistently been over 9.5 K's per nine innings throughout the minors and the strikeouts will follow very soon here. He's under $9K on DK and a very safe SP2 in both formats.
DraftKings DFS Infielders
C - Gary Sanchez - NYY vs. COL (Freeland) $4,600
The Yankees are going to be one of the more popular stacks of the night and there's no reason to fade them. Kyle Freeland has shown us no hope this season and he now faces one of the toughest, if not the toughest lineup in baseball. Freeland has given up a .376 wOBA and 13 home runs against righties, while striking out just 6.37 per nine. Gary Sanchez has sported a .353 wOBA against lefties and has a bit more power against them. Sanchez will be popular, but he has the upside to break the slate.
1B - Justin Smoak - TOR @ DET (Zimmerman) $3,700
We've been picking on Jordan Zimmerman for three seasons now and I have no idea why he's still in a rotation spot in the big leagues. it reminds me of James Shields and Jered Weaver a few years back. There's no real rhyme or reason outside of the name for them to hold a major league spot. We should be taking advantage every start. He's giving up a 5.38+ wOBA to both sides of the plate and strikes out a measly 5.91 batters per nine. Smoak is priced down and hitting the ball well. We know he's far better against righties and has the power to hit it out anywhere. He'll give you the ability to spend up elsewhere and I really don't think you're sacrificing much at all, if anything. I like the Blue Jays stack tonight as much as the Yankees.
2B - Jose Altuve - HOU vs. LAA (Minor) $4,000
DraftKings still doesn't have much love for Jose Altuve, pricing him at just $4K against a lefty. He's been priced down on DK for weeks now and has been one of the top plays at second base night in and night out. Mike Minor is actually a really good pitcher, but he has HR issues and is a lot worse against right-handers. Altue has sported a .386 wOBA vs lefties dating back to last season and he has HR upside with the Crawford boxes in left field. Altuve won't be very popular and he is my favorite 2B on the slate.
3B - Nolan Arenado - COL @ NYY (Happ) $4,600
It's rare that we target Nolan Arenado outside of Coors Field, but he's under $5K and the match-up is great. J.A. Happ has struggled mightily vs righties this season, allowing a whopping 16 home runs in just 72 innings of work. He's given up a 5.13 xFIP and is only striking out seven per nine. Arenado has posted a .423 wOBA vs left-handed pitching this season and has hit eight homers vs them in just over 100 at-bats. Arenado is never very popular outside of Coors Field and he gives you a good shot at a home run.
SS - Jorge Polanco - MIN vs. OAK (Bassitt) $4,200
Polanco was given last night off for rest and will be ready to go for this one. Why the Twins didn't elect to give him a night off against a lefty is bewildering, but I can't help you there. He faces off with Chris Bassitt tonight, who's held lefties to just a .351 wOBA on the season. He's away from the spacious Coliseum and Vegas thinks he struggles with this powerful Twins lineup. Polanco is far better from the left side and should be either leading off or in the two hole. He's my favorite shortstop and it's not all that close.
DraftKings DFS Outfielders
Aaron Judge - NYY vs. COL (Freeland) $5,300
We've already touched on the Yankees with Gary Sanchez, but let's look at Kyle Freeland some more. Through 53 innings of work, he's given up 13 home runs and a .376 wOBA. His xFIP is at 5.55 and he hasn't even been any better outside of Coors Field. There isn't much hope for Freeland until he can start spotting his fastball. Aaron Judge and the Yankees should tee off against the lefty at home. We know the .400+ wOBA hitter he is and he looks fully healthy. This entire lineup is in play as one of the top stacks of the slate.
Cavan Biggio - TOR @ DET (Zimmerman) $3,900
Biggio is way too cheap for this match-up. No matter how you slice it, Jordan Zimmerman is one of the leagues worst pitchers and is fully expected to give up three or four runs by the fifth inning. The bullpen that follows isn't much better either, ranking 23rd vs lefties. Biggio has held a .333 wOBA vs righties with all six of his homers coming against them. The price is a bit too low here and I'll have exposure across the board. The Blue Jays are far too cheap tonight and I will use them to leverage elsewhere.
Brian Goodwin - LAA @ SEA (Minor) $3,400
Brian Goodwin has been looking more himself the last few games and now the leaky Mike Leake comes into town. We didn't mention any big Angels bats, but they're a viable stack in tournaments. Leake is susceptible to the long ball and close to a guarantee too give up a few runs by the fourth or fifth inning. His 5.12 xFIP and 6.23 K/9 are underwhelming to say the least and the Angels should put a whopping on him early and often. Goodwin is a cheap way to get exposure and could very well come up with two or three ducks on the pond. At his price, that's all you need. Good luck tonight and please feel free to reach out on Twitter with any questions! 
MLB DFS News and Injury Alerts