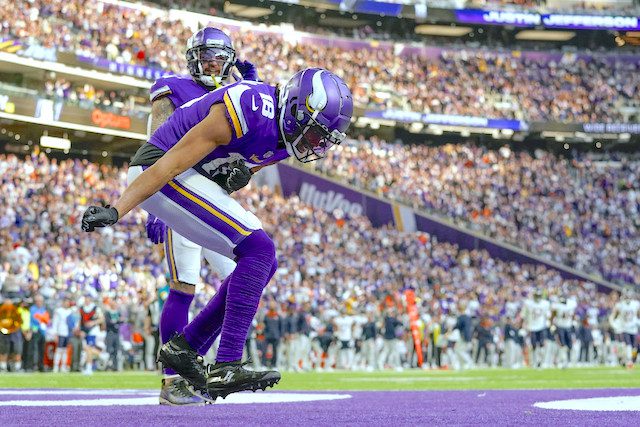 Most football fans know that the 2020 NFL Draft was one of the strongest classes in recent memory. It has produced Pro-Bowlers galore, as well as some legitimate, franchise-altering talents. Even though the Class of '20 was terrific, there are always some big misses in the first round of the NFL Draft. In this article, we'll have some fun re-imagining what the first round would look like if teams had the benefit of hindsight and were awarded a "Draft Do-Over".
Ask any fan of the MCU and they'll tell you that the "multiverse" concept is really fun. We'll apply that alternate timeline theory to the first round of the 2020 NFL Draft to see just how drastically different the trajectory of players and teams could be if things had played out a little differently.
While one of the most fun things about this "Draft Do-Over" is that there are no rules, we will stick to a loose set of guidelines, meaning we won't simply be taking the best players of 2023 in order, but will try to be mindful of what these teams needs were heading into the 2020 NFL Draft, as well as their current roster situation. Ok...let's have some fun!
Featured Promo: Get any full-season NFL and DFS Premium Pass for 50% off. Exclusive access to our Team Sync platform, Premium articles, Matchup Rating projections, 15 lineup tools, DFS cheat sheets, Research Stations, Lineup Optimizers and much more!
Go Premium, Win More!
1. Cincinnati Bengals - Joe Burrow, QB, LSU
Original Pick - Joe Burrow, QB, LSU
Don't worry, our "Draft Do-Over" will feature plenty of fun changes along the way, but the long-suffering Bengals got it right the first time, selecting LSU quarterback Joe Burrow with the top overall pick in the 2020 NFL Draft.
Burrow has been everything you could want in a No. 1 pick and has evolved into a legitimate franchise QB. He has revitalized the organization by leading the Bengals to a 24-10 record over the last two seasons, a run that included a trip to Super Bowl LVI.
2. Washington Commanders - Jalen Hurts, QB, Oklahoma
Original Pick - Chase Young, EDGE, Ohio St.
Now we're cookin', as Jalen Hurts makes a huge leap up the draft board in our reimagined version. Originally selected 53rd overall in the second round of the draft by the Philadelphia Eagles, Hurts has proven that the questions about his passing ability that lingered in 2020 were ridiculous, as he's evolved into the NFL's pre-eminent dual-threat QB during his three years in the league. He led the Eagles to the NFL Playoffs in his first full season at the helm of the offense in 2021 and to the Super Bowl in his second.
Selecting Hurts here would finally put an end to Washington's seemingly neverending search for a legitimate franchise quarterback. With the talented Oklahoma alum under center, the rugged NFC East sure would look a lot different at the moment. If we really want to get into some "Butterfly Effect" theory, perhaps Dan Snyder wouldn't have recently sold the team if the Commanders had selected Hurts with this pick.
3. Detroit Lions - Justin Herbert, QB, Oregon
Original Pick - Jeff Okudah, CB, Ohio St.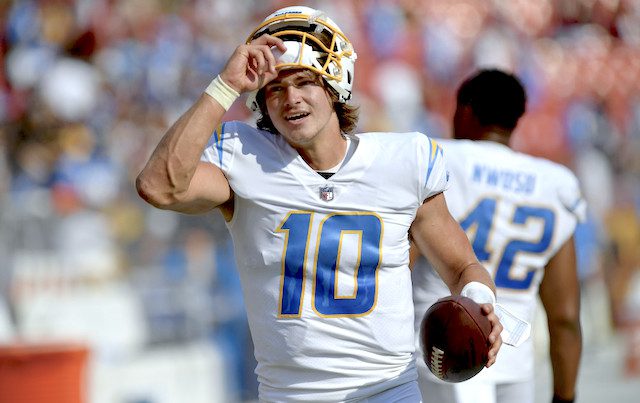 In our alternative "DraftiVerse", the Detroit Lions trade an aging Matthew Stafford a year earlier than they actually did for a bountiful haul of draft picks. Instead of replacing their legendary signal-caller with Jared Goff - who they picked up in the real Stafford trade in 2021 - Detroit grabs Oregon quarterback Justin Herbert with the third overall pick of the 2020 NFL Draft and kickstarts their reboot a year earlier.
Herbert has showcased a dazzling skill set during his time with the Chargers and possesses all the tools needed to make himself an MVP-caliber quarterback in the NFL. He's already tossed an eye-popping 94 TDs over his first three years in the league. Thanks to our re-draft, he's now leading a rebuild in Motown instead of throwing passes for L.A. Don't worry Lions fans, Matt Patricia still gets fired in this timeline.
Original Pick - Andrew Thomas, T, Georgia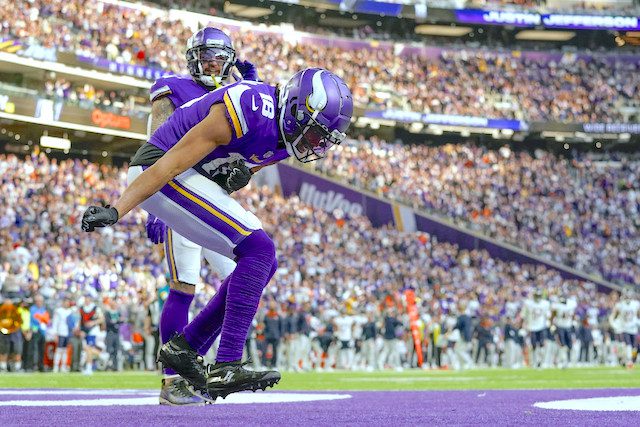 Fresh off drafting Daniel Jones with the sixth overall pick of the 2019 NFL Draft, the New York Giants originally selected Andrew Thomas in hopes of protecting Jones for the next decade. While Thomas got off to a bit of a slow start, he looked downright dominant in 2022 and allowed only three sacks for the whole season.
While Thomas is still a terrific pick in hindsight, there's no way Big Blue can pass up Justin Jefferson in our "Draft Do-Over", as the former LSU Tiger and current Minnesota Viking enters the 2023 season as arguably the NFL's best wide receiver.
By selecting Jefferson here, the Giants add an elite weapon for Danny Dimes and bolster their notoriously-bad and often-injured receiving corps. As an added bonus, drafting Jefferson in 2020 also prevents New York from signing Kenny Golladay to one of the most disastrous free-agent deals of all time in 2021.
5. Miami Dolphins - Tua Tagovailoa, QB, Alabama
Original Pick - Tua Tagovailoa, QB, Alabama
Despite having the benefits of a time machine in our draft exercise, the Miami Dolphins still end up with Tua Tagovailoa in our "Draft Do-Over", just as they did in the actual 2020 NFL Draft. With the trio of Burrow, Hurts, and Herbert off the board, the QB that put together a legendary collegiate career at the University of Alabama stands as the best available signal-caller left in our version of the draft. With bridge QB Ryan Fitzpatrick and underwhelming Josh Rosen the only options on Miami's 2020 depth chart, the Dolphins are almost forced to roll the dice on Tua...again.
Though Tagovailoa now has three NFL seasons under his belt, we're still trying to figure him out to a large extent. Injuries have certainly been a huge hindrance to his pro career, as he's never started more than 13 games in a season. However, his performance when on the field in first-year head coach Mike McDaniel's system in 2022 was quite impressive, as he tossed for 3,548 yards and 25 TDs to just eight INTs last season.
6. Los Angeles Chargers - Tristan Wirfs, T, Iowa
Original Pick - Justin Herbert, QB, Oregon
Sorry Chargers fans, but the Bolts are inarguably the biggest losers of our "Draft Do-Over", as the team goes from originally landing franchise QB Justin Herbert in 2020 to having no viable quarterback options available in this version of the draft. Drafting a great signal-caller is the NFL equivalent of finding the Ark of the Covenant and the Chargers search for Phillip Rivers' replacement will continue in our alternate football timeline.
As a consolation prize, L.A. lands perennial All-Pro tackle Tristan Wirfs with the sixth overall pick. Instead of staying competitive after drafting Herbert, this pick signifies the beginning of a rebuild for a franchise that parted ways with long-time starter Rivers in February of 2020. Wirfs has consistently been the best offensive lineman of the 2020 draft class across his three seasons in the league and won a Super Bowl with the Tampa Bay Bucs in his rookie season. In this timeline, he'll be a cornerstone piece of L.A.'s inside-out reboot.
7. Carolina Panthers - Antoine Winfield Jr., S, Minnesota
Original Pick - Derrick Brown, DT, Auburn
The Carolina Panthers were a franchise in transition going into 2020. The 2019 campaign marked the last season in Carolina for longtime Panthers staples Cam Newton and Ron Rivera. As a team in flux, the organization decided to play it safe and draft Auburn defensive tackle Derrick Brown with the seventh overall pick of the 2020 draft.
After a sluggish start to his career, Brown had a true breakout season in 2022. While Carolina could just run it back with Brown here, the Panthers instead shift to the secondary and select safety Antoine Winfield Jr., a player that's been tremendous for the Tampa Bay Bucs across his three years in the NFL. Winfield helped the Bucs to a Super Bowl title in his rookie campaign and finished as PFF's second-highest-graded overall safety in 2021 en route to a Pro Bowl selection.
8. Arizona Cardinals - CeeDee Lamb, WR, Oklahoma
Original Pick - Isaiah Simmons, LB, Clemson
Since being originally drafted by the Dallas Cowboys with the 17th overall pick of the 2020 NFL Draft, CeeDee Lamb has been a steadily evolving force at the NFL level. Lamb's production has improved each year he's been in the league. He logged career highs in receptions (107), receiving yards (1,359), and TDs (nine) in 2022 en route to being named to his second consecutive Pro Bowl.
Although the Arizona Cardinals had acquired DeAndre Hopkins in March of 2020 in what was considered one of the best trades in league history at the time, the franchise still wouldn't hesitate to happily grab Lamb in our revised version of the draft instead of their original selection of the roundly disappointing Isaiah Simmons, as the Oklahoma product would be another dynamic weapon for Cards QB Kyler Murray who was coming off his rookie season in 2020.
9. Jacksonville Jaguars - Trevon Diggs, CB, Alabama
Original Pick - C.J. Henderson, CB, Florida
The Jaguars probably don't want to rock the boat too much, as their league-worst 1-15 record in 2020 allowed them to be in a position to select Trevor Lawrence with the first overall pick in the 2021 NFL Draft.
So, we won't shake things up too much here and will just improve on the position the Jags originally targeted with the ninth pick of the 2020 draft...cornerback. Jacksonville swung and missed on Florida's C.J. Henderson, who struggled in pass coverage from the get-go and suffered a season-ending groin injury 10 games into his rookie campaign, before being dealt to the Carolina Panthers in 2021.
In our version of this draft, Trevon Diggs is headed to Duval instead of Dallas. The Alabama product has been a high-impact player for the Cowboys, leading the league in interceptions in 2021 with a whopping 11 en route to being tabbed a First Team All-Pro, as well as being named to two Pro Bowls.
10. Cleveland Browns - Andrew Thomas, T, Georgia
Original Pick - Jedrick Willis Jr., T, Alabama
It was always gonna be an offensive lineman at the #10 spot for the Cleveland Browns, as they desperately needed protection for Baker Mayfield - a QB that still felt like a very promising prospect ahead of the 2020 season.
While Cleveland's actual 2020 selection - tackle Jedrick Willis Jr. out of Alabama - has been a solid NFL starter for the Browns, this go-round they nab OT Andrew Thomas, a player that's improved every year he's been in the league and was PFF's third-highest graded tackle in the NFL in 2022. While selecting Thomas might not have saved a Browns squad that seemed doomed to fail with Freddie Kitchens at the helm in 2020, they would now have a player that seems destined to be one of the best players in the league at one of the game's most crucial positions.
11. New York Jets - Jedrick Wills Jr., T, Alabama
Original Pick - Mekhi Becton, T, Louisville
The Jets were in desperate need of o-line reinforcements ahead of 2020, as they were attempting to keep then-QB Sam Darnold upright. Gang Green's original selection of Mekhi Becton has led to frustration for the organization, as Becton has flashed All-Pro talent when he's been on the field, but has played in just 14 games in his three-year NFL career.
Jedrick Willis Jr. might not possess Becton's tantalizing upside, but he's been a rock-solid contributor that's - most importantly in this scenario - actually been able to stay on the field. Willis has already amassed 45 NFL starts across his three seasons as a pro, which would offer the Jets the type of stability they've lacked with Becton.
12. Las Vegas Raiders - Tee Higgins, WR, Clemson
Original Pick - Henry Ruggs III, WR, Alabama
The less said about Henry Ruggs III the better, as he recently pleaded guilty to his involvement in a drunk driving crash in 2021 that killed a Las Vegas woman and her dog.
While anyone would be an upgrade over the Raiders' original 2020 selection, they get extremely lucky in our "Draft Do-Over" as the talented Tee Higgins slides to them at the No. 12 spot and gives Las Vegas the legitimate star wideout that they were searching for when they selected Ruggs.
Originally sliding to the second round in the 2020 draft in which the Bengals also nabbed Joe Burrow, Higgins has been a revelation at the pro level, logging at least 900 receiving yards and six TDs in each of his three NFL seasons.
13. Tampa Bay Buccaneers - Michael Onwenu, OL, Michigan
Original Pick - Tristan Wirfs, T, Iowa
It was all about protecting the Bucs' newly-acquired treasure Tom Brady ahead of the 2020 NFL Draft. Tampa Bay's original selection of Tristan Wirfs proved to be a wise one, as he was a key cog on the Bucs team that would go on to win the Super Bowl in Brady's first year with the team.
With Wirfs off the board in this version of the draft, Tampa reaches for a player that was originally just a sixth-round pick in the 2020 NFL draft, Michael Onwenu. The versatile Onwenu has been a beast for the New England Patriots, playing both tackle and guard during his three excellent seasons in Foxboro. He was named to the NFL All-Rookie Team after starting 16 games at right tackle in his rookie season with the Pats and kicked inside to guard to earn All-Pro Honors last year. He would provide the protection needed for Tom Brady to take the Bucs on their Super Bowl-winning campaign in 2020.
14. San Francisco 49ers - Chase Young, EDGE, Ohio St.
Original Pick - Javon Kinlaw, DT, South Carolina
One of the biggest fallers in our reimagined draft is Chase Young, the athletic EDGE phenom out of Ohio St. that originally went to the Washington Commanders with the second overall pick of the draft.
Young looked every bit worthy of the pick in a 2020 rookie campaign in which he was named Defensive Rookie of the Year and earned a Pro Bowl nod while amassing 7.5 sacks. Unfortunately, that rookie season has been the high watermark for Young. He suffered a devastating injury to his ACL and patellar tendon in a Week 10 game of the 2021 season that forced him to miss the rest of '21 and the vast majority of the '22 season. Young had only locked 1.5 sacks to that point in a second season that most viewed as a disappointment.
In this alternate timeline, the deep and talented Niners can afford to take a stab at the game-wrecking potential of a talent like Young, despite the injury concerns that still linger.
15. Denver Broncos - Jerry Jeudy, WR, Alabama
Original Pick - Jerry Jeudy, WR, Alabama
Denver was over the moon when they landed Alabama wide receiver Jerry Jeudy with this pick in the 2020 NFL Draft. Just over three years later, that same optimism has likely been dimmed a bit, though they pull the trigger on Jeudy yet again.
Much like his college teammate Tua Tagovailoa, we're still trying to figure out exactly who Jeudy is as an NFL player despite his three years in the league. Still just 24, many would argue that his best days still lie ahead. He's struggled with injuries, as well as inconsistent QB play, for his entire career, though he's flashed potential when healthy.
16. Atlanta Falcons - AJ Terrell, CB, Clemson
Original Pick - A.J. Terrell, CB, Clemson
Three years later and you have to imagine the Atlanta Falcons would run the card to the podium to take cornerback AJ Terrell all over again in this version of the draft. The Falcons have selected some high-profile players on the offensive side of the football in recent years but they likely wouldn't want to change a thing about having the trustworthy Terrell anchoring their secondary.
The Clemson alum has been a good player on a bad defense across his three years in Atlanta. He's proven to be athletic and effective in coverage, earning Second-Team All-Pro honors in 2021.
17. Dallas Cowboys - Brandon Aiyuk, WR, Arizona St.
Original Pick - CeeDee Lamb, WR, Alabama
The Cowboys grabbed one of the steals of the 2020 draft with CeeDee Lamb at the No. 17 overall pick. Unfortunately for Dallas, Lamb is already off the board in our "Draft Do-Over". The 'Boys will try to fill his shoes - and a WR spot - by selecting Brandon Aiyuk.
Aiyuk's NFL career has not been without its ebbs and flows, but the physical pass-catcher has improved every season he's been in the league, most recently crossing the 1,000-yard receiving mark for the first time in 2022.
18. Miami Dolphins - Jonathan Taylor, RB, Wisconsin
Original Pick - Austin Jackson, T, USC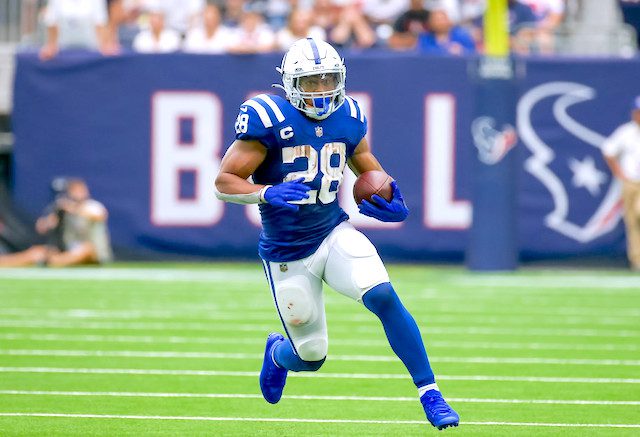 Miami's leading rusher in 2019 was veteran quarterback Ryan Fitzpatrick. In 2020 it would be Myles Gaskin, who gained just 584 yards. The Dolphins add another facet to their offense and a dangerous weapon to pair with Tua Tagovailoa with the selection of Wisconsin back Jonathan Taylor at No. 18.
Current conventional wisdom is against drafting running backs in the first round, but Taylor - who was originally selected by Indianapolis in the second round of this draft - has flashed game-changing potential during his time with the Colts. He's rushed for over 1,000 yards in two of his three NFL seasons, including a league-high 1,811 yards on the ground in 2021 en route to First Team All-Pro honors.
19. Las Vegas Raiders - Derrick Brown, DT, Auburn
Original Pick - Damon Arnette, CB, Ohio St.
Of all the teams in the NFL, perhaps none would be happier for this theoretical "Draft Do-Over" than the Las Vegas Raiders, who whiffed on not one, but two first-round picks in the 2020 NFL Draft. After originally selecting Henry Ruggs III with the 12th overall pick, Las Vegas then tabbed Ohio St. cornerback Damon Arnette. Like Ruggs, Arnette found serious legal trouble off the field and is no longer with the Raiders.
Instead of their two original duds, the Raiders snag defensive tackle Derrick Brown in this version of the draft to pair with their earlier pick, Tee Higgins. Brown originally went seventh overall to Carolina in the 2020 draft, so to land him here is a tremendous value. After starting his career in solid, if unspectacular fashion, Brown experienced a true breakout in 2022, ending the season with PFF's seventh-highest grade among interior defenders.
20. Jacksonville Jaguars - Alex Highsmith, EDGE/LB, Charlotte
Original Pick - K'Laivon Chaisson, EDGE, LSU
Jacksonville's original pair of 2020 first-round picks can safely be labeled as underwhelming. We've already addressed their swing-and-miss with CB C.J. Henderson at the No. 9 overall spot and the same can be said of EDGE K'Laivon Chaisson, their selection with the 20th pick. Chaisson has recorded just three sacks in his career and he didn't start a single game for the Jags last season.
Duval will be happy to see their squad make this pick with the benefit of hindsight and the Jags organization will be pleased to snag a very productive player in Alex Highsmith. Originally selected by the Pittsburgh Steelers in the third round of the 2020 draft, Highsmith has proven himself to be an impact defensive asset over the last two seasons. The Charlotte product has started every game for the Steelers since 2021 with last season being his most productive. Highsmith led the NFL with five forced fumbles in 2022 and his 14.5 sacks last season which tied for the fifth-most in franchise history.
Original Pick - Jalen Reagor, WR, TCU
Even in our "Draft Do-Over" time machine, the Philadelphia Eagles will never be able to get back the opportunity they missed by not selecting an available Justin Jefferson with the 21st overall pick of the 2020 NFL Draft. Sorry, Philly fans.
However, the Eagles can at least improve on their original pick of Jalen Reagor thanks to the availability of Michael Pittman Jr. in our alternate football timeline. Reagor never crossed 400 yards receiving in either of his two seasons with Philadelphia and was unceremoniously shipped to the Minnesota Vikings for two Day 3 draft picks ahead of the 2023 season.
In Pittman, the Eagles get a receiver that's flashed evident talent despite never playing with the same quarterback for more than a season during his time in the NFL. Even with horrible QB play, the USC All-American has still managed to produce over 2,500 receiving yards and 11 TDs in Indy. He would be a scary add to Philly's monstrous receiving corps that includes A.J. Brown and DeVonta Smith.
22. Minnesota Vikings - L'Jarius Snead, CB, Louisiana Tech
Original Pick - Justin Jefferson, WR, LSU
Wow...what a difference a draft pick can make! The Vikings are inarguably one of the biggest losers of our little re-draft, as Minnesota goes from stealing superstar receiver Justin Jefferson with the 22nd pick of the 2020 NFL Draft to being on the outside looking in at not just Jefferson, but any true slam-dunk wideouts.
With their prized offensive stud no longer available in this version of the draft, the Vikes go a completely different direction by selecting L'Jarius Snead to bolster a secondary that finished the 2022 season ranked 26th in the NFL in Pass Defense DVOA. Originally a fourth-round pick in 2020, Sneed has proved to be a true game-changer for the Super Bowl-winning Kansas City Chiefs. He's a strong cover corner that can tackle, blitz off the edge, and offer support in the run game. While he's certainly no Jefferson, Sneed represents a definitive upgrade to Minnesota's defense.
23. Los Angeles Chargers - Patrick Queen, LB, LSU
Original Pick - Kenneth Murray Jr., LB, Oklahoma
The Chargers originally targeted the linebacker position in the 2020 draft by taking Oklahoma LB Kenneth Murray Jr., who has struggled to make much of a noticeable impact across his first three years in the league. Murray has managed just 2 sacks and one INT in his career, despite appearing in 44 games for the Chargers.
In our reimagined draft, L.A. sticks with the linebacker position with the 23rd pick but targets LSU linebacker Patrick Queen instead of Murray. Queen was named to the 2020 NFL All-Rookie team during his maiden campaign and is coming off a career year in 2022. Last year, the Ravens LB went over 100 tackles while also adding five sacks and two INTs. He provides the Chargers with an instant upgrade over Murray at the same position.
24. New Orleans Saints - Robert Hunt, OL, Louisiana
Original Pick - Cesar Ruiz, OL, Michigan
Many felt Cesar Ruiz was a reach for the New Orleans Saints with the 24th overall pick of the 2020 draft. With the benefit of hindsight, the Saints themselves would likely agree. Ruiz has been a consistent presence on the New Orleans o-line, starting 40 games for the franchise across his three years in the NFL. While Ruiz has been a durable asset, his performance has been rather mediocre, as he's never finished a season graded inside the top 50 at his position per PFF.
Getting a second chance at the pick here, the Saints stay in the trenches, but tab o-lineman Robert Hunt out of Louisiana. The 6'6" Hunt has settled in nicely at right guard for the Miami Dolphins and allowed just three sacks in over 1,000 snaps last season while grading out as PFF's 12th-best guard in the NFL.
25. San Francisco 49ers - Kamren Curl, S, Arkansas
Original Pick - Brandon Aiyuk, WR, Arizona St.
Despite snagging high-upside EDGE Chase Young in this edition of the "Draft Do-Over" with the 14th overall pick, the Niners stay on the defensive side of the ball and select a dynamic and underrated safety in Kamren Curl.
While San Fran's offense would undoubtedly miss the excellent production of their original pick in this spot, WR Brandon Aiyuk, Curl should be considered much more than a consolation prize, as he's quietly evolved into one of the best safeties in the league over his three years with the Washington Commanders. Originally a seventh-round pick in the 2020 NFL draft, Curl earned PFF's highest grade among 63 safeties that saw over 700 snaps last season.
26. Green Bay Packers - Darnell Mooney, WR, Tulane
Original Pick - Jordan Love, QB, Green Bay Packers
Even though the Green Bay Packers selection of Jordan Love with this pick likely paid a large part in sending a highly-motivated Aaron Rodgers on a tear that would result in back-to-back NFL MVP awards in 2020 and 2021, it's tough to argue that Love's selection wasn't the beginning of the end for Rodgers and the Packers.
With Rodgers now in New York, we'll get a chance to see what Love can do in the coming 2023 season, and perhaps at this time next year we'll be raving about what a genius, "long game" pick this turned out to be for Green Bay. However, in our alternate draft timeline, we're actually gonna *GASP* try to get Rodgers some help in the passing game by selecting speedy wide receiver Darnell Mooney.
Originally a fifth-round pick by the Chicago Bears, Mooney has been productive at the pro level, logging 2,179 receiving yards and 10 TDs in what's been an often horrible Bears passing attack. By going to Green Bay in this version of the draft, the Tulane product would not only slot in perfectly beside then-Packers alpha receiver Davante Adams, but he'd also be a nice olive branch from the organization to Rodgers.
27. Seattle Seahawks - Darrell Taylor, EDGE, Tennessee
Original Pick - Jordyn Brooks, LB, Texas Tech
Originally selected by the Seahawks with the 48th overall pick of the 2020 draft, Darrell Taylor goes off the board earlier in this version, as Seattle locks in the explosive EDGE rusher out of Tennessee at No. 27.
After missing 2020 with a knee injury, Taylor burst on the scene with four sacks in his first five 2021 games for the Seahawks. He tailed off over the rest of that year but bounced back to log 9.5 sacks in 2022. The former Vol isn't an especially versatile defender, but he's very capable of getting after opposing quarterbacks...a skill that's very valuable in the modern NFL.
28. Baltimore Ravens - Josh Uche, EDGE, Michigan
Original Pick - Patrick Queen, LB, LSU
With Baltimore's original selection, Patrick Queen, off the board in our reimagined draft, the Ravens will stick with targeting talent on the defensive side of the ball. This time around, the Ravens select Michigan's Josh Uche, a player that had done little for the New England Patriots before a breakout 2023 campaign in which he recorded 11.5 sacks and finished the season as PFF's eighth-highest graded pass rusher. Uche will have every chance to thrive in Baltimore's aggressive defensive scheme while providing the Ravens with a legit pass rusher off the edge.
29. Tennessee Titans - Damien Lewis, G, LSU
Original Pick - Isaiah Wilson, OT, Georgia
Almost any player would be an upgrade over Tennessee's original pick, tackle Isaiah Wilson. Wilson proved to be one of the biggest draft busts in Titans history, as he played just four snaps in his one season with the team. The Georgia product was arrested multiple times and consistently in trouble off the field during his time with Tennessee. He was eventually traded to Miami for a seventh-round pick and is no longer in the NFL.
The Titans are blessed with a huge upgrade thanks to our "Draft Do-Over", as they snag guard Damien Lewis in this version of the first round. Lewis provides the type of talent and stability on the offensive line that Tennessee had hoped to get out of the troubled Wilson. Since being drafted by the Seattle Seahawks in the third round, Lewis has been a steady and effective presence for Pete Carroll and company. In his three professional seasons, Lewis has finished with top-15 positional PFF grades twice.
30. Miami Dolphins - Kyle Dugger, S, Lenoir-Rhyne
Original Pick - Noah Igbinoghene, CB, Auburn
After securing two offensive cornerstones in this "Draft Do-Over" with Tua Tagovailoa and Jonathan Taylor, the Miami Dolphins grab some high upside on the defensive side of the ball with the 30th pick.
Miami's original selection in this spot - Noah Igbinoghene - has struggled to stay healthy and hasn't been very effective when he does find his way onto the field. Igbinoghene has started just five games and hauled in only one interception over his three years in South Beach.
This time around, the Dolphins select Lenoir-Rhyne's Kyle Dugger, a safety that's appeared in 44 games for the New England Patriots since 2020, notched 7 INTs, and finished last season with the 11th-highest PFF grade at the safety position.
31. Minnesota Vikings - Jeremy Chinn, S/LB, Southern Illinois
Original Pick - Jeff Gladney, CB, TCU
The 31st pick was a disaster for the Minnesota Vikings on the first go around, as cornerback Jeff Gladney played just one season for the Vikes before being released due to assaulting a former girlfriend. Tragically, Gladney was killed in a car accident in 2022 after signing with the Arizona Cardinals.
While the Vikings lost Justin Jefferson thanks to our "Draft Do-Over", it should be some (small) consolation that Minnesota shores up its defensive secondary in this version of the 2020 NFL Draft, nabbing cornerback L'Jarius Snead with the 22nd overall pick and now versatile defender Jeremy Chinn with the second-to-last pick of the first round. Chinn has been a big-time producer for the Carolina Panthers since originally going in the second round of this draft. He earned All-Rookie Team honors in 2020 and his 292 tackles are the third-most by active players selected in the 2020 draft.
32. Kansas City Chiefs - D'Andre Swift, RB, Georgia
Original Pick - Clyde Edwards-Helaire, RB, LSU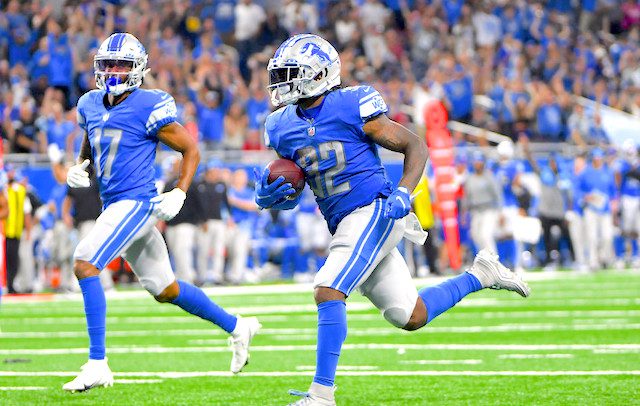 Coming off a Super Bowl victory in 2019, the high-octane Chiefs swung for the fences with LSU running back Clyde Edwards-Helaire with the final pick of the first round. Unfortunately, CEH's time in KC has been one marked by injury and declining production.
In our redraft, we'll still let the Chiefs take a shot on a talented SEC running back, but we'll give them Georgia's D'Andre Swift instead.
While there are some injury parallels with Edwards-Helaire, Swift has been undeniably explosive and one of the league's most prominent dual-threat backs when healthy. Perhaps things work out a bit differently for him if he lands in Kansas City instead of Motown, and it sure is exciting to think about the possibilities of Swift in this Chiefs offense.
Download Our Free News & Alerts Mobile App
Like what you see? Download our updated fantasy football app for iPhone and Android with 24x7 player news, injury alerts, rankings, starts/sits & more. All free!


Win Big With RotoBaller
Be sure to also check out all of our other daily fantasy football articles and analysis to help you set those winning lineups, including this new RotoBaller YouTube video:


More Fantasy Football Analysis