Welcome to another edition of "The Tape Tells All," where I break down some film of an NFL's player performance and try to draw some fantasy football conclusions from that film.
This week, I'm looking at Washington running back Derrius Guice, who's finally healthy and finally getting a chance to show why people were so high on him last season.
On Sunday, Guice had 10 carries for 129 yards and two touchdowns while also catching a pair of short passes. Let's look at some data and video of Guice and decide if you can trust him in your fantasy lineups over the rest of the NFL season.
Editor's Note: Get any rest-of-season NFL Premium Pass for 50% off. Our exclusive DFS Tools, Lineup Optimizer and Premium DFS Research through the Super Bowl.
Sign Up Now!
Background Information
In the 2018 NFL Draft, Washington took Guice with the 59th overall pick. After the Giants took Saquon Barkley with the second overall pick, we had a lull at running back until the end of the first round, and then between Rashaad Penny at 27 and the end of Round 2, we saw Sony Michel, Nick Chubb, Ronald Jones, and Kerryon Johnson picked, followed by Guice.
(That's such a strong and interesting running back class, by the way. Jones is the only real "ugh, why" name in that batch, and he's still had some impressive moments this season. Royce Freeman, Nyheim Hines, Chase Edmonds, and Bo Scarbrough also got drafted later on in that draft.)
Despite being picked after a lot of those other backs, Guice pretty quickly gained steam as a top dynasty rookie pick, and I ended up rostering him in a good number of leagues because it seemed like Washington was the perfect landing spot for him to be a workhorse back.
And then, he tore the ACL and missed all of his rookie year.
And then then, another knee injury in Week 1 of this season cost Guice most of this season, with him finally returning in Week 11. He had eight touches in that one, including a 45 yard touchdown catch, but a lackluster Week 12 outing against the Lions had us back to wondering what kind of fantasy option Guice might be this year.
And then, well...Sunday happened, and we're sitting here today having the opposite conversation. Is this finally the Guice we thought we'd see back in 2018?
It's hard to really know how much of Guice's pre-draft workout metrics are still relevant after the knee issues, but let's go ahead and mention them anyways. 80th percentile 40-yard dash. 91st percentile speed score. He should be an explosive runner, and I think we've definitely seen some signs of that explosiveness this season.
The Game Tape
Let's take a look at some Derrius Guice tape!
First, let's look at his touchdowns.
Here's the first one: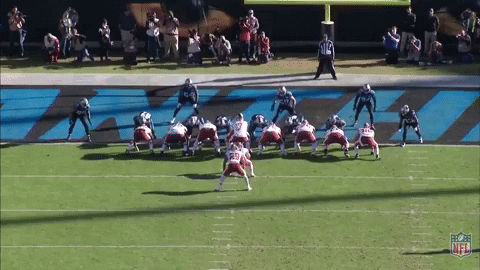 And here's the second one: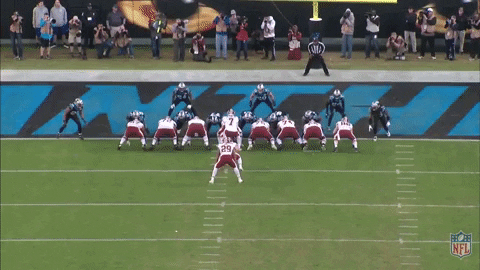 Lot in common on these plays! Washington runs the same goal line formation out there for both plays, Guice goes slightly right when he gets the ball, then a defender comes around the edge, hits him, and Guice bounces his way into the end zone. He had to dive a little higher on one of the plays? Other than that, these are basically the same video. It's the same defensive look both times, with the same linebacker position getting to the edge.
It's good to see Guice running hard near the goal line, and to see Washington comfortable using him there rather than just subbing Adrian Peterson in. Goal line carries = chances to score touchdowns = higher fantasy ceiling.
Guice also broke off some big ones.
Here's a 60 yarder where he shows off that burst. Some good footwork at the line of scrimmage plus a great little evasive move to avoid a tackle right at the start of the second level plus a teammate running the length of the field to help block all helps spring this big play.
Another fun, long one where Guice looks quick and also displays some good strength. Watch him just push the Panthers defender away! See him take on another defender down the field and almost get into the end zone anyway. This is such a entertaining run to watch, and it shows Guice with a mixture of speed and just brute force.
Not every Guice run was like this, as he did have some short ones where he couldn't find space. But overall, the line did a good job creating room for him. It might be a little surprising to know that Washington is 14th in the NFL in adjusted line yards, ahead of teams like Seattle, Carolina, and New England. For an offense that's struggled, having a line that's mid-pack in create rushing space is surprising, and it bodes well for Guice's chance of finding success moving forward.
Fantasy Impact
So, should you trust Guice in your fantasy lineups? I mean...it is playoff time, so you can't really afford to make mistakes if he's not actually emerging as the version of himself we've been waiting for.
This is where I'm so conflicted, Sunday showed us that the talent is definitely still there. Those knee injuries didn't turn Guice into some hobbled version of himself.
But with those injuries lingering in the coaching staff's mind, you'd have to think Guice doesn't get some enormous workload over the remainder of a lost season for Washington. (Yes, there's a way they can still win the NFC East, but also hahahahaha no, they aren't winning the NFC East.)
Guice still played just 30 percent of snaps and Adrian Peterson wasn't some slouch, carrying 13 times for 99 yards and a score. Chris Thompson is finally back to take some passing down work. Snap counts for those three players broke down nearly evenly: 23 for Thompson, 23 for Peterson, and 19 for Guice.
And really, why would that change? If Guice is your running back of the future, you want to use the rest of this season seeing what he can do, but not putting unnecessary stress on his body from giving him 25-30 touches. That would be coaching malpractice.
So, in redraft leagues, I'm still not putting my fantasy championship in the hands of Derrius Guice outside of a 14-team league, but what I am doing is pumping my fists and yelling "I HAVE HIM IN DYNASTY STILL" as loud as I can. (And, of course, closing my eyes and humming and pretending that I didn't already trade him away in our staff dynasty league, even if the return I got was fine.)
Anyway, Guice: Good player. Not really worth the risk in shallower leagues unless the Washington backfield deals with more injuries.
More Fantasy Football Analysis