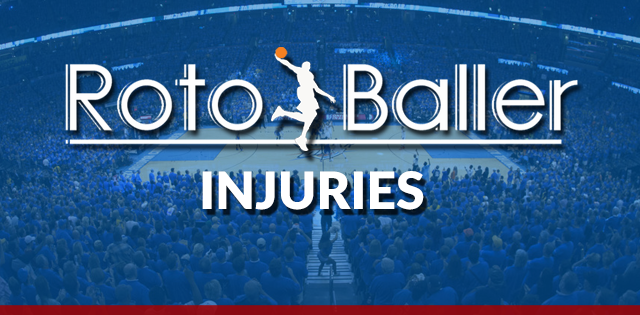 What Appears In This Article?
hide
RotoBaller has assembled a list of daily NBA injury updates to help you prepare both your seasonal and daily fantasy basketball (DFS) lineups, every day of the NBA season.
Below is our updated list of injured NBA players for April 8th, 2023. Only players on teams that are scheduled to play today will appear below on this list.
Understanding the injury landscape is key in all forms of fantasy basketball, especially when setting DFS lineups on sites like FanDuel and DraftKings. Consider this your one-stop overview of fantasy-relevant injuries around the NBA.
Editor's Note: Our incredible team of writers received five total writing awards and 13 award nominations by the Fantasy Sports Writers Association, tops in the industry! Congrats to all the award winners and nominees including NBA Writer of the Year, Best NFL Series, MLB Series, PGA Writer and Player Notes writer of the year. Be sure to follow their analysis, rankings and advice all year long, and win big with RotoBaller!
Read More!
NBA Injury Roundup for April 8th, 2023
Note: this post is automatically updated throughout the day, every 5 minutes, in case new injury updates are reported.

| Name | Team | Status | Opponent | Home/Away | Notes |
| --- | --- | --- | --- | --- | --- |
| Aaron Gordon | DEN | Probable (Right Shoulder) | UTA | Away | Gordon is dealing with an inflamed shoulder but is likely to take the court for the Nuggets. |
| Kentavious Caldwell-Pope | DEN | Probable (Illness) | UTA | Away | Caldwell-Pope is battling an illness but is likely to take the court for the Nuggets. |
| Reggie Jackson | DEN | Probable (Back) | UTA | Away | Jackson is dealing with a back injury but is likely to take the court for the Nuggets, |
| Nikola Jokic | DEN | Probable (Calf) | UTA | Away | Jokic is dealing with a calf injury but is likely to take the court for the Nuggets. |
| Jamal Murray | DEN | Probable (Thumb) | UTA | Away | Murray is dealing with a thumb injury but is likely to take the court for the Nuggets. |
| Michael Porter Jr. | DEN | Probable (Injury Management) | UTA | Away | Porter Jr. is under injury management but is likely to take the court for the Nuggets. |
| Bruce Brown | DEN | Out (Patella) | UTA | Away | Brown is dealing with a patella injury and will not take the court for the Nuggets. |
| Collin Gillespie | DEN | Out (Lower Leg) | UTA | Away | Gillespie is recovering from surgery to repair a lower left leg fracture and will not be available for the Nuggets. His timetable to return is unclear. |
| Kelly Olynyk | UTA | Out (Rest) | DEN | Home | Olynyk is resting and will not take the court for the Jazz. |
| Jordan Clarkson | UTA | Out (Hand) | DEN | Home | Clarkson is dealing with a hand injury and will not take the court for the Jazz. |
| Rudy Gay | UTA | Out (Lower Back) | DEN | Home | Gay is dealing with lower back soreness and will not take the court for the Jazz. |
| Lauri Markkanen | UTA | Out (Hand) | DEN | Home | Markkanen is dealing with a hand injury and will not take the court for the Jazz. |
| Collin Sexton | UTA | Out (Hamstring) | DEN | Home | Sexton is battling a hamstring injury and will not take the court for the Jazz. |
| Talen Horton-Tucker | UTA | Out (Ankle) | DEN | Home | Tucker is dealing with an ankle injury and will not take the court for the Jazz. |
| Walker Kessler | UTA | Out (Concussion) | DEN | Home | Kessler is dealing with a concussion and will not take the court for the Jazz. He is expected to miss the remainder of the 2022-2023 NBA season. |
| Damian Lillard | POR | Out (Calf) | LAC | Away | Damian Lillard is dealing with a calf injury and will not take the court for the Trail Blazers. He has been shut down for the remainder of the 2022/23 season. |
| Jerami Grant | POR | Out (Quad) | LAC | Away | Grant is dealing with a quad injury and will not take the court for the Trail Blazers. |
| Jusuf Nurkic | POR | Out (Knee) | LAC | Away | Nurkic is dealing with a knee injury and will not take the court for the Trail Blazers. |
| Justise Winslow | POR | Out (Ankle) | LAC | Away | Winslow is dealing with an ankle injury and will not take the court for the Trail Blazers. |
| Anfernee Simons | POR | Out (Foot) | LAC | Away | Simons is dealing with a foot injury and will not take the court for the Trail Blazers. |
| Drew Eubanks | POR | Out (Ankle) | LAC | Away | Eubanks is dealing with an ankle injury and will not take the court for the Trail Blazers. |
| Cam Reddish | POR | Out (Back) | LAC | Away | Reddish is dealing with a back issue and will not take the court for the Trail Blazers. |
| Matisse Thybulle | POR | Out (Knee) | LAC | Away | Thybulle is dealing with a knee injury and will not take the court for the Trail Blazers. |
| Nassir Little | POR | Out (Ankle) | LAC | Away | Little injured his ankle in a previous game and will not take the court for the Trail Blazers. |
| Keon Johnson | POR | Out (Finger) | LAC | Away | Johnson has been diagnosed with with a fractured finger and will not take the court for the Trail Blazers. |
| Ibou Badji | POR | Out (Knee) | LAC | Away | Badji will undergo knee surgery and is expected to miss the remainder of the 2022-2023 NBA season. |
| Paul George | LAC | Out (Knee) | POR | Home | George suffered a sprained knee and will not take the court for the Clippers. He is expected to miss 2-3 weeks. |
| Marcus Morris Sr. | LAC | Out (Back) | POR | Home | Morris is dealing with a back injury and will not take the court for the Clippers. |
| Austin Rivers | MIN | Out (Illness) | SA | Away | Rivers is battling an illness and will not take the court for the Timberwolves. |
| Jaylen Nowell | MIN | Out (Knee) | SA | Away | Nowell has been dealing with a knee issue and will not take the court for the Timberwolves. |
| Naz Reid | MIN | Out (Wrist) | SA | Away | Reid has undergone wrist surgery and is expected to miss 6 weeks. |
| Doug McDermott | SA | Out (Ankle) | MIN | Home | McDermott is battling a right ankle sprain and will not suit up for the Spurs. |
| Khem Birch | SA | Out (Knee) | MIN | Home | Birch is battling a knee injury and will not take the court for the Spurs. |
| Zach Collins | SA | Out (Finger) | MIN | Home | Collins is dealing with a finger injury and will not take the court for the Spurs. |
| Devonte' Graham | SA | Out (Adductor) | MIN | Home | Graham is dealing with an adductor injury and will no take the court for the Spurs. |
| Romeo Langford | SA | Probable (Injury Management) | MIN | Home | Langford is managing an injury but is available to take the court for the Spurs. |
| Keldon Johnson | SA | Out (Foot) | MIN | Home | Johnson is dealing with a foot injury and will not take the court for the Spurs. |
| Devin Vassell | SA | Out (Injury Management) | MIN | Home | Vassell is recovering from an injury and will not take the court for the Spurs. |
| Charles Bassey | SA | Out (Patella) | MIN | Home | Bassey suffered a fractured patella and will not take the court for the Spurs. |
| Jeremy Sochan | SA | Out (Knee) | MIN | Home | Sochan is dealing with a knee injury and will not take the court for the Spurs. |
More Fantasy Basketball Analysis