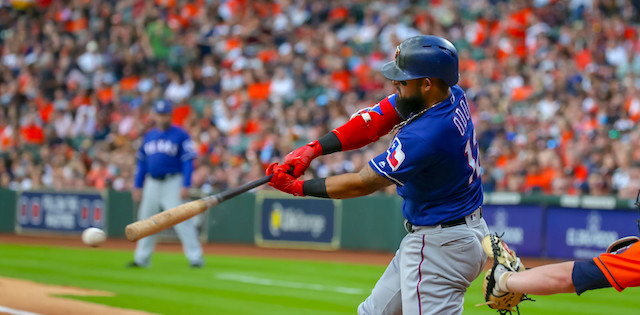 Welcome to Contact Rate Risers and Fallers for Week 8! Our premium tools allow us to get out ahead of trends in player performance, including contact rate. Every Wednesday, we'll be looking at some players that have seen an increase in contact rate and some that have seen it decline.
Contact rate can foretell a player's batting average and general hitting statistics, and any drastic change could signal a shift in performance. Contact rate shifts often act as a precursor to hot streaks and slumps.
Here is a breakdown of some of the biggest fantasy relevant risers and fallers in contact rate over the last seven days.
Editor's Note: Get any full-season MLB Premium Pass for 50% off. Exclusive access to our Draft Kit, premium rankings, projections, player outlooks, top sleepers, dynasty and prospect rankings, 15 in-season lineup tools, and over 200 days of expert DFS research.
Sign Up Now!
Contact Rate Risers
Data current as of 5/22/2019 and taken from RotoBaller's Premium Tool.
87% contact rate last seven days (+21%)
It has been a mixed start so far to the 2019 season for Bader. Despite missing time with injury, he has four home runs and a .259 batting average to his name and is on pace to beat his 12 home runs from last season. The adjustment in contact rate was always due to come, as Bader had been sitting at around 74% in his first two trips to the majors. Prior to this week, his number had been in the mid-60s, but this last week has actually elevated it up to 76%. The first month was tough for Bader, as he logged just a .225 batting average, but he has been hitting at .306 in May. If this contact rate rise is an indication that he is getting hot at the plate, then we could also see him improve his home run rate too.
There have been a couple of interesting statistics with Bader's season so far. Firstly, after stealing 15 bases last year, he has yet to register a single steal so far. In fact, he has failed on all three of his base stealing attempts so far, which is the same number of times he was caught all of last season. Given that he ranks in the 92nd percentile in sprint speed this season, that looks like something he should rectify in the coming months. The other interesting statistics have been his OBP, currently at .382, and his BB%, currently at 12.6%. Both of those are significantly higher than what we have seen in the past. The reason for this has been a much improved plate discipline. Bader has a 26.2% O-Swing%, compared to a 31% average in his first two seasons. That has seen his SwStr% decrease slightly and has allowed Bader to get on base with much regularity.
79% contact rate last seven days (+16%)
While his teammate Joey Gallo has been prospering to start the season Odor has been struggling. The young lefty slugger owns just a .165 batting average and a mammoth 35% strikeout rate so far this season. That is a strikeout rate nearly 10% above anything we have seen previously from him, and a batting average well below even his career low of .204. To put it simply, Odor has just been struggling to make contact. His O-Swing and Z-Swing% remain similar to his career numbers, but his O-Contact and Z-Contact% are 10% and 5% below his career averages respectively. Those numbers have meant that Odor has a SwSt% of 13.9%, contributing to the ugly strikeout rate.
Additionally, his BABIP is at a frighteningly low .197. His batted ball profile is startling lower than last year, with a 10% drop in hard hit rate according to fangraphs, which has been replaced with medium quality contract. He has also found himself hitting fly balls over 5% more than at any other point of his career. The combination of increased fly balls with a lower hard hit rate is not a good combination for batting average and BABIP. However, his hard hit rate is not significantly worse than we have seen previously in his career, and he is actually hitting the barrel more often than at any other point in his career.
The launch angle is the issue, as his worst season before 2019 came in 2017, when he had a 15.2-degree launch angle. This season that number is at 14.7 degrees. There is a definite degree of bad luck to his current numbers and the increased contact rate of the last week has seen him hit four home runs, even if the batting average remains at .207 in that time. If Odor has been dropped in your leagues then now would be the time to look to add him, hoping for a hot Texas summer from the young slugger.
95% contact rate last seven days (+14%)
It has been a mixed start to major league life for Guerrero. The last week has helped to bring his batting average back up to a respectable .247. However, that is still some way below what fantasy players were hoping for when they drafted him. Overall, his contact numbers have looked pretty solid, but the results have just not been coming through on the stat sheet. Perhaps his biggest issue has been a GB% over 50 but that is not miles off what he was doing previously in his minor league career.
His strikeout rate has jumped to 17%, after having never been above 13.5% in his minor league career. None of this is massively unexpected. Adjusting from the minors to majors can be tough, and on the bright side, Guerrero has four home runs in 82 plate appearances. As well as the contact rate increase the last week has seen him hit four home runs and for a .346 batting average. For those fantasy owners who took a risk drafting him, and then have ridden out the frustrating start, a big payoff is potentially just around the corner.
Contact Rate Fallers
Data current as of 5/22/2019 and taken from RotoBaller's Premium Tool.
40% contact rate last seven days (-22%)
It has been a solid start to 2019 for Dahl, as he currently owns a .288 batting average and has three home runs, 18 runs, 14 RBI and a stolen base to his name. However, there was always going to be some rough patches coming in the near future. Dahl's contact rate this season was lower than his career average (65.5% vs. 71.8%), with a 17.8 SwSt% helping to push his strikeout rate up to a career high of 34.2%.
His batting average number was a result of an astronomically high .432 BABIP. That was largely driven by a high LD rate this season (31.3%), which came at the expense of his fly ball rate (26.5%). In fact, Dahl's launch angle has dropped 2.9% from his 2018 number, which is part of the reason for more line drives and fewer fly balls. When Dahl has been making contact it has been really good contact, with a 15% barrel rate so far this season.
In the last week, Dahl has just two hits in 22 ABs, and even when he has been hitting well for average, it has come at a major cost to his home runs. Last season in 279 PA, Dahl had 16 home runs, this season he has just three in 146 PA. Even if Dahl could somehow maintain his insanely high BABIP driven batting average, would he be able to provide enough power to provide the fantasy value that owners require? Whichever way you look at it it does not look a pretty picture for Dahl and his fantasy owners right now.
29% contact rate last seven days (-25%)
Myers is up to his old tricks once again frustrating fantasy owners. On the positive side, he has seven home runs and four stolen bases. On the downside, he has just a .225 batting average, thanks to an ugly contact profile this season. Again looking positively, Myers is swinging at nearly 4% fewer pitches outside the zone than he did last season, bringing that number back in line with his career average. Unfortunately, there are once again some negatives. His BB% has not improved significantly with that greater patience at the plate and is approximately 2% below his career best.
The other major problem is that when Myers swings at pitches outside the zone he is missing more often than he ever has since his first year with the Padres in 2015. In fact, Myers is just missing a lot of pitches this year. His Z-Contact% is lower than we have ever seen at 74.4%, and it is driving a career-high 14.4 SwSt%. All of that means that Myers is striking out a career-high 38.1% of the time. When he does make contact the results are perfectly fine in terms of batted ball profile, HR/FB% and BABIP, but the contact is just far too inconsistent.
44% contact rate last seven days (-17%)
It has been a whirlwind second stint in the majors for Rodriguez, as he has posted a .260 batting average, with six home runs and two stolen bases. However, there was always likely to be some regression coming. In his first stint last season he hit just .220, and that was with a better contact profile than we have seen this season. Interestingly, Rodriguez has actually seen a slight uptick in his O-Contact%, but that has been largely negated by a drop in his Z-Contact%. Those struggles in the zone have seen a minor increase in SwSt% and a 5% jump in overall strikeout rate.
When he has been making contact the profile is very interesting. He has traded soft and medium quality contact for a 12% increase in hard contact. That combined with a transfer from a 1.20 GB/FB ratio to a 0.64 ratio is the primary reason behind his six home runs in just 106 PA. This approach from Rodriguez is going to make him a continual risk-reward play. When he is hot the batted ball profile should result in plenty of power, and he has enough speed to provide help there too. However, swinging at over 45% of pitches outside the zone is likely to lead to some pretty bad weeks for your batting average.
Contact Rate Risers and Fallers - Premium Tool
Identifying top batting average surgers for each week can help you spot the best pickups before your competition. RotoBaller's Premium Contact Rate Risers and Fallers tool has you covered every day. As thoughtful fantasy baseball players, we won't lead you astray. Here is a small sample: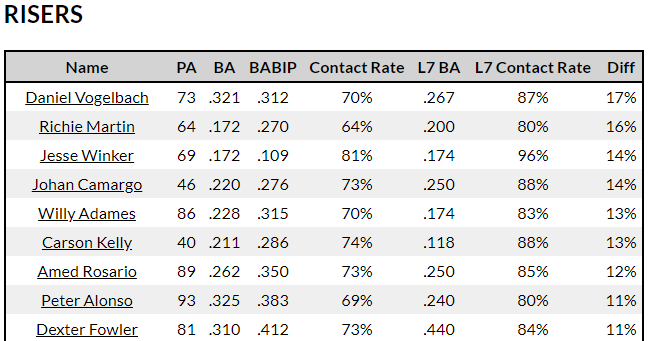 This type of data is available as part of our Premium MLB Subscription and launched on April 22nd for the 2019 season. Don't settle for basic stats and surface-level advice from other sites. RotoBaller brings you advanced statistics and professional analysis that you need to win your fantasy leagues and DFS games because we're ballers just like you. We are your secret weapon!
More Fantasy Baseball Advice and Analysis