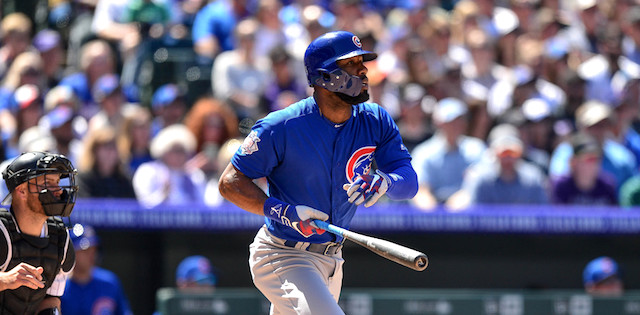 Welcome to Contact Rate Risers and Fallers for Week 3! Our premium tools allow us to get out ahead of trends in player performance, including contact rate. Every Thursday, we'll be looking at some players that have seen an increase in contact rate and some that have seen it decline.
Contact rate can foretell a player's batting average and general hitting statistics, and any drastic change could signal a shift in performance. Contact rate shifts often act as a precursor to hot streaks and slumps.
Our batting average tool officially launches at the beginning on next week, April 22nd. Until then we can look at the last seven days and see how a players contact rate over the last seven days tells a story about their season as a whole, or foretells a coming change.
Editor's Note: Get any full-season MLB Premium Pass for 50% off, with exclusive access to our season-long articles, 15 in-season lineup tools and over 200 days of expert DFS research/tools.
Sign Up Now!
Contact Rate Risers
David Fletcher (2B/3B/OF, LAA)
100% contact rate in the last seven days (2019: 98.5%).
Fletcher has been superb this season at making contact when he swings the back. Just once in the entire season has Fletcher had a game in which he did not make contact on 100% of his swings. That has given him a swinging strike rate of 0.5% on the season, and has led to him getting more opportunities with the Angels. Fletcher has been part of the Angels lineup in the last five days, leading off twice in that time. Part of that was due to Mike Trout missing time heading into last weekend, but Fletcher's performances have certainly helped him make a case for more playing time. So far the results in terms of fantasy relevant output have not been great, zero home runs and just eight combined runs and RBI, but he is hitting .277 with three extra-base hits and two stolen bases. Fletcher could be a player primed to breakout in the coming weeks and should receive consideration as a pickup, especially in deeper leagues.
Jose Martinez (1B/OF, STL)
95.2% contact rate in the last seven days (2019: 86.2%).
It has been a tough start to the season for Martinez. The acquisition of Paul Goldschmidt has left him struggling for playing time, as he has started just two games in the last five days. However, there are signs that when he is in the lineup his eye is starting to adjust back to major league level. Over the last seven days, in which he has appeared in six games, Martinez has a .462 batting average with a combined six runs and RBI in 13 PA. He is still short of playing time, limiting his upside, but is worth keeping on your watch list as a potential batting average contributor if an injury occurs in St. Louis.
Andrelton Simmons (SS, LAA)
97.0% contact rate in the last seven days (2019: 87.4%).
It has been a somewhat disappointing start for Simmons to the 2019 season. As a hitter who is usually so reliable in terms of batting average, his .215 return so far is tough for fantasy owners to swallow. However, his performance in the last week or so should inspire confidence. In the first 11 games of the season, Simmons struck out six times and had a contact rate around 80%. In the last five days, he has made contact with 97% of his swings and has struck out just once. Unfortunately, he is still just hitting .182 in that stretch but the improved contact and reduced amount of strikeouts are promising signs at this stage of the season. Simmons is also locked into hitting in the top four in the Angels lineup, so should be able to deliver plenty of runs and RBI this season.
Jason Heyward (OF, CHC)
94.7% contact rate in the last seven days (2019: 86.3%).
Heyward is experiencing a fascinating start to the season, with four home runs and three stolen bases in less than 60 PA. He is already close to a third of the way to matching his best power and speed outputs as a Cub, and his batting average, .362, has been a huge contributor as well. The contact numbers so far this season are nothing above the norm for his time in Chicago, but he appears to be making better decisions at which pitches to swing at.
As of Wednesday, Heyward is swinging at less than 22% of pitches he sees outside the zone and is making contact with 94% of pitches he sees inside the zone. This improvement in decision-making and the increased output we have seen around it so far has seen Heyward promoted to hit fifth in the Cubs batting order over the last three days. If this start to the season is legit then Heyward could be primed for an extremely surprising season. From the contact numbers at the very least it does not appear as if he will be slowing down any time soon.
Contact Rate Fallers
Joey Gallo (OF, TEX)
51.4% contact rate in the last seven days (2019: 61.1%).
Seeing Joey Gallo near the bottom of this list is unlikely to shock anyone. However, the numbers he is putting up in the last seven days will be somewhat of a shock. Despite nine strikeouts, a nearly 50% contact rate and a 21.8% swinging strike rate, Gallo is hitting .294 with two home runs and a combined eight runs and RBI in the last week. Right now Gallo owns an incredibly high .245 batting average on the season, despite a contact rate which is right around his career average. If you are a Gallo owner, or an owner thinking of trading for Gallo this is a warning that the contact rate over the last week, and historical context, foretells that there is likely a slump of some sort coming for the Rangers slugger. Gallo is prone to extremely hot and cold streaks, and right now he is riding high, despite the terrible contact numbers.
Khris Davis (OF, OAK)
64.7% contact rate in the last seven days (2019: 65.3%).
Unbelievably, the man with five home runs and a .400 batting average in the last week ranks very close to the bottom of the contact rate rankings for the last week. The Athletic slugger has just a 64.7% contact rate over the last seven days, bringing his season numbers down to his career average of 68%. Right now he is still smacking the ball out of the park, but his current pace has him on track for 79 home runs, which is obviously unsustainable. Additionally, Davis is currently sporting a batting average nearly .020 higher than his career batting average. It sounds crazy to say but now is the time to try and sell high on Davis if you can, because these contact numbers suggest one of his cold streaks might be just around the corner.
Marcell Ozuna (OF, STL)
65.9% contact rate in the last seven days (2019: 69.2%).
Here is another hot hitter whose contact rate numbers suggest things could soon be about to go in a different direction. Ozuna has five home runs, a stolen base and a .450 batting average in the last seven days. However, his contact rate right now is down below his career average of 74.3% which suggest two possible outcomes. On one hand, his contact rate struggles suggest that he could be due for a cold streak in the coming weeks. However, the fact his contact rate is below his career average, which has been pretty consistent around 75% the last few years could indicate that actually he is due to improve his contact, and could continue to put up the impressive numbers of the last week. Given those two possible outcomes, now is a good time to keep hold of Ozuna, unless you receive an offer which blows you out of the water, as there could still be some further upside to what we have seen in the last week.
Contact Rate Risers and Fallers - Premium Tool
Identifying top batting average surgers for each week can help you spot the best pickups before your competition. RotoBaller's Premium Contact Rate Risers and Fallers tool has you covered every day. As thoughtful fantasy baseball players, we won't lead you astray.
This type of data is available as part of our Premium MLB Subscription and will launch on April 22nd for the 2019 season. Don't settle for basic stats and surface-level advice from other sites. RotoBaller brings you advanced statistics and professional analysis that you need to win your fantasy leagues and DFS games because we're ballers just like you. We are your secret weapon!
More 2019 Fantasy Baseball Advice