Welcome to Contact Rate Risers and Fallers for Week 25! Our premium tools allow us to get out ahead of trends in player performance, including contact rate. Every Wednesday, we'll be looking at some players that have seen an increase in contact rate and some that have seen it decline.
Contact rate can foretell a player's batting average and general hitting statistics, and any drastic change could signal a shift in performance. Contact rate shifts often act as a precursor to hot streaks and slumps.
Here is a breakdown of some of the biggest fantasy-relevant risers and fallers in contact rate over the last seven days.
Editor's Note: Get any full-season MLB Premium Pass for 50% off. Exclusive access to our Draft Kit, premium rankings, projections, player outlooks, top prospects, dynasty rankings, 15 in-season lineup tools, and over 200 days of expert DFS research.
Sign Up Now!
Contact Rate Risers
Data current as of 9/18/2019 and taken from RotoBaller's Premium Tool.
94% contact rate last seven days (+21%)
It has been a really impressive follow-up act from Garver this season, hitting .276 with 30 home runs in 338 PA. However, his second-half has been a little less impressive at least from a batting average point of view, with a .254 batting average. He has brought that back around in September, as he is hitting .310 with four home runs in 38 PA. His batting average increase this year is fascinating given his BABIP has dropped, and his K% rate has risen 2.2%. His contact rate has dropped this season, but his SwStr% has stayed identical to each of the last two years thanks to a 2.3% drop in O-Swing%, and a 1.5% drop in Z-Swing%.
The concern that those numbers should not have led to the batting average increase we saw this season is increased when you look at his power numbers. His exit velocity is incredibly impressive, but a 28.8% HR/FB rate is likely not sustainable into next season. Between the slight batting average concerns I have and the power regression, my anticipated advice for next season would be to use what is hopefully an end of season hot streak to sell Garver this offseason in your dynasty leagues. Also, use these numbers as caution when his ADP is soaring next spring.
85% contact rate last seven days (+17%)
Laureano has built on his short stint in the majors in 2018 with a solid 2019. His batting average held, his K% has dropped and his ISO has taken that next step, with 22 home runs this season. However, his contact rate numbers do give me a reason for pause, as his SwStr% has jumped 1.4% thanks to an increase of 5.7% in Swing% coupled with just a 0.3% jump in Contact%. These numbers just concern me that the K% drop we saw this year is not real and would be enough for me to enter next year with some caution surrounding Laureano.
91% contact rate last seven days (+14%)
2019 may have confirmed our fears that the incredible Joey Votto is heading in the same direction as Miguel Cabrera, down and out of fantasy relevance. Votto has seen a second straight dip in batting average down to .268 and he has managed just 15 home runs. More concerningly is the K% tipping over into a new career-high of 19.9%, and rising for the second straight year. His batted ball numbers are a major concern with his HR/FB sitting down at just 10% for a second straight year, having been up near 20% throughout his career. His BB% has also dropped in conjunction with a rise in his O-Swing% combined with a big drop in his O-Contact%. Do not let this hot streak at the end of the season fool you, Votto is all but done as a viable first base fantasy option entering 2020.
Contact Rate Fallers
Data current as of 9/11/2019 and taken from RotoBaller's Premium Tool.
45% contact rate last seven days (-24%)
Speaking of bad years, Bradley has really struggled in 2019. His batting average has dipped to .221 and his K% is back up at those early-career numbers of 27%. The situation would be even worse if it wasn't for a hot month in June when he hit .315 with five home runs and struck out just 20.8% of the time. In three of the other five months, he has hit below .200 and struck out 30% or more of the time. His contact profile belies the concern as his SwStr% is up at a career-high 14.6% as his Z-Contact% has dropped 3.1%. There is a chance that Bradley will bounce back somewhat in 2020, but the excitement over him in fantasy should be done until he can prove otherwise.
60% contact rate last seven days (-20%)
Yikes, this is not what you want if you drafted Gordon. Injuries have limited him to just 399 PA entering play on Wednesday. He has stolen 22 bases which have to be considered acceptable, but his batting average did not really jump as we hoped. Also, his K% has snuck up. His SwStr% is up thanks to a dip in Z-Contact% from 94 down to 89, but those are numbers you can live with. The problem is that injuries appear to be limiting his contribution and that should lead to pause. His value next year will likely inflate because of his ability to swipe bases, but this little cold streak to end the season should be a warning to remind you that if he doesn't steal you 40 bases his value is extremely limited for your fantasy team.
55% contact rate last seven days (-14%)
A really frustrating year for people who were invested in Vogelbach is coming to an end. On one hand, he has hit 30 home runs and increased his batting average from last season. On the other hand, his batting average is just .214 and he has a K% of 26. The power element of his game is legit, and he should be a regular 30 home run hitter if he maintains a FB% over 40. His contact profile is interesting as he has struggled to make contact with pitches in the zone but succeeded outside the zone. That is not a bad combination as those pitches in the zone are strikes whether he swings or not, and the fact he is getting to more pitches outside the zone is notable. However, the quality of contact is usually worse on pitches outside the zone, and in order to see real improvement in batting average, you would like to see him improve in the zone again next year. This is likely what Vogelbach is for fantasy, empty power. Good for DFS, not so much for season-long formats.
Contact Rate Risers and Fallers - Premium Tool
Identifying top batting average surgers for each week can help you spot the best pickups before your competition. RotoBaller's Premium Contact Rate Risers and Fallers tool has you covered every day. As thoughtful fantasy baseball players, we won't lead you astray. Here is a small sample: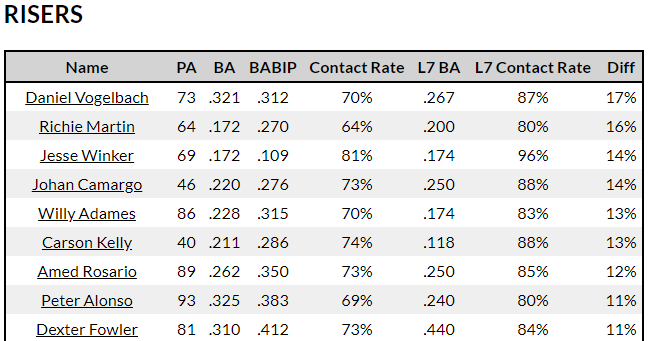 This type of data is available as part of our Premium MLB Subscription and launched on April 22nd for the 2019 season. Don't settle for basic stats and surface-level advice from other sites. RotoBaller brings you advanced statistics and professional analysis that you need to win your fantasy leagues and DFS games because we're ballers just like you. We are your secret weapon!
More Fantasy Baseball Advice and Analysis