Welcome to Contact Rate Risers and Fallers for Week 13! Our premium tools allow us to get out ahead of trends in player performance, including contact rate. Every Wednesday, we'll be looking at some players that have seen an increase in contact rate and some that have seen it decline.
Contact rate can foretell a player's batting average and general hitting statistics, and any drastic change could signal a shift in performance. Contact rate shifts often act as a precursor to hot streaks and slumps.
Here is a breakdown of some of the biggest fantasy relevant risers and fallers in contact rate over the last seven days.
Editor's Note: Get any full-season MLB Premium Pass for 50% off. Exclusive access to our Draft Kit, premium rankings, projections, player outlooks, top sleepers, dynasty and prospect rankings, 15 in-season lineup tools, and over 200 days of expert DFS research.
Sign Up Now!
Contact Rate Risers
Data current as of 6/19/2019 and taken from RotoBaller's Premium Tool.
88% contact rate last seven days (+21%)
It has not been a massively inspiring season from Bader so far. The young Cardinal has six home runs, but just three stolen bases and a .209 batting average. However, there have been some positives in the big jump in his walk rate, going from 7.3% up to 11.7%. That is reflected in his contact profile, as his discipline with pitches off the plate has seen an improvement. His O-Swing% has dropped from over 30% down to 27.6%. He has been making similar contact outside the zone, but within the zone, he has increased his contact to 88%. Both of these have combined to giving him a career-low 9.4 SwStr%. However, his patience at the plate reflecting in laying off pitches in the zone may be a little too much patience. Yes, his SwStr% is down, but his K% still remains above 25%.
The biggest issue in terms of his batting average has been his BABIP, which sits in the .273 region. Part of the reason for this can be found in his batted ball profile. His launch angle is not up that much, but the type of batted ball has changed, with a 6% drop in LD% being replaced with a 12% increase in FB%. His exit velocity remains solid and helps explain why he has a 12.5% FB/HR rate, but hitting that many fly balls are always going to result in more outs than the ideal. The other aspect to his value lies in steals, the positive is that he has successfully stolen two bases in June from two attempts. After suffering from a leg injury earlier in the season, it is hopeful that he continues to recover he can start being more productive on the base paths.
97% contact rate last seven days (+18%)
Cron is having a fantastic season so far, taking his 2018 form with the Rays to a new level. He has 17 home runs, on pace to set a new career-high, with a career-high .280 batting average. To go with that he has cut his strikeout rate to 18.8%, down from over 25% the previous two years. His contact profile shows the reason for these improvements.
While his Z-Swing% remains similar to his career average, he has never been more patient on pitches outside the zone than this season. His O-Swing% has dropped to 33%, bringing his SwStr% back down to 11.5%, helping reduce that K% and fueling a jump in batting average, despite having a similar BABIP to his career. If you drafted Cron this season then you are currently enjoying a fantastic return, and right now there is no real reason to believe regression is coming. Therefore, unless someone is willing to blow you away with an offer, look to keep riding this wonderful season from Cron.
85% contact rate last seven days (+15%)
It has not been a pretty season for Bradley, especially when it comes to his lowly .215 batting average. Power wise he is on track to hit around 15 home runs, and steal double-digit bases. His strikeout rate has actually increased from last year, up to 26.1%, the highest since his third year in the league. His contact profile reflects the concern for Bradley, with an overall Contact% down 4% on his career average. That is reflected in both his Z-Contact% and his O-Contact%. Additionally, he is swinging at more pitches off the plate than he has in recent seasons, with a 30.3% O-Swing%. All of this has seen his SwStr% jump to a career-high 14.7%, which is driving the increase in K% we have seen this season.
His BABIP has also been an issue, sitting at just .273. His batted ball profile shines some light on what we have seen, with a career-low LD% and a GB% second only to his rookie season at 52.1%. His exit velocity has also dropped from a career-high 91.9 mph, which was in the top seven percent of the league last season. This season he sits dead on the 50th percentile for exit velocity, and that combined with the inflated GB% has driven a low BABIP and is contributing to a sub-par batting average. Right now it is hard to do anything but stay well clear of Bradley. He looks unlikely to hit 20 home runs again, has stolen double-digit bases just once and appears to have a low batting average ceiling. If he does remain hot the remainder of this week he is worth a speculative add in deeper five-outfielder leagues.
Contact Rate Fallers
Data current as of 6/19/2019 and taken from RotoBaller's Premium Tool.
48% contact rate last seven days (-22%)
It has been a solid start for Laureano this season, as he has 12 home runs, nine stolen bases, and a .262 batting average. The biggest concern is a BB% of just 4.2, and a K% of 27.2, giving him a BB/K rate of 0.15. His overall Contact% is similar to last year, but his O-Swing% has jumped to 34, and his SwStr% has gone up 1.2% to 12.8%.
Nothing there screams major concerns, and actually, he has brought his K% down from the number he posted last season. Pretty much everything he is doing this year is similar to what we saw last year, except for his launch angle, which has gone from 10.3 to 14.8 degrees. That has led to his FB% increasing, in place of his GB% dropping from over 40% to around 35%.
50% contact rate last seven days (-17%)
It has been a superb start to his major league career, with nine home runs, nine stolen bases, and a .323 batting average. His K% is extremely high at 29, and his BABIP is inflated to .427. His contact profile is on the low side, with an overall Contact% at 70, and that has led to a SwStr% of 14.1.
The current performance feels unsustainable, with a 5.5-degree launch angle, an xBA of .231 and a GB% of 50%. All of those numbers suggest that Tatis cannot keep hitting for this batting average and that he might struggle to reach double-digit home runs. In dynasty leagues, Tatis is absolutely someone to keep hold of, but in redraft leagues, there may never be a better time to season to sell high.
67% contact rate last seven days (-16%)
I feel like we know what Anthony Rizzo is at this point. A 30ish home run hitter with a .290-.290ish batting average. His batting average is a little on the low side, thanks to a BABIP slightly on the low side and his highest K% of the last three years. His Contact% and SwStr% are slightly on the low side for his career, but in general, all of his contact profile is in a similar region to what we have seen before.
On the power side, he is currently on pace to challenge his career-high 32 home runs. Part of that is his exit velocity, which is currently the highest of his career, but in some ways that is countered with a slight decrease in launch angle. In terms of his batting average, it is interesting to see his xBA is .296, which is in the 91st percentile. Everything suggests that right now Rizzo is going to return almost exactly the value we expected on draft day, and therefore, even if this cold streak extends towards to the end of the week there should be no need to overreact.
Contact Rate Risers and Fallers - Premium Tool
Identifying top batting average surgers for each week can help you spot the best pickups before your competition. RotoBaller's Premium Contact Rate Risers and Fallers tool has you covered every day. As thoughtful fantasy baseball players, we won't lead you astray. Here is a small sample: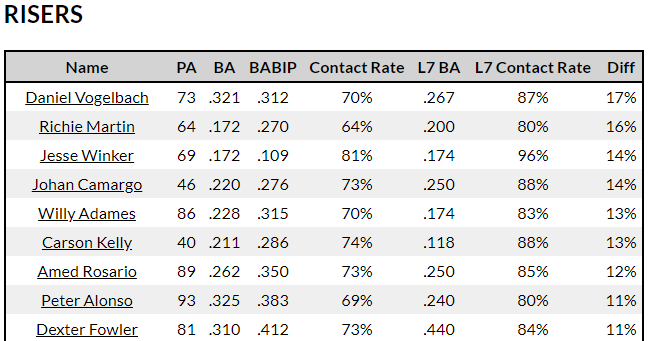 This type of data is available as part of our Premium MLB Subscription and launched on April 22nd for the 2019 season. Don't settle for basic stats and surface-level advice from other sites. RotoBaller brings you advanced statistics and professional analysis that you need to win your fantasy leagues and DFS games because we're ballers just like you. We are your secret weapon!
More Fantasy Baseball Advice and Analysis