Welcome to Contact Rate Risers and Fallers for Week 10! Our premium tools allow us to get out ahead of trends in player performance, including contact rate. Every Wednesday, we'll be looking at some players that have seen an increase in contact rate and some that have seen it decline.
Contact rate can foretell a player's batting average and general hitting statistics, and any drastic change could signal a shift in performance. Contact rate shifts often act as a precursor to hot streaks and slumps.
Here is a breakdown of some of the biggest fantasy relevant risers and fallers in contact rate over the last seven days.
Editor's Note: Get any full-season MLB Premium Pass for 50% off. Exclusive access to our Draft Kit, premium rankings, projections, player outlooks, top prospects, dynasty rankings, 15 in-season lineup tools, and over 200 days of expert DFS research.
Sign Up Now!
Contact Rate Risers
Data current as of 6/19/2019 and taken from RotoBaller's Premium Tool.
88% contact rate last seven days (+16%)
Muncy has backed up his impressive 2017 with a remarkable first couple of months on 2018. So far he has 17 home runs, 90 combined runs an RBI and a .286 batting average. Many people, including myself, were concerned Muncy would take a step back this season, but his numbers are all around the same marks as last season. His contact profile has changed a little bit, and whether that leads to a change in results going forward is yet to be seen.
In terms of selecting pitches, he is swinging at more in general, with a 41.6 swing%. That is a product of an increased O-Swing% and Z-Swing%, which could be dangerous if there are any blips in his contact rate. Interestingly, he is making increased contact on pitches outside the zone, with an O-Contact% of 62.4. His Z-Contact% has dropped a fraction, but it is nothing significant. Where he has seen a slight drop off is in his power, with his HR/FB% and ISO lower this season than last. The potential for that is a small drop in his exit velocity, but the tradeoff in power is an increased batting average and xBA. This latest surge, suggest there is the potential for his batting average to creep even a little bit higher with some hot spells.
86% contact rate last seven days (+14%)
It has been a fascinating start for Maybin with the Yankees. The veteran outfielder already has five home runs and is combining that with a .315 batting average so far. In terms of his contact profile, there is nothing to suggest that anything is massively different from the majority of his career. Included in that is the fact that despite his hot start he is striking out 25% of the time. However, his SwStr% is sitting right around his career average, so there may yet be room for positive regression there.
The reason for the impressive results so far is that he is hitting the ball super hard. His exit velocity is up around 91 mph, and when combining it with a 12.3-degree launch angle it helps explain the hot start power wise. His HR/FB% currently sits at 16, which is a career high and 7% above his career average. This latest little surge suggests that there is still some fun left to have with him on your team. However, with an xBA of .268, there is some expectation of regression to come, and the Yankees have outfielders set to return over the coming months. A final caveat to all of this is that Maybin hit .315 over 391 PA with a .271 xBA in 2016, so he has demonstrated the ability to outperform that statistic with his actual line. For now, the best thing to do is ride the wave, but be ready to move on if his luck does start to turn around.
83% contact rate last seven days (+14%)
It has been a somewhat disappointing year for Abreau. The 17 home runs are very welcome, but anyone hoping for a bounce back from his .265 batting average last year will be disappointed by the .267 output so far. Part of the reason for that has been a jump in K% to 23.4%, which has been fueled by a 7% drop in O-Contact%. His overall contact% is similar to previous years because his Z-Contact% is holding steady, but his SwStr% has jumped up close to 12%.
Additionally, his hard hit rate remains lower than the early parts of his career, which is causing his BABIP to remain under .300. That also presents potential issues for a player who currently has a HR/FB% 3% above his career average. This recent hot spell may present the ideal opportunity to sell Abreu, as potential regression could be right around the corner.
Contact Rate Fallers
Data current as of 6/19/2019 and taken from RotoBaller's Premium Tool.
53% contact rate last seven days (-22%)
2019 has been disappointing for Piscotty, who has a lowly .245 batting average, and a less than stand out nine home runs. Even more concerning is a slightly inflated, but career-high K%, which has been fueled by struggles to make contact this season. His overall contact% is down thanks to a dip in both the O-Contact% and Z-Contact%, which has led to a 14.4 SwStr%. Interestingly, his exit velocity is similar to what it was last season, but the dip in home runs and ISO may be due to a slight decrease in launch angle. The trouble I have here is that I cannot see this changing drastically in either direction and this version of Piscotty is not really worth owning. If you have not already it may be time to cut bait.
58% contact rate last seven days (-21%)
It has been a mixed season for Martinez so far, as he is on pace for just 35 home runs, and his batting average is now the lowest it has been since 2015. Martinez hit brilliantly in March/April but only managed a .256 line in May, before getting it back to .290 so far in June. The main issue has been BABIP driven, as his strikeout rate is actually at a career-low and nearly 6% below his career average.
Outside of this recent dip, his contact profile has been fine this season, with his O-Contact% sitting around his career average and his Z-Contact% up around 5%. The issue is with his batted ball profile, as he is hitting around 7% more fly balls than he did in 2018. His exit velocity is actually slightly down this season, but it is still in the 93rd percentile in the majors, so there is no real reason for concern. In fact, when you look at his xBA, it is actually in the 99th percentile and the highest it has been in the last four years. What all of this means is that this little slump may be the perfect time to try and buy-low on Martinez if any of his owners are feeling frustrated with the output.
56% contact rate last seven days (-18%)
There has been nothing to be disappointed about from Meadows this season. He has doubled his career-best home run total already, with 12 home runs, and he has added a supreme .314 batting average to that. He has struggled in June, with zero home runs and a .222 batting average, but regression was always likely to occur at some point with how hot he had been. Interestingly his batting average has jumped despite an increase in K% and SwStr%. Those numbers have been driven by a drop in O-Contact% from 65.8% to 61.3% and a Z-Contact% drop of around 5%. His batting average and power increase have been a result of a jump in his exit velocity, placing him in the 91st percentile in the majors. That exit velocity has helped to drive a .378 BABIP and an xBA of .296, both of which appear to be real. These blips may present a perfect opportunity to try and add Meadows, with his owner feeling he is selling high while potentially still leaving room for the trade to offer you ceiling for him to grow.
Contact Rate Risers and Fallers - Premium Tool
Identifying top batting average surgers for each week can help you spot the best pickups before your competition. RotoBaller's Premium Contact Rate Risers and Fallers tool has you covered every day. As thoughtful fantasy baseball players, we won't lead you astray. Here is a small sample: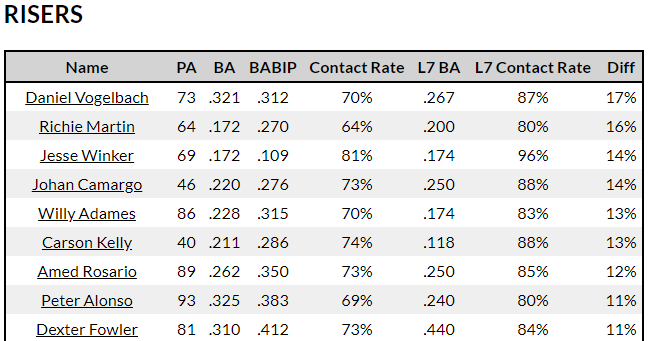 This type of data is available as part of our Premium MLB Subscription and launched on April 22nd for the 2019 season. Don't settle for basic stats and surface-level advice from other sites. RotoBaller brings you advanced statistics and professional analysis that you need to win your fantasy leagues and DFS games because we're ballers just like you. We are your secret weapon!
More Fantasy Baseball Advice and Analysis