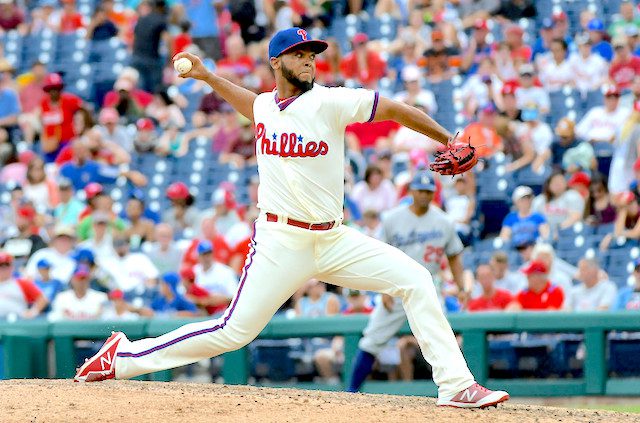 We've made it to the Championship Series, folks! After some wild Wild Card happenings and some devastating Division Series occurrences, we're here: the final four! The American League has the two teams we mostly expected to see still alive: the Yankees and Astros. Over in the National League though? Two teams we definitely thought would go home much sooner: the Phillies and Padres.
They should both be good series, and as we have seen in the previous ones, bullpens will undoubtedly play a big role. Fans of teams that lose playoff games (and regular season games for that matter) are often quick to blame the manager for his bullpen decisions. That's (usually) fair, but there's also something to be said about relievers doing their jobs when they're asked to relieve. But the playoffs are a whole different animal, so let's see who we have left to watch come out of the bullpen.
Be sure to also keep an eye on our RotoBaller Fantasy Baseball Closers and Saves Bullpen Depth Charts. They're updated daily, or sometimes even more often in this wild 2022 baseball season. 
Featured Promo: Want a free RotoBaller Premium Pass? Check out these sports betting promo offers from the top sportsbooks! All new sign-ups get a free bonus offer on their first deposit, and a free year of RotoBaller's Premium Pass for all sports ($450 value)!
Sign Up Now!
New York Yankees - Bullpen and Closers News
The Yankees bullpen went through a lot this season, and they're seemingly trying to figure themselves out on the go in the postseason. Facing the Astros, that might not be the best idea. Clay Holmes has a playoff hold and has yet to allow a run or even a hit, but he has given up two walks and hit a batter in 3 1/3 postseason innings. Wandy Peralta has thrown 6 2/3 innings and earned a save and two holds while giving up two runs on six hits with seven strikeouts and no walks. Finally, Jonathan Loaisiga has two holds in his seven scoreless postseason innings pitched, with seven hits allowed and only three strikeouts.
Houston Astros - Bullpen and Closers News
The Astros have two aces in their starting rotation and some strong arms in their bullpen as well. Ryan Pressly has three saves in 4 1/3 innings, allowing no runs on two hits and two walks while striking out eight. Rafael Montero has two holds in four innings of work, but he's been a bit of an adventure, allowing three hits, three walks, and a run. Bryan Abreu has two holds in his 4 1/3 innings, allowing just one hit and two walks while striking out seven. Finally, Hector Neris has only thrown 2 1/3 innings, but he has a hold and has gotten an out against every batter he's faced.
Philadelphia Phillies - Bullpen and Closers News
The Phillies made it through the Division Series without David Robertson, but he's back on the active roster for the NLCS. He's thrown 1 2/3 playoff innings and allowed a run on three hits, giving up a solo shot. He pitched with the Phillies losing in Game 2, but he should be one of their trusted high-leverage guys going forward. Seranthony Dominguez is another trusted high-leverage guy out of the Phillies pen. He's tossed 4 2/3 outstanding postseason innings, striking out 10 of the 15 batters he's faced and allowing just one hit while recording two holds.
San Diego Padres - Bullpen and Closers News
The Padres needed Josh Hader to be the Josh Hader they wanted him to be when they acquired him at the deadline, and at least so far in the playoffs, he's been just that. Hader has 5 1/3 playoff innings under his belt this season, and he's recorded four saves and 10 strikeouts while allowing just one hit and one walk. Nick Martinez has seen some high-leverage innings ahead of Hader, and he's allowed just one run on three hits and a walk in eight innings while recording three holds. Robert Suarez allowed his first run of the season at Petco Park in Game 2, but still has seven strong innings pitched in the playoffs, with three holds, five hits, and only the one run allowed.
2023 Free Agents: Early Look
The 2023 free agent class is looking absolutely stacked with both position players and pitchers. Some big-name closers will (possibly) be on new teams before we even think about possible trades that might go down. While some of these guys may end up re-signing with their teams, here is a list of significant relief pitchers who could hit free agency this offseason:
-Rafael Montero
-David Robertson
-Nick Martinez
Download Our Free News & Alerts Mobile App
Like what you see? Download our updated fantasy baseball app for iPhone and Android with 24x7 player news, injury alerts, sleepers, prospects & more. All free!


More Fantasy Baseball Advice