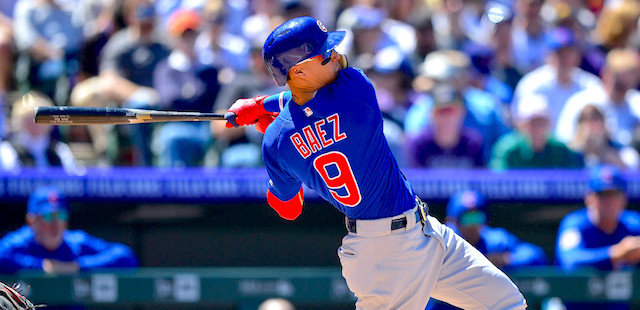 The Tampa Bay Rays would be leading three of baseball's six divisions with their current record, success largely the result of the successful "opener" strategy and Blake Snell's breakout campaign. It'll probably take fantasy owners all winter to figure out how to use openers to our advantage, but Snell's skills should be easy enough to analyze.
Meanwhile, Javy Baez of the Chicago Cubs is getting some MVP buzz for easily his best campaign to date. Unfortunately, he looks like a prime candidate to be way overdrafted next season.
You want the underlying stats? Here they are!
Editor's Note: Get any full-season MLB Premium Pass for 50% off. Exclusive access to our Draft Kit, premium rankings, projections, player outlooks, top prospects, dynasty rankings, 15 in-season lineup tools, and over 200 days of expert DFS research.
Sign Up Now!
The Fantasy Jury is Out
Blake Snell (SP, TB) - 92% Owned
Fantasy owners knew that Snell had potential, but nobody saw 20 wins, a 1.97 ERA, and 30.6% K% on the horizon. Nobody's actually that good, so owners should expect his 87.7% strand rate (77.1% career) and .237 BABIP (.282 career) to regress in 2019. His ERA will probably rise above two as a result, but Snell is still an arm that figures to be worth the investment.
Let's get the nasty stuff out of the way first. Snell's best BABIP comes as he is inducing fewer pop-ups (13.2% IFFB% last year, 6.9% this) with no significant change in his FB% (37.8% vs. 36.8%). He's doing a good job limiting line drives (18.4% LD%), but did so last year too (18.3% LD%). Baseball Savant says that his .179 BAA should be .210, suggesting significant BABIP regression even if he isn't getting hit that hard.
If you want optimism, look no further than his repertoire. Snell has a four-pitch mix where every offering is at least above average. His heater has gained velocity this season (94.3mph last year, 95.8mph this), allowing its SwStr% to increase to 9.5% from a career mark of 7.2%. It has also managed to keep hitters off balance when they put it into play (.227/.334/.371 slash line against vs. .263/.377/.413 career). You'd like to see a spin rate spike to accompany the velocity, but it's actually down relative to last season (2,363 RPM vs. 2,437). Its spin is still above average though, making Snell's heater a solid pitch.
Snell compliments his heat with two diabolical wipeout pitches. The first is one of the best curves in baseball, offering a 23% SwStr%, 35.9% Zone%, and 43.2% chase rate. The second is a slider that brings a 25.8% SwStr%, 37.7% Zone%, and 41.4% chase rate to the table. His curve usage is up this year (10.3% to 19%) at the expense of all three of his other pitches, meaning that he has never thrown these two pitches more often than he is right now. If he starts throwing his slider more (currently 9.4%), there may even be K upside here.
Finally, Snell throws a solid changeup 18.7% of the time. It isn't quite as strong as his other secondaries (14.7% SwStr%, 44.1% Zone%, 32.2% chase rate), so fantasy owners probably want to see more sliders at its expense. Still, it's far from bad and represents Snell's only secondary that may be thrown for a strike.
Tampa's progressive front office is likely to limit Snell's workload, so he may never pitch 200 innings for the club. On the other hand, the team's 97 park factor for runs scored over the last five years suggests that Snell can count on a pitcher-friendly venue more often than not. He probably won't be hyped too much on such a small market club, making him a potential fantasy ace at the cost of an SP2.
Verdict: Champ
Javy Baez (2B/SS/3B, CHC) - 94% Owned
Baez has been incredible in 2018, slashing .295/.329/.571 with 33 long balls and 21 SB (nine CS) so far. Those numbers merit a place in the MVP discussion! Sadly, his peripherals really aren't that much better than they were in either of his two prior seasons, meaning that fantasy owners should be skeptical of a repeat.
The knock on Baez has always been his plate discipline, and he still isn't walking (4.2% BB%) while striking out at a high rate (25.3% K%). His career-worst 46.7% chase rate and 17.8% SwStr% could easily support a K% greater than 30%, though Baez has thus far mitigated their impact with an extremely aggressive approach (58.6% Swing%). This type of profile tends to collapse without notice, as anybody who watched Pablo Sandoval in a Boston uniform will tell you. Baez is always a batting average risk as long as his plate discipline is this bad.
Baez's .347 BABIP also seems inflated, though his career mark of .337 largely supports it. There are three troubling trends here. First, his 22.3% LD% suggests that he is hitting more line drives than may reasonably be expected moving forward (19.3% career LD%). LD% isn't sticky at all, so it's way too early to conclude that this represents "growth." Second, Statcast data suggests that Baez has been extremely fortunate this season with an xBA of just .271 vs. his actual mark of .295. The stat isn't perfect, but it's certainly not what you want to see.
Third, Baez's FB% plummeted to 31.2% (from 36% career) while his IFFB% has increased (12.7% vs. 9.4%). Reducing FB% can be a sustainable method of improving BABIP, but it's not a good idea when you have a 26.2% HR/FB (19% career) because it limits your power upside. Baez's power indicators are also very good, as his 97.5mph average airborne exit velocity ranks 13th in the league while his 13% rate of Brls/BBE ranks 26th. He also has a well-established history of pulling his fly balls (31.8% this year, 28% career). Still, it's tough to count on homers when so few of his batted balls are classified as flies.
Baez's premium content quality is also new, as he averaged 94mph on airborne balls in 2017 with an 8.4% rate of Brls/BBE. Both figures are only slightly above average. In 2016, his contact quality was average at best (92.2mph average airborne exit velocity, 6% Brls/BBE). Baez needs to prove that he can sustain this contact quality with a higher volume of fly balls before fantasy owners can consider him a reliable 30-HR bat.
Finally, we come to Baez's speed. His Statcast Sprint Speed is strong at 28.8 ft./sec, but his success rate on the bases leaves something to be desired (70%). The Cubs look like contenders for the foreseeable future, meaning that Baez could earn a red light moving forward.
Baez has bounced all over Chicago's lineup despite his success this season, making it tough to know if you're drafting him for RBI or runs scored. Joe Maddon is notorious for lineup tinkering, so this is unlikely to change anytime soon. Throw in the possibility of a 30% K%, less than 30 homers, and a red light on the bases, and there are too many question marks here to invest an early round pick.
Verdict: Chump
More 2018 Player Outlooks