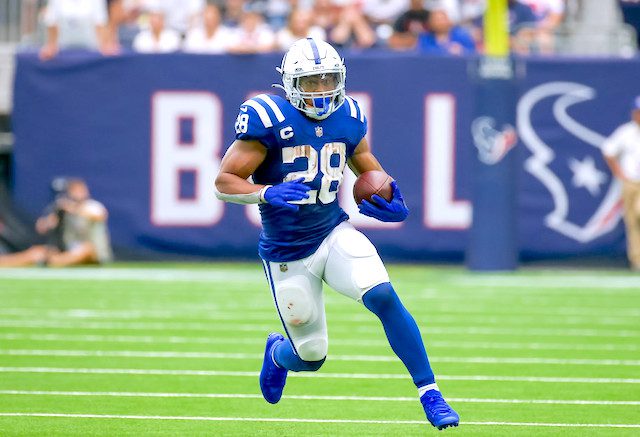 Fantasy football can be a fickle beast. Dedicated fantasy managers can spend hours, days, and even weeks preparing, scouting, and mock drafting...all in the hopes that we land that perfect player at the ever-important running back position.
Sometimes, despite all those long hours of studying and research, things just don't work out. Whether it is due to injuries, scheme changes, or simply players not being as good as we thought they were, the coveted fantasy assets we had such high hopes for devolve into the dreaded "B" word. That's right...busts.
Even if you have played fantasy football for a very long time, mistakes will be made. It's our job to learn from them. In this article, we'll review the biggest running back busts of 2022 in an effort to find out what went wrong with some of this year's most notable letdowns. Hopefully, this type of evaluation will help us to be better prepared for the 2023 season.
Editor's Note: Our incredible team of writers received 13 award nominations by the Fantasy Sports Writers Association including Baseball Writer of the Year, Football Writers of the Year, Golf Writer of the Year and many more! Be sure to follow their analysis, rankings and advice all year long, and win big with RotoBaller!
Read More!
Biggest Running Back Busts of 2022
Jonathan Taylor, Indianapolis Colts
We might as well start at the top, right? Jonathan Taylor entered the 2022 season as the consensus No. 1 overall pick in fantasy drafts with an ADP of 1.2 across the industry. Taylor's draft stock and expectation level for 2022 were sky-high after a true breakout campaign in 2021 that included 1,811 rushing yards and 18 rushing TDs.
Taylor looked every bit the part in the '22 season opener, rushing for 161 yards and a TD on 31 carries against the Houston Texans. However, that first outing of the year proved to be his best, as he wouldn't top the century mark again until Week 10.
A notorious iron man, Taylor battled injuries for the first time in his career. The 24-year-old was sidelined for six games in 2022 and played at less than 100% in many others, which resulted in a noticeable dip in his explosiveness and overall production.
His final 2022 stats paled in comparison to his sterling 2021 totals, as he rushed for nearly 1,000 fewer yards and found the paint 16 fewer times than he did last season.
Taylor's 2023 fantasy draft stock will undoubtedly tumble in relation to his 2022 ADP. That said, the star Colts back will be primed for a bounce-back campaign next year and remains one of the most talented dual-threat RBs in the game.
Alvin Kamara, New Orleans Saints
While the aforementioned Taylor was coming off a singular, spiked 2021 campaign, those drafting New Orleans Saints running back Alvin Kamara had to feel as though they knew what they were getting. A proven fantasy commodity, Kamara has consistently been an elite source of fantasy production since he entered the league in 2017, never finishing a season worse than the overall RB9 in PPR scoring in his entire career.
However, Kamara's production tumbled in 2022, as he finished the year as the overall RB16 despite appearing in two more games (15) than he did in 2021. Though he averaged 20.0 total opportunities per game in '22, the former Tennessee Vol scored the fewest TDs (four) and averaged the fewest fantasy points per game (14.1 PPR) of his career.
Hindsight is probably 20/20 here, as there were some red flags leading into the season. Last February, Kamara was arrested for battery resulting in substantial bodily harm, which put his availability for the 2022 season in question. Those questions lingered dangerously close to the start of the season, with Kamara's attorneys ultimately postponing the legal proceedings - and any potential NFL suspension - until after the season.
With that controversy looming over his head, the 27-year-old was forced to play for the first time as a professional without former Saints head coach Sean Payton calling the plays. Payton's absence was obvious, as Kamara appeared disengaged at times and was often puzzlingly left out of the New Orleans offensive game plan for large stretches of time with new Saints head coach Dennis Allen at the helm.
To make matters worse, there's no real clarity for Kamara's 2023 outlook. He will eventually be forced to deal with the ongoing legal proceedings against him and, depending on that outcome, could be facing a potentially lengthy suspension from the NFL. It also appears as though his standing as a member of the Saints isn't entirely secure, as he was reportedly made available close to last year's trade deadline and could potentially land on a new team before the 2023 season.
Najee Harris, Pittsburgh Steelers
Not many fantasy experts entered the 2022 season under the impression that Najee Harris was a generational talent, but Harris' overwhelming 2021 volume made him nearly impossible to ignore in '22 fantasy drafts.
As a rookie in '21, the University of Alabama product garnered a true bell-cow workload in his first pro campaign, leading the NFL in total opportunities (381) and finishing the year as the overall fantasy RB3 in PPR formats thanks in large part to volume-driven production as an every-down back.
While Harris opened this season as the unquestioned workhorse in an offense that replaced a finally-retired Ben Roethlisberger with the combination of a newly-signed Mitch Trubisky and a freshly-drafted Kenny Pickett at the QB position, offensive coordinator Matt Canada's group struggled from the get-go. After scoring 23 points in the season opener, Pittsburgh didn't top that mark again until the last week of November, when they hung 24 points on the Indianapolis Colts.
With #CheckdownGawd Roethlisberger retired, Harris' role in the Pittsburgh passing game dwindled significantly, as his target count was almost cut in half from an NFL-leading 94 targets in '21 to just 53 last season. This resulted in a nosedive in his fantasy production with his FPPG average dropping from 17.7 last season to 13.1 in '22.
Due to Pittsburgh's offensive struggles during the first half of the season, it even appeared as though Harris' most desirable asset - his elite workhorse role - was in jeopardy, as rookie running back Jaylen Warren began cutting into Harris' usage. As the Steelers headed into their Week 9 bye, local Pittsburgh media began to openly speculate that Warren could replace Harris as the team's lead back.
However, Harris looked like a different player coming out of the Steelers' bye week. Appearing fresh and completely rejuvenated, he ran with a renewed purpose over the back half of the year. After averaging 45.12 rushing yards per game over the first eight games of '22, Harris averaged 74.77 yards on the ground across Pittsburgh's last nine games of the season and finished with over 1,000 rushing yards for the second consecutive year.
Though he undoubtedly looked more explosive in the latter portion of the year, Harris was also aided by volume that continued to trend upwards as the season progressed, due in part due to Warren dealing with injury issues for multiple weeks. Thanks to his resurgence over the second half of the season, Harris' managers avoided complete disaster, though he still tumbled from being 2021's overall fantasy RB3 to finishing 2022 as the overall fantasy RB14 in PPR scoring.
While his play down the stretch leads to optimism for his 2023 fantasy prospects, Harris' 2023 ADP will likely dip in comparison to last year's 7.0 ADP mark, as fantasy GMs enter the year with tempered expectations for a back whose production remains very volume-dependent in an offense that finished the season ranked 26th in the NFL in scoring with an average of just 18.1 points per game.
Chase Edmonds, Denver Broncos
While Chase Edmonds had never reached the heights of the aforementioned backs, hopes were high for the 26-year-old after signing a two-year, $12.6 million free-agent deal with the Miami Dolphins ahead of the 2022 season.
The dual-threat back was coming off a career-best 2021 campaign in which he averaged 11.9 fantasy points per game in PPR formats while sharing time with James Conner in the Arizona Cardinals backfield and now appeared to have a clear path to a juicy workload in the 'Fins backfield.
Despite drawing rave reviews out of camp in Miami and opening the season as Miami's RB1, something failed to click for Edmonds in South Beach, as new Dolphins head coach Mike McDaniel quickly turned to Miami's other offseason acquisition, Raheem Mostert, a player that McDaniel coached during their shared time with the San Francisco 49ers.
After earning 12 carries in the season opener, Edmonds didn't top more than seven carries in a game over Miami's next seven. He was then dealt to the Denver Broncos at the NFL's trade deadline in a move that sent Bradley Chubb to South Beach.
Edmonds suffered a high-ankle sprain shortly after arriving in Denver, which led to a stint on IR. He ultimately appeared in just five games for the Broncos in 2022.
Although he saw limited action in Denver, Edmonds did average just over 5.0 yards per carry across the struggling squad's last three games and will get a fresh start in 2023 with offensive genius and new Broncos head coach Sean Payton. That said, he's likely dealing with a timeshare situation at best upon the return of uber-talented backfield mate Javonte Williams from an ACL injury that ended his 2022 campaign.
J.K Dobbins, Baltimore Ravens
I suppose there's an argument to be made about just how disappointing J.K. Dobbins' 2022 campaign was. In his defense, he entered the season trying to recover from a torn ACL he suffered in 2021, and as RotoBaller's own Adam Koffler astutely pointed out, Dobbins was still sporting a noticeable limp during Baltimore's training camp.
Still working his way back, Dobbins didn't make his 2022 debut until Week 4 and looked sluggish with a limited workload. Frustrated by his lack of progress, the Ohio State alum elected to undergo an arthroscopic procedure to remove heavy scar tissue from his knee after Week 6 and he was sidelined for eight weeks as a result.
While having the additional work done on his ailing knee forced Dobbins to miss a chunk of the season and proved to be disastrous for those fantasy managers that decided to risk a 2022 draft pick on him, it will likely prove to be a smart move for his long-term value.
When the Ravens' back finally returned to the lineup in Week 14, he was noticeably improved. Dobbins averaged a ridiculous seven yards per carry across his last four regular-season appearances, and while his top-end speed was obviously still lacking, he did possess the short-yardage burst and vision that's always made him an exciting prospect.
Honorable Mentions
D'Andre Swift, Detroit Lions
Detroit's explosive dual-threat back logged season-highs in carries (15) and rushing yards (144) in Week 1, but it was, unfortunately, all downhill after that, as D'Andre Swift's fantasy managers entered into very familiar territory over the next two months with Swift missing multiple games due to various ankle and shoulder injuries.
When the 24-year-old finally did return to the lineup in Week 8, he was coddled with limited usage by Dan Campbell and company. Although his workload would expand slightly down the stretch, Swift remained forced to be ultra-efficient with reduced touches in Detroit's explosive offense, while consistently ceding carries and goal-line work to coach's pet, Jamaal Williams. After three years of similar fantasy production, is it fair to start wondering if this is all the injury-prone Swift will ever be capable of?
Javonte Williams, Denver Broncos
A popular breakout candidate and beloved dynasty asset, Javonte Williams' second season ended in Week 4 with a torn ACL. Before the injury, Williams was already falling victim to the smoking dumpster fire that was the Denver Broncos' offense under Nathaniel Hackett in 2022.
With Hackett now a one-and-done and legendary offensive mind Sean Payton set to take the reigns in Mile High, there's still reason for optimism on the talented 22-year-old's future fantasy prospects.
Kareem Hunt, Cleveland Browns
While those that selected Kareem Hunt in 2022 fantasy drafts knew going in that he was in a timeshare backfield situation with Nick Chubb, there was reason to believe that he could remain a useful fantasy producer after he averaged just over 13.5 fantasy points per game (PPR) in back-to-back seasons (2020 & 2021) with Cleveland.
However, Hunt was a ghost in 2022, posting just 7.5 fantasy points per game in a backfield that was dominated by Chubb. Despite making a trade request in August, Hunt appeared in all 17 regular-season games for the Browns, who did eventually try to move the veteran but found no deals to be had at the NFL's trade deadline. Hunt averaged a career-worst 3.8 yards per carry. He enters 2023 as a free agent and is unlikely to re-sign with the Browns. His '23 fantasy value will be tied to which team he lands with.
Clyde Edwards-Helaire, Kansas City Chiefs
Despite playing in the NFL's most explosive offense, Clyde Edwards-Helaire's production continues to spiral in the wrong direction. Since recording 1,100 total yards and five TDs in his 2020 rookie campaign, CEH has battled both injuries and ineffectiveness over the last two seasons.
Appearing in just 10 games, the former first-round pick plummeted down the Chiefs' backfield depth chart this year, as rookie Isiah Pacheco and veteran Jerick McKinnon supplanted him in the offense. Edwards-Helaire averaged just a 7% snap share over his last two appearances of 2022 in Weeks 10 and 11. Looking ahead to 2023, his future in Kansas City appears bleak.
Download Our Free News & Alerts Mobile App
Like what you see? Download our updated fantasy football app for iPhone and Android with 24x7 player news, injury alerts, rankings, starts/sits & more. All free!


Win Big With RotoBaller
Be sure to also check out all of our other daily fantasy football articles and analysis to help you set those winning lineups, including this new RotoBaller YouTube video:


More Fantasy Football Analysis