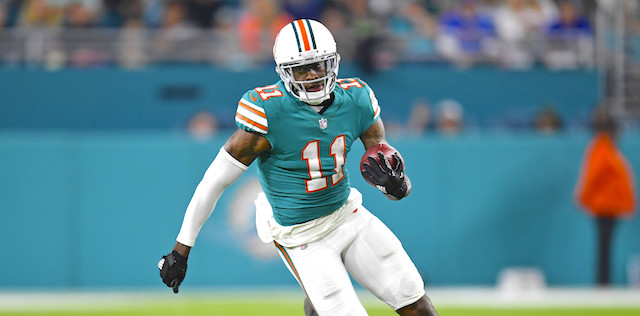 Each and every year we see an incredible number of players step foot on the NFL gridiron. Just in 2019, using Pro-Football-Reference.com Play Index, a total of 2,025 players took part in at least one game while one (Emmanuel Sanders) did the impossible and played 17 (!) games in the regular season as he was traded and couldn't enjoy a bye week. Not all of those players are draftable in most leagues as their positions are not fantasy eligible, but even accounting just for skill positions there were 557 players with at least one game to their name.
If we go by the average of a 12-team, 15-round redraft fantasy league, we end with a total of 180 draft slots to fill with selections before the season starts, and those 180 drafts slots include (again, in the standard and average league, 12 kickers and 12 team defenses). Those 156 selections (excluding the non-skill positions) still left, in 2019, 401 players (!) on the board and available as free agents.
Logic says that there must have been at least some gems hidden in that massive pile of potential waiver wire pickups, and indeed that was the case. Using ADP data from the 2019 pre-season drafts I'll take a look at the best waiver wire pickups of the season, those forgotten draft-day players that became part of rosters for free but turned out to be tremendous additions in the long run.
Editor's Note: Get any rest-of-season NFL Premium Pass for 50% off. Our exclusive DFS Tools, Lineup Optimizer and Premium DFS Research through the Super Bowl.
Sign Up Now!
An Overview Of (Mostly) Undrafted Players
In order to get an answer for who were the most valuable waiver wire pickups of the 2019 season, I worked with ADP data from MyFantasyLeague.com. I have considered players with ADPs over 156 (13th-rounders or later picks) for this exercise, as kickers and team defenses are selected on average in the last two rounds of every draft. Players without ADP data were also considered, as those were even more "true free-agents" than those with an actual ADP. For the 2019 season, the resulting number of players within those parameters is 405 (two mostly free agent beasts who just missed the cut were Ryan Fitzpatrick and Tyrell Williams with ADPs of 155 each).
Here are some quick takeaways from the group of 405 mostly-undrafted (ADP>155) players:
There are 46 quarterbacks (11%), 98 running backs (24%), 98 tight ends (24%), and 163 wide receivers (41%).
The quarterbacks averaged 6.9 FP/G, the running backs 2.9, the tight ends 3.2, and the wide receivers 4.2.
The best-undrafted players at the end of the season per ranking (most fantasy points) at their respective positions were Darren Waller (TE3), Devante Parker (WR11), Gardner Minshew (QB20), and Raheem Mostert (RB26).
Of the 405 players, 17 finished inside the top-100 fantasy players of the season (PPR-format leagues, total fantasy points scored), ranging from No. 38 DeVante Parker (246.2 fantasy points) to No. 100 Raheem Mostert (165.2 FP).
Of the 405 players, 103 played in all 16 games of the season.
Of those 103 players, only four (all of them tight ends) were deemed "starters" (per PFR.com) in all 16 games: Darren Waller (221 FP), Jason Witten (139.9), Jack Doyle (111.8), and C.J. Uzomah (63.2).
The New York Giants left the most players on the board with 17. They were followed by the New York Jets and the Jacksonville Jaguars with 16 each. Daniel Jones was the best Giant (217 FP on the year), and Jamison Crowder (197.7) and D.J. Chark (225.8) were the best from the Jets and Jaguars respectively.
The Miami Dolphins' undrafted players (14) rewarded their ultimate owners the most total fantasy points (924.2 combined) while the Los Angeles Chargers (10) finished with the fewest (95.3). DeVante Parker led the Dolphins group with 246.2 FP on the full season and Virgil Green was the best Charger with a paltry 22.8 FP.
Best Undrafted Players (ADP>156) of 2019
If you read the section above, you know I'm considering only players with ADPs at or over 156. That is because I'm working in the context of the average 12-team, 15-round redraft league in which skill-position players often come off the board in the first 13 rounds (156 picks) leaving the last two for kickers and team defenses. With that already explained, here are some of the best undrafted-performers of 2019 (RK represents the position each player finished at among all fantasy football players to take part in the season in terms of total PPR-format fantasy points).
QB Gardner Minshew - JAX (ADP --, RK 45)
Nobody expected Minshew to do what he ended up doing in 2019, considering he was the backup to newly acquired Nick Foles and a sixth-rounder draftee just months ago. With Foles out injured from Week 1, Minshew was able to play 14 games, starting 12 of them. He finished the season with 3,271 yards, 285 completions, and a 21:6 TD:INT ratio. Minshew also added 344 yards on the ground on 67 attempts.
QB Ryan Tannehill - TEN (ADP 251, RK 51)
Another backup, Tannehill entered 2019 as no more than a pine-rider with Mariota fully entrenched in the starting position. It turned out the Titans ran out of patience with their franchise quarterback and opened the door to the veteran. Tannehill started 10 games and finished with 2,742 yards on 201 completions to go with 22 touchdowns and just six interceptions. His ground game was great, adding four more scores rushing and leading Tennessee to the postseason.
RB Raheem Mostert - SF (ADP --, RK 100)
After not even registering an ADP, Mostert took charge of the 49ers backfield and finished the year with 137 rushing attempts in which he ran for 772 yards and eight touchdowns. Not happy with that, he went and added an extra 180 yards and two more scores on 14 receptions through the air in the full 16 games he played.
RB Jamaal Williams - GB (ADP 183, RK 118)
With Aaron Jones as the clear No. 1 running back entering the season, it was reasonable to pass on Jamaal Williams and only consider him a potential handcuff in case of an eventual Jones injury. Even with that being the case, Williams found his place in Green Bay's offense as an often-used second-fiddle to Jones and still finished with 464 yards on 107 attempts for four touchdowns and added 253 more yards catching 39 passes with five more scores.
WR DeVante Parker - MIA (ADP 158, RK 38)
One of the best players in all fantasy football was, indeed, an afterthought during the draft season. Playing for a bad and supposedly tanking team, owners didn't bet on Parker but he finished the year strong rewarding those who got him for free via waivers. Parker crossed the thousand-yard mark with 1,202 on 72 receptions and added nine TDs to his season stat line in a career-best year.
WR A.J. Brown - TEN (ADP 167, RK 62)
The rookie from the Titans became a great waiver wire addition even with a slow start to the year. When all was said and done, Brown had turned himself into a fantasy football machine by reaching 1,051 yards on just 52 receptions for an average of 20.21 Y/R and eight scores to go with it. Considering he played for two quarterbacks and that he should be on a more stable situation next season as a second-year player Brown's got a sky-high ceiling.
WR D.J. Chark - JAX (ADP --, RK 52)
The most glaring of mistakes in drafts all around the nation, Chark proved wrong virtually every fantasy owner as he didn't even register an ADP but still finished as the 2019 WR17 and a top-52 player on the season, all positions considered. Chark was a monster in Jacksonville and amassed 1,008 yards on 73 catches with eight touchdowns in only 15 games (14 on a starter role).
WR Terry McLaurin - WAS (ADP 214, RK 80)
Although McLaurin didn't outperform fellow rookie A.J. Brown, Washington's first-year pro racked up fantasy goodies to the tune of a great 919-yard season on 58 receptions with seven touchdowns, which is doubly incredible considering he played for a rookie QB (Dwayne Haskins) and an underperforming veteran (Case Keenum) in alternate games.
TE Darren Waller - OAK (ADP 168, RK 57)
Considering the scarcity of the position, Waller could easily be named the best waiver pickup of 2019. Not a lot of owners considered the tight end in their drafts thinking Antonio Brown was going to command most of the opportunities over him or that Derek Carr wasn't going to be good enough at the QB position to make Waller draftable. They couldn't have been more wrong, as Waller finished the year with a massive 1,145 yards on 90 receptions and 117 targets and only lacked in the scoring department with three touchdowns, something bound to positively regress next season.
TE Tyler Higbee - LAR (ADP --, RK 105)
Higbee might not be a top-100 player in 2019, but again given how little quality the tight end position often holds and that the Ram wasn't even considered in the deepest of drafts, his production was more than enough for someone snatched for free. Higbee was the TE8 on the season and he achieved that in 15 games by logging 734 yards and three touchdowns on 69 receptions and out-performing his teammate, the also undervalued Gerald Everett on his way to lead L.A. at the tight end position.
More Fantasy Football Analysis