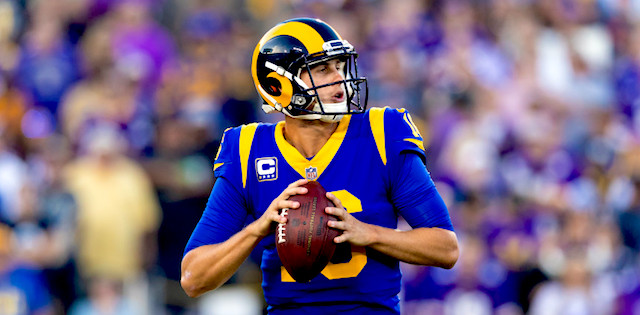 Not long ago, we were discussing the quarterback stable for the 2019 season in preparation for our season-long drafts. Two months and change, that is. Back in September, there were just a couple quarterbacks deemed as locks to be drafted inside the first three or four rounds: Patrick Mahomes, Deshaun Watson, and only for those with a strong heart maybe Aaron Rodgers. That's it. I think I would not be alone in saying all of those were probably reaches at the time. No quarterback is a season-to-season lock, truth be told, so I'd rather pick an RB/WR that early.
Anyways, at the bottom of the first tier of quarterbacks (in 12-team leagues) we had Jared Goff. In fact, Goff entered the season with an ADP of QB10 and an overall 91st draft position. That's not bad. Not many quarterbacks can say they are considered weekly starters and Goff looked like one given his exploits in 2018. But so far, with more than half the season gone and the fantasy playoffs closer than ever, Goff has been good at best, mediocre at worst. But fear nothing! There is still time to make amends and fix your quarterback position in order to give a final boost to your team, reach the playoffs, and win your league.
Let's take a look at Goff and how to replace his middling performances and outcomes.
Editor's Note: Get any rest-of-season NFL Premium Pass for 50% off. Our exclusive DFS Tools, Lineup Optimizer and Premium DFS Research through the Super Bowl.
Sign Up Now!
So Jared Goff Was a QB1 in the Draft Season... How Come!?
Yes. Yes, he was. As I said in the intro to this article, Goff's ADP was that of a 91st draftee in 12-team leagues. That means Goff was being picked around the seventh round. That also means that prior to the start of the season, we fantasy nuts had Goff above quarterbacks such as Tom Brady, Dak Prescott, Jameis Winston, and... Lamar Jackson. Ugh.
To be fair, Goff's 2018 season was good enough to fool our brains and make us believe he will be a good bet and play to have in our teams.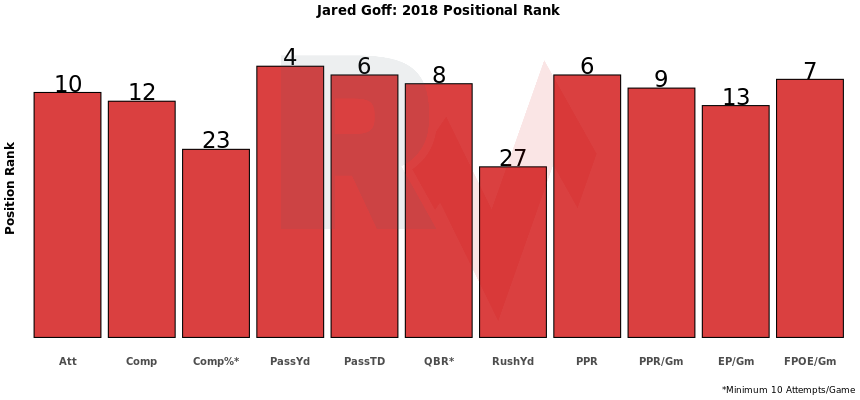 The numbers speak for themselves, and Goff was atop many of the most important fantasy categories last season. In fact, barring the completion rate he ranked as a QB1 in every one of the categories shown in the image above. His passing yardage was excellent, as were his touchdowns, and we know those two categories highly correlate with fantasy outcomes. Speaking of fantasy scores, Goff was able to finish the year playing at a QB1 level (top-12 in QB points in a week) seven times, and at QB2 level in another seven games. He had a couple of horrid games against Denver and Chicago, but those bumps were minimal.
All in all, at the end of the year Goff finished as the 18th-best player in PPR-format leagues and as the QB7. He scored 310 fantasy points, virtually on par with Aaron Rodgers (313), and he did so by throwing for 4,688 yards (fourth-most), 32 touchdowns (sixth), and 12 interceptions (10th). More than enough to make him a more than capable player at the position and a sure thing for fantasy GMs entering 2019.
Now, through Week 10 of the 2019 season, this is how Goff is looking:
The difference is notable and the chart makes it clearer than I could ever put in words. Getting straight to the point of interest: Goff is currently the QB18 in total points and the QB19 in points per game, which is to say, Goff is a middle-of-the-pack QB2 this season. That means Goff is--sorry to tell you the truth if you own him and consider him your QB1--a weekly reserve just playable in favorable matchups. And someone far from an every-week starter at the position.
Goff is throwing more passes than you can even count, and that has helped him rank eighth in completions. By "that" I mean the incredible volume of balls he's throwing weekly. If it weren't for his huge number of passing attempts he'd be definitely a mediocre player (just look at his rank among QBs in completion rate, 37th). The same goes for his passing yardage, but not to such a great extent in terms of passing touchdowns. That is definitely one of the things killing Goff this season: He just can't find players in the end zone.
Goff's 3.1 TD% ranks 32nd among 34 qualified quarterbacks this season. He's only been better than Andy Dalton and Joe Flacco at scoring. To make matters worse, Goff has thrown nine interceptions in nine games. He's holding a 2.5 INT%, which ranks 12th in the league, and his 11:9 TD:INT ratio is kinda ugly, to say the least. You know volume is key in anything fantasy. I know it is. We all know it is. But the kind of volume Goff is generating isn't going too far nor helping him a lot.
On top of all of that, the Rams have played a dead-average schedule so far for quarterbacks (in terms of strength of the defenses they've faced against the position, measured in fantasy points per game allowed to the QB). Things will be uglier from this point forward: From Weeks 11 to 13 (leading up to the fantasy playoffs), Los Angeles has the 18th-best schedule against QBs. From Weeks 14 to 16 they have the third-worst schedule of all teams (they will face Seattle, Dallas, and San Francisco).
It is time to move on from good old Jared Goff.
How to Replace Jared Goff for the Rest Of Season
Okay. If you are reading this, I probably have convinced you to stop playing Jared Goff and look for alternatives. I'm happy about it and I will definitely try to help you navigate this route.
First of all, you have to take into account that we're getting to the final games of the regular season and that your league probably even has a set trade deadline. That might make deals harder to complete and raise prices a little bit. In any case, here are some of the players that are currently being traded in exchange of Goff in Yahoo leagues:
Some of those are multi-player or dynasty-format deals, but you can get an idea of what would it take to get rid of Goff and what you can expect to get in return. Perhaps the most interesting trade of the list above is the last one. Jameis Winston is currently the QB8 in fantasy points per game and his profile is kind of similar to that of Goff. Both throw a lot of passes and amass big yardage every week, only Winston is making the most of it with more touchdowns and brings some rushing upside (aka free points) to the table weekly. I'd complete that trade with my eyes closed in no time, to be honest.
Other Potential Trade Targets
Other names, considering they wouldn't need a lot to trade for, are discussed below. If you're lucky you might even find them for free in the waiver wire (!), although if you play in any competitive league that shouldn't be the case.
Matt Ryan, ATL (94% owned in Yahoo): Ryan ranks QB7 in points per game this season. He's throwing a high volume of passes and he already has 17 TDs to his name. Ryan doesn't have any sort of rushing upside and will need to give you numbers through the passing game but Atlanta is one of the worst teams in the league and will need to throw the ball constantly to catch up with their rivals in every game. Plus Julio Jones and Calvin Ridley are one of the best one-two pairs of receivers in the league.
Kyler Murray, ARI (92%): Speaking of flame throwers... Slowly but surely rookie Kyler Murray is getting the grip of the NFL. He's thrown 12 touchdowns so far while limiting his errors to just five interceptions. Murray is second in both attempts and completions and ranks as the QB10 through Week 10. Not only is Arizona an average team that needs to throw the ball often, but Murray is able to combine that with a great game on the ground. So far Murray has rushed for 351 yards and two touchdowns, and only Lamar Jackson has more yards than him on the ground.
Josh Allen, BUF (83%): There is no safer play than Josh Allen in fantasy football this season. If you want a quarterback that constantly gives you good points, go after Allen. He is averaging 21.1 per game (QB12) but he has finished all of his games except two with between 19 and 24 fantasy points. Those two outliers went for 10 points (against New England, though) and for 28 in Week 10. Consider Allen the safest of your options. Not a high ceiling, but a floor as high as any other you can find out there and he also brings the rushing side of his game to the equation (275 rushing yards and six touchdowns already).
Derek Carr, OAK (67%): You might think Carr is worse than keeping Goff (his fantasy points per game average is lower at 17.9 compared to Goff's 18.9) but as happens with Josh Allen, Carr is much more consistent with his outcomes. Most of Carr's games have finished with the QB scoring between 17 and 22 points, and he's only fallen below 15 points two times in the season.
Finally, here are some waiver wire additions to consider streaming ROS instead of playing Jared Goff weekly:
Nick Foles, JAX (30%) / Gardner Minshew, JAX (16%): Any of the two quarterbacks in Jacksonville looks like a great addition and streaming option to my eyes, and if you have enough room you can get both to save yourself the trouble of picking the wrong one (Foles should play ROS but who knows what can happen). Minshew has been benched while being the QB14 in points per game, which is something I don't really understand but that is for another day. The rookie had been able to score 13 TDs while only throwing four interceptions, and also rushed for 235 yards in nine games. Foles will be thrust into the starting position to improve on those numbers, so with such a low ownership ratio he should be easy to get for free and the expectations should be those of a first-tier quarterback.
Ryan Fitzpatrick, MIA (10%): Don't get fooled by the raw numbers you'll read in Fitzpatrick's average points per game column. Fitzpatrick is only the QB40 by that mark (13 points per game), but what you might not know is that the calculation includes the first three games of the season in which he played backup to Josh Rosen. Removing those performances from the equation, Fitzpatrick is averaging 18.2 fantasy points from Weeks 6 to 10. He's a little bit of a boom-or-bust player, as he's gone from 11 to 23, 15, 27, and 15 fantasy points in his last five games, but he is not worse than Goff by any means and Miami will undoubtedly keep allowing him to take any risks he wants to (as if he had any problem with that, to begin with).
Fantasy Verdict
To sum up, Jared Goff has been more than disappointing through the ten games already played this season. What turned him into a QB1 last season is not helping him even reach mid-QB2 levels in 2019, which has frustrated more than one of his fantasy owners.
With an average of 18.9 points per game, Goff is the QB20 in the year and more than a replaceable piece in your lineup. The name might make you have doubts about moving on from him, but you know what happened to those who waited and waited (and kept waiting for some reason...) for players like O.J. Howard or even Joe Mixon to explode. The game, though, tells another story: that of an underperforming quarterback doing less than enough to get your weekly benefit.
It is time to move Goff off of your team, or at least consider benching him. If you have a good backup at the position you can try and play him ROS and move Goff for another position player while getting some other QB for free through waivers. Pairing Goff with other players (see some multi-player trades above) can net you a bounty including the likes of Prescott, Mahomes, or even Lamar Jackson. As a last resort, you can always find good streaming options on the waiver wire weekly, and some of the players that fall there each week are completely overlooked while they are providing better fantasy outcomes than Jared Goff this season.
One-liner: trade Goff away if you still can, and reap the rewards.
More Fantasy Football Analysis