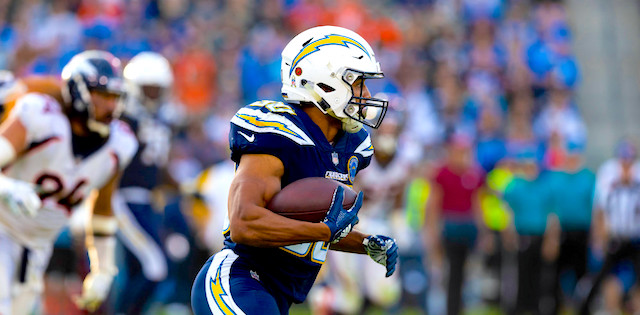 Hello, this is your conductor speaking. Welcome aboard the Austin Ekeler hype train! I am glad to see that you decided to get onboard. We are heading straight towards Titletown! Now, please stand clear of the closing doors.
I'm not going to lie, as a former New Yorker who has ridden the subway every morning and evening, I have always wanted to say that. But it is only fitting that I do so as the leader of the Austin Ekeler hype train. If you are not aware, I have been hyping up Ekeler on RotoBaller Radio on SiriusXM Fantasy each Saturday and Sunday from 9 to 11 pm ET. It is at the point where my co-host Scott Engel refers to me as Michael "Austin Ekeler" Florio. But there are lots of good reasons why I am so excited about Ekeler.
At the same time, I understand the arguments against him. I will address both of those in this article. First, I will tell you all of the reasons I am excited. Then, I will tell you why many of the concerns are being blown out of proportion.
Featured Promo: Get any full-season NFL Premium Pass for 50% off and win big in 2023. Exclusive access to our Premium articles, 15 lineup tools, new Team Sync platform, Lineup Optimizer, Premium DFS tools and cheat sheets, and much more!
Sign Up Now!
Reasons to be Excited about Ekeler
The first step is explaining why I am so excited about Ekeler. And the reason is pretty simple: he is one of the most talented backs in the NFL. He is one of the best pass-catching backs in the league today and perhaps, maybe to ever lace them up. He really is that good.
Last season Ekeler finished as the RB4 in PPR and was the RB6 in PPR points per game. He did so despite averaging just 34.8 rushing yards per game. Since 2000, he was the only RB to score over 300 PPR points, while averaging less than 35 rush yards per game. He is a unicorn, but this is just the start.
Ekeler averaged 9.19 receiving yards per target last season. Not only did that lead the NFL, but it was second-best since 2009 (as far back as I can check) behind only Chris Thompson's 9.44 in 2017. But Thompson had just 54 targets that year, which is literally half as many as Ekeler last season. Ekeler also averaged 2.22 fantasy points per target last season, which not only led the league but was the best by any RB since 2009.
But wait, there's more! Ekeler led all RBs in receiving yards per route ran with 3.06 and in fantasy points per route ran, with 0.73. Both of those marks are the best any RB has posted since 2016, as far back as I can track this data. Being the most efficient pass-catching back in recent history is one huge reason why I am excited about Ekeler.
Receiving yards per target among RB Target Leaders:

Christian McCaffrey, 7.08
Austin Ekeler, 9.19
Tarik Cohen, 4.38
Leonard Fournette, 5.22
Alvin Kamara, 5.49
James White, 6.79
Lev Bell, 5.91
Saquon Barkley, 6.00
Ezekiel Elliott, 5.92

— Michael Florio (@MichaelFFlorio) June 14, 2020
Another is that Ekeler can be a better runner than we anticipate. First off, he averaged 1.29 PPR points per opportunity. An opportunity being a carry or target, so that stat is still influenced by his pass-catching ability. But, as a pure runner Ekeler also flashed his abilities. He had 132 carries last season. Of running backs with at least 130 carries, Ekeler finished tied for second in missed tackles forced per carry, with 0.22. That means that on average, Ekeler averaged a missed tackle forced the second-most among all RBs. He also averaged 2.6 yards after contact per carry, which ranked tied for seventh amongst all RBs. Ekeler was effectively able to force missed tackles and create yards after contact. Those are two very big traits for an RB to have success in the NFL.
So, at this point we can all agree that Ekeler is a superb talent, right? But that is only half the battle in fantasy football. We have seen players who are superb talent's falter in the wrong scenario. But, Ekeler should actually be due for an uptick in opportunity.
Last season in the first five weeks, Ekeler was used more than ever before. Remember, Melvin Gordon sat out the first four weeks and was limited in his first week back. In those first four weeks, Ekeler played 65 percent of the snaps or higher. In three of those five weeks, he played over 72 percent. He saw at least 16 touches in each of those five games, including 12 or more carries in three. He had just two games the rest of the season with at least 16 touches and hit 12 carries just once the rest of the way. The obvious change in usage was due to Gordon being back on the field. This season, Ekeler will have competition, but I do not believe any will eat into his workload the way Gordon did.
I will be addressing this more when defending Ekeler against detractors, but knowing how efficient Ekeler is, any uptick in opportunity should be welcomed. Last year in the first five games, he was averaging 25.86 fantasy PPG. That would have made him the third-best player in fantasy over the course of a full season, behind only Christian McCaffrey and Lamar Jackson, who each put up historic seasons. From Week 6 on, Ekeler averaged 16.34 fantasy PPG. That would have made him the RB10 in 2019.
Currently, Ekeler has an FFPC ADP of 2.08, as the RB12 off the board. Even if Gordon, he was able to put up top-10 RB numbers. Yet, this year we are ranking him lower than that? We are ranking him lower while also completely ignoring his ceiling. I am not saying the guy is going to average 26 fantasy PPG, but if he plays over 70 percent of the snaps and is seeing 16+ touches per week? His ceiling is a top-five fantasy back… which he already finished as last season.
What Detractors Say About Ekeler
The biggest knock on Ekeler is that he lost the check-down whisperer in Philip Rivers. No QB threw more to RBs in 2019 than Rivers, who did so 11.19 times per game. The only other QB to average double-digit pass attempts per game to RBs was Tom Brady (10.19). I can't lie, the loss of Rivers is going to hurt Ekeler. If Rivers was still with the Chargers, Ekeler would likely be a top-five back for me. But I do think the move to Tyrod Taylor is getting overhyped.
In 2017, the last full season that we saw Taylor, he attempted 7.7 passes per game to RBs. That would have ranked eighth amongst QBs in 2019. In that season, LeSean McCoy finished with 77 targets, 59 catches, 448 yards and two receiving touchdowns. McCoy is a great receiving back, but I do not think he has the chops of Ekeler. Also, it is worth noting that McCoy was 29 and that was the last we've seen him play well in the NFL.
I believe the Chargers will run plenty of plays for Ekeler. He averaged 3.9 routes out wide per game last season, the second-most among all RBs. He also averaged 2.7 slot routes, which ranked fifth. Those numbers climbed to 4.2 out wide per game and 3.3 in the slot with Gordon back, showing that the Chargers are not afraid to use Ekeler as a receiver if and when they want to get another back involved.
Ekeler may even be the Chargers' best receiver after Keenan Allen and Mike Williams. Last season, Ekeler had five targets of 20+ air yards, which put him in a tie for second among RBs. He caught four of those, the most catches of 20+ air yards amongst all RBs last season. Plus, with Gordon gone now, there is the chance he is used even more both in general and specifically in the passing game.
Last season, Gordon ate a lot of work when he returned. This takes me to the next point detractors of Ekeler will often bring up: the Joshua Kelley/Justin Jackson affect. I do believe we will see one of these two backs utilized. I think it will be Kelley, as he has the size to be the hammer to Ekeler's lightning. But last season Gordon saw 162 carries, which breaks down to 13.5 per game. He also was utilized more in the passing game than I think many realize. He averaged 15.8 routes per game, 4.6 targets, 3.5 catches and 24.7 receiving yards. Those are valuable passing opportunities where the Chargers took Ekeler off the field for Gordon.
Ekeler is the superior pass-catcher, so it is a questionable decision. Gordon has shown that he is a strong pass-catching back and was their big named RB, so I get it. But Jackson has never averaged six routes or more than 1.3 receptions per game. Kelley did have 27 catches as a junior, but that dwindled to 11 as a senior. I do not view either of these two as the threat to passing down work that Gordon was to Ekeler. I also would be shocked if any of those backs had more than the 204 touches Gordon saw last season.
My thinking is that this backfield will operate much like the Saints. Ekeler will dominate the passing down duties, while splitting carries with another back. We saw the Saints do this when they had Kamara and Mark Ingram. The Chargers won't be the Saints offense, but if Ekeler is touching the rock 16+ times per game, I do not think we will be complaining.
There are few things as asesthetically pleasing as watching Austin Ekeler play football pic.twitter.com/aKCCIzJDeY

— Michael Florio (@MichaelFFlorio) June 21, 2020
Another knock is that Ekeler simply can't be a workhorse back. I think that is largely based on the fact that he has never been asked to be one. His entire tenure with the Chargers he's been behind Gordon. He got a shot last year and really ran with it. The Chargers opted to pay Ekeler and let Gordon walk. I think they view him as a special piece in this offense and will make sure to put the ball in his hands plenty. It often happens in the NFL where a player gets pigeonholed into a role simply because that is all they've been asked to do.
Ekeler for the first time in his NFL career is in a position to lead a backfield. It is not something he has never done before. Ekeler went to college at Western State, a division two school, so you can take this how you want. But he attempted at least 227 carries in each of his final three seasons. He had 298 carries as a sophomore and averaged 24.4 carries per game in those three seasons. You can discredit it and say it is a D2 school, but the fact that we have seen him carry a heavy load before at any level is a positive to me. It is certainly better than if he had never done so before.
Another knock on Ekeler is that he won't be able to perform against stacked boxes, which the anticipation is he will see more as he is now a larger part of the Chargers offense. And that could be the case. But in 2019 there were 50 running backs that had at least 30 carries against boxes with 8+ defenders. Ekeler ranked fifth amongst them putting up 0.22 missed tackles force per carry. He ranked 26th amongst them in yards after contact per carry, at 2.6. I am not saying Ekeler is going to be an unstoppable force, but him being a better runner of the football than we have given him credit for is very much so in the realm of possibilities. And due to that, it makes his ceiling that much higher.
The next bash on him is that Ekeler will lose touches near the goal line. I'd be lying if I said this wasn't something that worried me. But at the same time, what if Ekeler receives more touches than we expect near pay dirt? Last season, he had 15 touches inside the 10-yard line. He turned those into five touchdowns, three of which we rushing. Gordon saw 20 touches inside the 10 and turned them into eight touchdowns, seven of which were rushing. That is a 40 percent success rate for Gordon and 33 percent for Ekeler. Inside the five-yard line, Gordon turned his 14 touches into seven touchdowns (50 percent). Ekeler on the other hand turned his 10 touches into three touchdowns (30 percent).
I do believe Kelley will be a TD vulture at times. But I do not expect Ekeler to lose all of the touches near the goal line. He showed last year that he can at least be competent near the line of scrimmage.
Concluding Thoughts
There are concerns that come with Ekeler. But there are concerns that come with most players outside the obvious elite high-end picks. But the one thing no one is questioning is just how good and efficient Ekeler is, especially in the passing game. Pairing how efficient he is with a larger than ever workload has me very excited for Ekeler. I especially feel he is safe and less likely to bust because we know he has the role of pass-catcher locked down here and in PPR last season a target (worth 1.55 fantasy points on average) was nearly three times more valuable than a carry (worth 0.60 on average) for RBs. We know what Ekeler's floor is, at least in terms of usage, in this offense. What many seem to be overlooking, is the fact that it is very much in the realm of possibility that Ekeler can see 70 percent of the running back work here.
To me, Ekeler is an RB1 that you barely have to pay an RB1 price to acquire. Going off the board as the RB12 is much closer to his floor than his ceiling. I mean, the man finished as the RB4 a year ago and had Gordon leave. Do we really think he is going to be that much worse this season? Not me.
If you are now on the Ekeler hype train, welcome aboard. Someone will be coming by soon to check your tickets. If you are not, well, this is where you got to get off! Cause in the infamous words of the late Walter White, "Nothing stops this train!"
More Fantasy Football Analysis