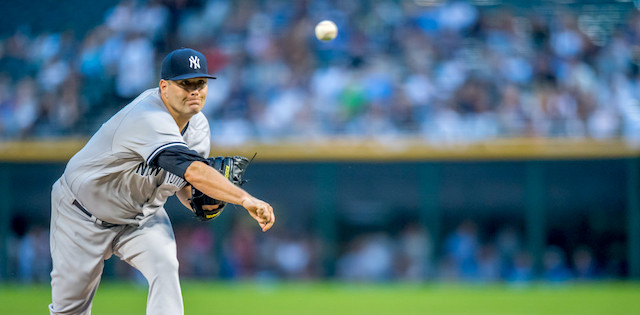 Welcome to our surprising starts series. Every week we'll be going over a few surprising starting pitcher performances around the majors to determine whether these starts were smoke and mirrors or something more.
This week we're looking at another of the Rays' pseudo-starters, a brand new Yankee, and a surprising second half from a Ranger.
Yonny Chirinos is back after a long absence from the majors due to injury and extended time at Triple-A. Lance Lynn has been dominant since coming to the Yankees, having unseated Sonny Gray permanently. Yovani Gallardo has pitched his way to a 2.78 ERA in the second half.
Editor's Note: Get any full-season MLB Premium Pass for 50% off, with exclusive access to our season-long articles, 15 in-season lineup tools and over 200 days of expert DFS research/tools.
Sign Up Now!
Real Deal or Mirage?
Yonny Chirinos, Tampa Bay Rays
2018 Stats (prior to this game): 41.1 IP, 3.70 ERA, 3.59 FIP, 2.8 K/BB ratio
08/09 vs. BAL: 5 IP, 3 H, 1 ER, 0 BB, 4 K
This wasn't technically a start for Chirinos, but he will serve in a long-relief, pseudo-starter role for the Rays presumably for the remainder of this season. Chirinos had been pitching well earlier this season, posting a 3.71 ERA in April, but a forearm strain and trip to the minors cost him three months. He had a bit of a rocky start coming back, but over his last two appearances Chirinos has allowed two runs (one earned) over 10 innings with 10 strikeouts. He is only one percent owned in Yahoo leagues as of writing this, and Chirinos could be a valuable piece as an RP eligible starter that also doesn't count towards weekly start totals in leagues that have limits on starts every week.
Chirinos gets the job done primarily with a three pitch mix, consisting of a 94 MPH sinker, 87.7 MPH slider, and a 86 MPH splitter. He occasionally throws a four-seamer, but Chirinos mainly pitches off his sinker as a fastball and has a dominant breaking pitch, making him a rarity in today's game. Chirinos has a little more zip on his pitches than the average sinkerballer. Chirinos' two-seamer has some wicked horizontal movement away from lefties and in on righties. Here's an example from this game.
The sinker isn't a pitch that induces a lot of whiffs or strikes in general, but Chirinos has a 9% whiff rate on his sinker, which may be below average compared to breaking pitches, but 9% is high for a two-seam fastball. Batters have a decent average against the pitch at .318, but they only have a .102 ISO. Chirinos' two-seamer allows him to suppress power and get the occasional strikeout, at least at a higher rate than a traditional sinkerballer such as Brad Keller.
In addition to the sinker, Chirinos has an excellent splitter that is great at inducing whiffs and groundballs. It's performed as an elite breaking ball for Chirinos this season. Here is one of the splitters from this game.
That is pure filth from Chirinos, and poor Tim Beckham is left flailing at air. Chirinos' splitter has a 22.6% whiff rate this season, and batters are hitting .082 with an .082 ISO against the pitch. Between his splitter, sinker, and slider Chirinos has an above average 12.4% whiff rate, which would rank 16th among qualified starters if Chirinos had enough innings to qualify. He is just above Luis Severino and Cole Hamels. Chirinos only begun getting more than 8 K/9 this season between Triple-A and the majors, but his swinging strike rate suggests room for strikeout growth. He has a 22.2% strikeout rate this season, but that rate could certainly climb as the season progresses. He has the stuff for it.
The biggest negative with Chirinos is innings. With an opener pitching the first one or two innings, it seems unlikely a start would ever go longer than six innings. Most appearances probably won't even reach six innings. He isn't a great option in quality starts leagues either, because Chirinos isn't technically making starts. He may have an easier time getting wins than the average short-leash starter. Since he is entering as a reliever Chirinos doesn't need to go five innings to get a win, and when he leaves a game it will be closer to the end than a traditional starter. When Chirinos leaves after five innings the bullpen only has to get through two or three more, compared to four or more if Chirinos had started the game.
Verdict:
As a pseudo-starter Chirinos will have decent value in mixed leagues, although his overall upside is capped by his role. A good three pitch mix between his sinker, splitter, and slider should allow him to find success and may lead to more strikeouts. He is best used in leagues where his role with the Rays takes advantage of league rules, such as leagues with weekly start limits or leagues with dedicated SP and RP spots. That being said, he is still a good pitcher and worth adding in deeper leagues or using as a streamer. It's a little tough to stream him since he is never listed as a probable starter, so owners will probably need to backtrack to figure out when he should be used. That or check the Twitter accounts of Rays beat writers. They usually say who the expected long man will be in upcoming games.

Lance Lynn, New York Yankees
2018 Stats (prior to this week): 106.2 IP, 4.89 ERA, 4.56 FIP, 1.7 K/BB ratio
08/06 @ CWS: 7.1 IP, 2 H, 0 ER, 1 BB, 9 K
08/11 vs. TEX: 5 IP, 5 H, 1 ER, 3 BB, 8 K
Lance Lynn was floundering in Minnesota, but he seems to have what it takes to pitch in New York after these two starts. Between these starts and one long relief appearance Lynn has an 0.54 ERA in 16.2 innings with the Yankees. A Tommy-John survivor, Lynn primarily throws four pitches: a four-seam fastball, a two-seam fastball, a curveball, and a cutter. He throws a show-me changeup about 2% of the time, but those other four pitches are his primary arsenal. Lynn got 30 total swinging strikes between these two starts, with 19 of them coming from his two fastballs. He has always thrown his two fastballs between 75-80% of the time and his pitch-mix hasn't changed much this season. In the start against Texas Lynn threw his cutter a little more at 23% of the time, but it's too early to call that a trend.
Lynn's fastballs are impressive offerings, and like Yonny Chirinos Lynn gets an above average whiff rate on his four-seamer and two-seamer. His four-seamer has a 13.5% whiff rate, while his sinker has an 8% whiff rate. The sinker especially has some nasty side-to-side movement that make it look like a breaking ball at times. Here's an example of a good one from Saturday.
It moves in on righties, which can be dangerous when the pitch catches too much plate, but the pitch in that clip was perfectly executed. It is a hittable pitch when near the zone, evidenced by the .300 AVG against Lynn's sinker, however batters have a -1 degree average launch angle against the pitch. That means most of these hits are groundball singles and batters have just a .118 ISO versus Lynn's sinker. His two-seamer is a good compliment to his 95 MPH four-seamer, a pitch that induced 10 whiffs in the start against the White Sox. It has late movement that can be deceptive to hitters. Here's an example of that from his start against the White Sox.
In this instance it freezes the hitter on a full count, a count which is normally a fastball situation and one where Lynn throws a fastball about 75% of the time. The pitch initially looks outside and moves back in just in time for a strikeout looking.
Lynn is also getting the best season out of his curveball that he's ever had. It gained about a half-inch of drop and batters are hitting .128 with an .043 ISO against the pitch. It also has a 61.5% groundball rate, and along with the sinker has helped Lynn post the highest groundball rate of his career at 50.1%. Better production out of his curveball coupled with an effective two-fastball mix is a good enough combo to consistently get batters out.
The biggest problem Lynn has had this season is with control. He has a career high 12.4% walk rate, the second highest among qualified starters. He has also walked at least four batters in eight of his 22 starts. This have been a little better for him after an atrocious start he lowered his walk rate to 9.9% over his last nine appearances compared to a 13.9% walk rate prior to the last six weeks. Lynn also has a career low 36.6% zone rate, third lowest among qualified starters. His cutter has been a problem for him, as it has only a 31% zone rate (10% below his career mark) and a meager 24.7% chase rate. He can neither throw the pitch effectively in the zone or get batters to chase the pitch. Lynn was never a control artist, but the control he has displayed this season is untenably bad for a starting pitcher. He only walked one between his two outings against the Orioles and White Sox, but walked three in five innings against the Rangers.
That leads us to the next issue with Lynn's little Yankee hot streak. Look at those opponents. He faced the Orioles, White Sox, and Rangers. Three below average offenses in terms of wRC+, and the former two are two of the bottom eight offenses against right-handed pitching. These three teams are also all in the top six in strikeout rate against right-handed pitching, all striking out at least 24% of the time. The good news is that as of writing this Lynn's next three starts are against the Rays, Marlins, and White Sox. The Rays are the only team of the trio that could pose a formidable threat, but even then they are middle-of-the-road at best against righties.
Verdict:
Two good fastballs and improvements to his curveball should make Lynn an effective back-end starter in mixed leagues. A 10.2% SwStr rate is the best of his career and he may be an effective source of strikeouts going forward. Control issues aren't going anywhere, and he could walk his way into trouble in any given start. He also dominated some bad, bad lineups. With more good matchups ahead Lynn is a good pitcher to add for the stretch run. He'll get plenty of wins and strikeouts, though he will be a negative in WHIP.

Yovani Gallardo, Texas Rangers
2018 Stats (prior to this start): 47 IP, 6.51 ERA, 5.28 FIP, 1.3 K/BB ratio
08/08 vs. SEA: 6 IP, 3 H, 2 ER, 3 BB, 2 K
Gallardo has been the anti-Jacob deGrom this season, owning a 7-1 record despite a 6.11 ERA. And he's doing it on a team that is only three games better than the Mets. Much to the surprise of everyone, including the Texas Rangers' front office that signed him, Gallardo has a 2.78 ERA in the second half, encompassing four starts. He uses a five-pitch mix consisting of a four-seamer, a two-seamer, a changeup, a slider, and a curveball. None of these pitches are effective, but there sure are a lot of them. Gallardo's best pitch has been his slider, which batters are hitting .212 with a .308 SLG against. It does have a .249 xBA and .383 xSLG against, but this is his best offering. The slider also has a measly 9.79% whiff rate, which is lower than Lance Lynn's fastball. Overall Gallardo has a 5.5% SwStr rate, which is the third lowest among pitcher's with at least 50 innings this season. Fun fact, four of the bottom five pitchers are on the Rangers. Gallardo, Bartolo Colon, Doug Fister, and Martin Perez. Get it together, Jon Daniels.
During Gallardo's supposed hot second half he has a 5.54 FIP and 5.56 xFIP, both higher than his first half marks in the same categories. He also accomplished the dubious feat of having more walks than strikeouts with a 0.92 K/BB ratio in these four starts. His success has come from the baseball gods, who have so graciously blessed Gallardo with a .212 BABIP and 89% strand rate in the second half. To his credit, Gallardo has been limiting hard contact with a 30.4% hard contact rate in the second half, but the effects of that are negated by a 22% line drive rate. Expected stats confirm Gallardo's results thus far, as he has a .273 BA vs. 280 xBA, .459 SLG vs. .465 xSLG, and .351 wOBA vs. .362 xwOBA. There isn't really much hope that he can last in the majors, much less on our fantasy teams.
Verdict:
Nolan Ryan today, Bryce Harper's dad, a pitching machine, myself, Lucas Giolito. That is a list of people or things preferable to Gallardo in a major league game on our fantasy teams. Rarely are there no redeeming qualities to a pitcher covered in this article, but it's hard to find anything to like with how Yovani Gallardo. This is a flat no in any circumstance. In fact, merely saying the name Yovani Gallardo aloud causes your ERA to go up half a run.
More Fantasy Baseball Analysis