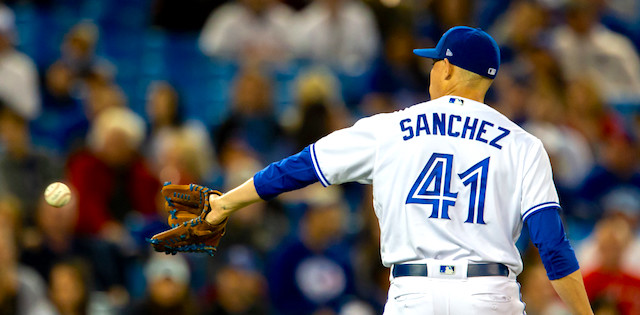 Welcome back to "Are You For Real?" Each week, we look at lower-owned starting pitchers who have performed unexpectedly well in their last outing(s).
This week we're breaking down a pitcher in a new location, and a pitcher with a new opportunity. Aaron Sanchez wound up in pitcher paradise with his trade to Houston, and tossed six hitless innings in his first start for his new club. Devin Smeltzer has been making spot starts for Minnesota, but has the chance to seize a rotation spot with Michael Pineda hitting the injured list.
Ownership is based on Yahoo leagues and is accurate as of 08/05/2019. The goal of this article is to look at pitchers widely available that could be useful in fantasy, whether they have been recently added by a ton of teams or are still sitting on waivers.
Editor's Note: Get any full-season MLB Premium Pass for 50% off, with exclusive access to our season-long articles, 15 in-season lineup tools and over 200 days of expert DFS research/tools.
Sign Up Now!
Aaron Sanchez, Houston Astros
40% Owned
2019 Stats (prior to this start): 112.2 IP, 6.07 ERA, 5.03 FIP, 7.6% K-BB%
08/03 vs. SEA: 6 IP, 0 H, 0 ER, 2 BB, 6 K
It seems like there's no better move a pitcher can make than packing his bags and heading for Houston. From fallen stars like Gerrit Cole, to seemingly washed-up veterans like Charlie Morton, and former punching bags like Wade Miley, the Astros have the league's best reputation for reinventing pitchers. Naturally, interest around Aaron Sanchez piqued after his trade to Houston. Naturally, interest around Sanchez skyrocketed when he fired six hitless innings while the Astros' bullpen picked up the other three innings to complete the no-hitter. Sanchez did a few interesting things in this start, but the most intriguing thing about this outing was his fastball usage.
Throughout this season (and his career), Sanchez has pitched with two fastballs, a four-seamer, and a two-seamer. The two-seamer has been Sanchez's favored form of heat leading up to last week, but it's also been a huge source of pain for the right-hander. Opposing batters have pounded Sanchez's sinker this season for a .370 batting average and .558 SLG. It wasn't much better last season either, as batters hit .344 with a .563 SLG against Sanchez's sinker. His sinker actually has somewhat similar break compared to his four-seamer, and the four-seamer is sometimes miscategorized as a sinker by pitch trackers. Sanchez pretty much abandoned his sinker in this start, and in addition to his excellent results got about an extra inch of break on the pitch. The Astros have a history of encouraging pitchers to ditch the sinker and lean on their four-seamer, and Sanchez looks to be following that path. From a raw results perspective, this should be a great move for Sanchez, but things should be even better should he maintain this increase in break. The fastball is one of the key components for Sanchez, but the other, and perhaps more important factor in his success, lies in his secondary pitches.
Aaron Sanchez not only ramped up his four-seamer usage in this start, but also increased his curveball usage. He threw the curveball 30.4% of the time, a season-high, and notched five swinging strikes with the pitch. Prior to this season, Sanchez had never thrown his curveball more than 16% of the time, which is a shame as it's consistently been his best-performing pitch. Opponents have hit .192 with a .084 ISO against Sanchez's curveball all time, along with a 13.1% SwStr rate. It's a wonder why Sanchez hadn't been throwing his curveball more often, especially with how poorly his fastball has performed over the last few years. Although it's only one start, it looks like the Astros are taking a commonsense approach with Sanchez based on the numbers. Things could come crashing down for Sanchez, but as it stands I'd want to add Sanchez where possible. He could wind up being a critical asset to teams on the playoff bubble down the stretch.
Verdict:
Sanchez is throwing his good pitchers more and his bad pitches less. While just one start, now is the time to pick up Sanchez and see where he goes. If he has one more good start it will be far too late to get him without paying a hefty FAAB price. A hefty FAAB price may be worth it given your team's individual situation, but you should try and add Sanchez now to avoid that cost.
Devin Smeltzer, Minnesota Twins
10% Owned
2019 Stats (prior to this start): 21.2 IP, 2.91 ERA, 5.20 FIP, 15.7% K-BB%
08/04 vs. KC: 6.0 IP, 2 H, 0 ER, 1 BB, 4 K
Smeltzer has been a semi-frequent spot starter for the Twins this season, but the young lefty may have a permanent spot in the rotation after allowing two earned runs total over his last three outings. He should at least get an extended look while Michael Pineda is on the injured list. Smeltzer was a fringe prospect for the Twins coming into the season, and his long-term outlook of making it as a starter seemed bleak. His 89 MPH fastball wasn't impressing anyone, and scouts doubted his plus secondary pitches could carry him. With a solid string of games under his belt owners must be wondering whether scouts were wrong on this one.
Smeltzer's profile is centered around his secondary arsenal, and that's shown this season as Smeltzer has thrown both his curveball and changeup about 25% of the time. The results have been fantastic, with opposing batters hitting under .220 against both pitches along with double-digit swinging strike rates. Normally, seeing these types of results with breaking balls for a young pitcher would have me excited. Really excited. Like going to Six Flags excited. Like meeting Porky Pig excited. Like no line for the Superman ride excited. Unfortunately, while Smetlzer's breakers seem like the big boy rides on the surface, a closer examination has these pitches looking more like a kiddie coaster.
Batters have smoked both Smelzter's changeup and curveball, with the curveball taking the worst of it. He throws the pitch at an average velocity of 76.7 MPH, and batters are sending it back at 94.1 MPH. A curveball is naturally going to come back harder than it's thrown, but a 17.4 MPH difference is staggering. It's one of the largest gaps I can personally remember coming across. This wouldn't be so bad by itself, but Smetlzer's curveball also has a 22.2% line drive rate and 49.5% zone rate. Batters have a .314 xBA against Smeltzer's curveball as a result, which is 97 points higher than the actual BA. The changeup isn't as bad, but still has an 88 MPH average exit velocity against and a .293 xBA, 86 points higher than the actual BA. Both pitches may have swinging strike rates above 10%, but neither is above 12%, which is pretty weak in today's game. It's not awful by itself, but combined with an 89 MPH fastball and we can't expect many strikeouts from Smeltzer even with two ostensibly effective breaking balls.
Aside from deeper concerns with his secondary pitches, there is so much obvious overperformance littered throughout his profile. Smeltzer has a 100% LOB rate and a .208 BABIP. Even partial regression will be devastating for him, especially with his bloated 1.63 HR/9. Even though that rate is higher than his minor league numbers, Smeltzer hasn't really been unlucky in the long ball department. His FIP and xFIP are both 4.59, and that's because Smeltzer has a league-average HR/FB ratio thanks to his heavy flyball tendencies. There is too much bad here to take Smeltzer seriously, even as a streamer.
Verdict:
Recent overperformance on breaking balls make it seem like Smeltzer has a solid foundation for sustained success, but that foundation rather hollow when taking a closer look at the pitch performance. There isn't much upside here besides the potential for wins, as Smeltzer is pitching for a good team. Don't put your ratios on the line chasing wins from a bad pitcher like Smeltzer.
More 2019 Fantasy Baseball Advice