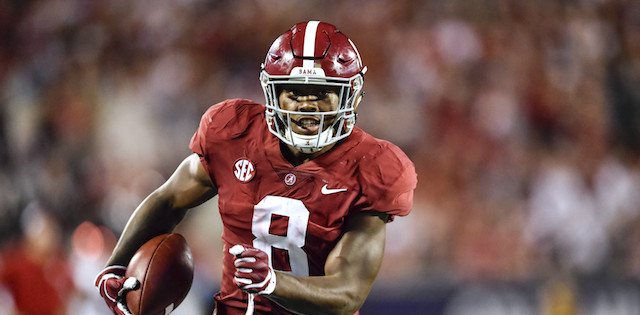 Last year was a particularly great year for rookie rushers, and it served as a reminder for how important it is to get familiar with these backs. Let's analyze the 2019 rookie running back class by considering college statistics, training camp chatter, preseason usage, and projected roles heading into the season. If recent history tells us anything, it's that at least one of these backs is sure to emerge as a fantasy difference-maker this season.
This article will serve as a deep-dive into the current state of the 2019 rookie running back class and determine which players are potential "value" draft picks in accordance with their average draft position. It may seem like an obvious topic to research in fantasy football, but there are plenty of examples of first-year running backs blowing past their ADP en route to season-altering finishes.
All ADP data is from nfc.shgn.com, updated 8/28/19
Editor's Note: Get any rest-of-season NFL Premium Pass for 50% off. Our exclusive DFS Tools, Lineup Optimizer and Premium DFS Research through the Super Bowl.
Sign Up Now!
Digging for Value
Let's start by taking a look at the past three years, where unexpected rookie rushers made a huge impact:
2016:
2017:
2018:
This serves to prove not only that rookie RBs can be the lynchpin to fantasy championships but that value doesn't have to come from the first two rounds of the NFL Draft. That said, let's begin with a look at the top three running backs to evaluate their respective worth.
Unlike last season, there isn't a definitive leader for the "top rookie running back" title heading into the year. However, there are two clear front-runners in Josh Jacobs and David Montgomery. Both of these runners are widely expected to be lead backs, but the edge goes to Montgomery due to the higher potential ceiling operating in the Bears offense with Matt Nagy calling the shots. Remember, it was Nagy calling plays for the Chiefs during Kareem Hunt's breakout season in 2017, a job he did so well that it landed him his first head coaching gig in the NFL.
Montgomery, out of Iowa State, seems to be an absolutely perfect fit for the "Kareem Hunt role" this season. He's an elusive runner with elite tackle-breaking capability, as evidenced by the 109 total broken tackles he registered in 2018. That is the highest single-season figure Pro Football Focus has ever recorded, in college or the NFL. Montgomery finished his 2018 season with 257 carries for 1,216 yards (4.7 YPC) and 13 touchdowns. He's also a receiving threat, totaling 71 receptions for 582 receiving yards during his three years as a Cyclone.
Judging by his work with the first-string offense during the preseason and the glowing reports of his training camp performance, the Bears are viewing Montgomery as their starting running back. There are only a few things that stand in the way of Montgomery being a surefire RB2 value pick this season - the other running backs potentially stealing work and his lack of top-end breakaway speed. The Bears have the shifty RB/WR Tarik Cohen still in the mix and career-backup Mike Davis could vulture touches early on, but it seems likely that the Bears will look to feature the young back sooner rather than later. As for the concerns about his speed (4.63 40-yard dash ranked 36th percentile), well, scouts were saying the same thing about another back coming into the NFL... and his name was Kareem Hunt, who finished RB4 in 2017.
Recommendation
Montgomery's versatility, evasive running style, and projected workload make him a very intriguing RB2 fantasy value to target in the fourth/fifth round.
Josh Jacobs, Oakland Raiders (ADP: 39, RB20)
Josh Jacobs was the first running back taken in the 2019 NFL Draft, selected 24th overall by Jon Gruden and the Oakland Raiders. Though he wasn't utilized heavily at Alabama, he was highly effective when he did get his opportunities. Jacobs rushed 120 times for 640 yards (5.3 YPC) and 11 touchdowns in 2018, adding 20 catches for 247 receiving yards and three touchdowns in the Crimson Tide's runner-up finish. Reports out of camp are that Jacobs is displaying great hands and elusiveness in the open-field - but it's a little tougher to project how his skills will translate to the NFL when he was never a workhorse back in college. Playerprofiler.com's best comparable player is Arian Foster, for what that's worth.
What we do know is that he will be given every chance to be the featured back for the Raiders, as the first-round pick has just Jalen Richard (possible pass-game vulture) and Deandre Washington (highly uninspiring) to compete with. As long as Jacobs can be adequate in pass-protection and his hands are as good as advertised, he'll serve as the feature back for the Raiders this season. As all competent fantasy owners should know, opportunity is absolutely key. Jacobs is in line to get plenty of it in 2019, and there's a good chance that he's in a three-down role quicker than Montgomery. However, Jacobs' ADP is about seven spots higher currently, and there's a decent amount of risk associated with his lack of workhorse-back experience and the fact that he's playing for the Raiders. You know what they say about risk, right?
Recommendation
Target Jacobs as a high-volume RB2 with PPR-appeal, but keep a close watch on his ADP as it's creeping into the "slightly uncomfortable" territory.
Miles Sanders, Philadelphia Eagles (ADP: 72, RB30)
Miles Sanders had an incredible junior year at Penn State, rushing 220 times for 1,274 yards (5.8 YPC) and nine touchdowns in his only year as the lead back. Sanders isn't a power back by any means, but he has impressive lateral quickness and he tested well at the combine (40-yard dash, Speed Score, Burst Score, and Agility Score all ranked in the 76th percentile or higher).
The problem, however, is that the Eagles have a wealth of options at the position. Jordan Howard was brought in, Darren Sproles was brought back, and Wendell Smallwood, Corey Clement, Josh Adams, and Donnel Pumphrey remain on the roster. They won't keep seven running backs, but they might keep five. Reports out of camp have been that Sanders has "easily been the most impressive runner" and that it's "increasingly hard to project Sanders as anything less than this team's No. 1 running back," but it's really difficult to see how Howard and/or Sproles don't zap a lot of Sanders' value this season. Unless something happens on the injury front, Sanders will be a part of a committee and would be a somewhat-expensive speculative pick for where his ADP currently resides.
Recommendation
Sanders is a tough sell as a value at his current ADP due to the Eagles' logjam at the position, but he certainly has the talent to force his way into a larger role and become a factor later in the season with a few breaks. Just don't reach on him as there are better values at his ADP.
Click Here for Part 2, covering Darrell Henderson, Damien Harris, Devin Singletary