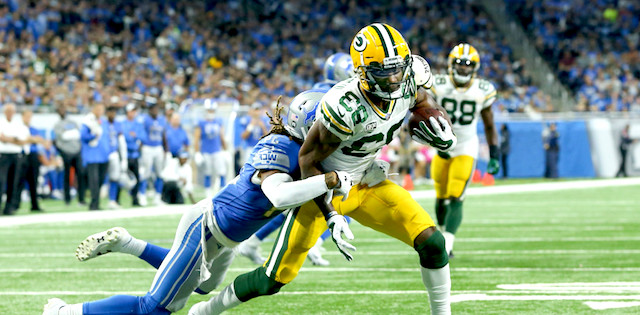 There are a handful of offenses that reliably produce elite fantasy performers year-in and year-out due to the presence of a franchise quarterback. Green Bay and Pittsburgh are among those teams. In 2019, both offenses find themselves in a bit of flux.
For fantasy purposes, we should take notice that each team also has a second-year wide receiver with potential to break out. Both Marquez Valdes-Scantling and James Washington have ADPs in the middle rounds of fantasy drafts (typically rounds 9-11) and could reward owners handsomely. But who will be the better value?
In our latest ADP Showdown, we will examine the factors that differentiate the two in terms of fantasy ceiling and draft value.
Editor's Note: Get any rest-of-season NFL Premium Pass for 50% off. Our exclusive DFS Tools, Lineup Optimizer and Premium DFS Research through the Super Bowl.
Sign Up Now!
Filling Mr. Big Chest's Shoes
We all know what transpired toward the end of last year in Pittsburgh. Antonio Brown let down his teammates by sitting out the final game of the year, the Steelers failed to make the postseason, and he left for Oakland only to complain about helmets and get his feet frozen. Despite the headaches he brought, AB was the most prolific NFL receiver of the past decade and leaves 168 targets available from a year ago.
On an offense that led the league in pass attempts in 2018, Washington was a non-factor; he only caught 16 passes on 38 targets – good (or bad) for a 42.1% catch rate. That number should go up significantly though, with Brown gone. Washington is expected to step into the WR2 role but it may not happen if Donte Moncrief develops a rapport with Roethlisberger. Ryan Switzer is expected to take over the slot role, so if Moncrief leaps over Washington then he could be the fourth target again, possibly fifth behind TE Vance McDonald. Moncrief is one of the more polarizing players in fantasy circles, with many still clinging hope to him as a breakout candidate while others forsaking him eternally. Whatever camp you fall under may affect your opinion on Washington's potential quite a bit.
While it's a small sample size, what we know about Washington is that he was used primarily as a deep threat. Washington had a 16.6 aDOT last year, 10th highest among WRs with at least 10 receptions. Yet, his 13.6 Y/R isn't better than Vades-Scantling's 15.3 mark. Washington was offered many a jump ball but didn't come down with too many, as we noted before. MVS wasn't targeted as deep, but showed better after-the-catch ability. Washington will have to show a huge target increase in order to bring close to WR3 value for fantasy owners.
Washington isn't a huge receiver at 5'11" and didn't test too fast at the combine with a 4.54 40 time. His prolific college stats are at least partially a result of being in a pass-friendly Oklahoma State offense. These don't offer him any advantage over Valdes-Scantling, who is both bigger and faster.
MVS FTW
The Packers welcomed in three rookie receivers last season. Gone are mainstays Jordy Nelson and now Randall Cobb too, replaced by Marquez Valdes-Scantling, Equanimeous St. Brown and J'mon Moore. More importantly, in the offseason, they parted ways with Mike McCarthy after 13 years and have first-time head coach Matt LaFleur running the show. This could cause concern for some but it shouldn't because we know who really runs this show – Aaron Rodgers.
There's a reason McCarthy was replaced and it largely had to do with Rodgers grousing about the playcalling and lack of creativity in the offense. Now, Rodgers will have his thumbprints all over the offense more than ever. He should also enter the season healthier than he was in 2018 when he played through a back injury from the beginning. All told, this passing game will be among the best in the league once again. You want in on this action.
While Davante Adams is the clear top target, there is no consensus on who will be next in line. Marquez Valdes-Scantling should be the frontrunner though, based on last year. Geronimo Allison has had trouble staying healthy and played in just five games last year. All told, he's missed 18 games over three seasons. Fellow rookie St. Brown was slower to integrate into the offense and is clearly running behind Valdes-Scantling this preseason on the depth chart. Moore is not even guaranteed to make the roster heading into this season and Jake Kumerow is nothing more than depth.
MVS caught our attention in Week 5 with seven catches for 68 yards and a touchdown. That was the start of a five-game stretch where he averaged 4.2 receptions and 72.2 yards per game. Then the Pack began their second-half skid, losing five of the last seven and struggling on offense most weeks. MVS fell victim to Rodgers' petty ways, as he often looked away from the receiver when he ran the correct route rather than going with Rodgers' improv call (allegedly). Hopefully, that is all water under the bridge now, so Valdes-Scantling can resume his role as the #2 target in this prolific offense.
Situation aside, Valdes-Scantling has all the intangibles you could want in a breakout candidate. He has 4.37 speed, a speed score in the 97th percentile, a 6'4" frame, and adept route-running ability. When targeting a mid-round receiver, MVS offers little risk with potentially great reward.
Verdict
While many see the upside in Pittsburgh's offense being greater than Green Bay's, that isn't necessarily so. The Steelers are without their top receiver from the past decade, so there will be plenty of targets available. They won't necessarily go to Washington though. His ceiling is 100+ targets and possibly a 65-catch season, but even that would require a massive leap in catch rate and higher usage on intermediate routes. Donte Moncrief is still running ahead of him and we haven't heard anything yet to indicate a breakout is about to take place.
MVS is being drafted as the third receiver in Green Bay but he will be on the field just as often as Geronimo Allison when the team uses three-WR sets and could see just as much action, even if Allison does stay healthy. Although the draft price is slightly higher, typically about a round or so, I have much higher hopes for Valdes-Scantling than Washington. He's at least shown us something in his rookie season and is more likely to take a step forward to WR3/flex value rather than the huge leap required by Washington.
More ADP Showdown Articles