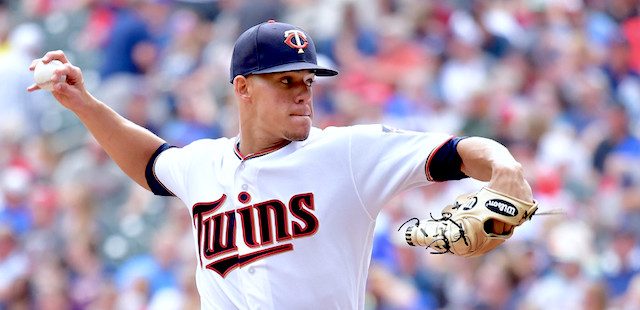 Pitchers and catchers are ready to report, which means baseball season is officially upon us! Maybe you haven't started prepping for your drafts, but fortunately for you, there have already been plenty of drafts, which means that fantasy players out there have already started dealing with tough draft position decisions.
One of the most variable fantasy positions from season-to-season is starting pitcher, making it all the more important to ensure that you maximize the value of the pitchers you take each round.
In this article, we will take a look at two front-line starters who are going very close together in early drafts: San Francisco Giants' Madison Bumgarner (early ADP 74, pitcher 25) and Minnesota Twins' Jose Berrios (early ADP 79, pitcher 27). We will take a look at each players' history in order to determine which of the two you should take around ADP 75-80.
Editor's Note: Get any full-season MLB Premium Pass for 50% off, with exclusive access to our season-long articles, 15 in-season lineup tools and over 200 days of expert DFS research/tools.
Sign Up Now!
Stumbling Bumgarner
MadBum was unquestionably one of his generation's greatest fantasy starting pitchers entering the 2017 season. Things then took an unfortunate turn for him after his infamous dirt bike accident occurred at the end of April. After missing over half of the season with bruised ribs and a sprained throwing shoulder, he then suffered an unlucky metacarpal injury just before the start of his 2018 season. Despite these injuries, Bumgarner's 2018 numbers looked solid on the surface: a 3.26 ERA with a 7.57 strikeout per 9 rate, a 2.98 walk per 9 rate, and a 1.24 WHIP over 129 ⅔ innings pitched. However, there were some alarming signs after digging deeper.
The two big negative impacts of Bumgarner's injuries were a decrease in IP (he hasn't made it to 130 IP in each of the last two seasons) and a decrease in velocity; Bumgarner's fastball and cutter have both decreased significantly in the last two seasons. The IP is something that could likely return to normal. Assuming he can avoid another freak accident, Bumgarner could easily pitch at least 200 innings in 2019. The velocity, however, is not something that will likely come back, and it is this lack of velocity that could lead to trouble for Bumgarner.
Bumgarner's decreased velocity has discreetly impacted his performance over the last two seasons, particularly last season. His 2018 K/9 rate was its lowest since 2010 while his BB/9 rate was the highest of his career. Further, his hard-hit rate of 41.6% was significantly higher than his career average of 29.1%, and his FIP (3.99) was almost a run higher than his ERA.
Entering his age-30 season in a pitcher-friendly ballpark, it is certainly possible that Bumgarner could reinvent himself to still be a successful pitcher. However, from a fantasy perspective, all signs point to a decrease in value. The effects of his injuries suggest a decrease in strikeouts, an increase in walks, and an increase in ERA, while a rebuilding offense behind him will limit his chance of getting wins.
Berrios: Becoming an Ace?
Jose Berrios has been on the fantasy radar since 2016 as a potential fantasy stud waiting to bloom. While his Major League career didn't start so hot, the 24-year-old has learned and improved with each season. His 2018 numbers were solid: a 3.84 ERA with a 9.45 K/9 rate, a 2.85 BB/9 rate, and a 1.14 WHIP over 192 ⅓ IP. Given his increasing performance with each season, his underlying stats, and an improved Twins lineup, Berrios may be able to elevate himself to a top fantasy tier in 2019.
Berrios has shown many positive signs and substantial improvement season after season. First, it is worth noting that he has posted better numbers while gradually increasing his innings workload (58 ⅓ IP in 2016, 145 ⅔ IP in 2017, 192 ⅓ IP in 2018). This suggests that Berrios should be able to perform at a high level while carrying an ace's workload. In terms of improvement, Berrios posted a career-high K/9 rate and a career-low BB/9 rate and ERA in 2018. Further, his 3.90 FIP confirms that his ERA was legitimate. Digging deeper, Berrios experienced strong jumps in both strikeout percentage (22.6% in 2017 to 25.4% in 2018) and swinging strike rate (9.4% in 2017 to 11.2% in 2018) with a decrease in contact rate (79.3% in 2017 to 76.2% in 2018).
It looks like everything seems to be falling into place at the right time for Berrios as he begins the prime years of his career. With consistent improvements in strikeout metrics and control and no glaring warning signs, it seems that Berrios offers a great deal of fantasy upside in 2019 and beyond.
The Final Verdict
After reviewing the evidence, it seems pretty clear that one of these starters offers much more value than the other in the 75-80 draft range. Bumgarner is no longer the consistent ace he once was and only has room to fall, while Berrios seems to have everything going for him and has the potential to propel into ace-dom in 2019. Outside of their individual parameters, Berrios will benefit from what looks to be a competitive Twins club this season. Bumgarner, on the other hand, may have a better park to pitch in but will have a much worse team around him overall. While Bumgarner will still be useful in fantasy, he looks to be more of an SP3 for 2019, whereas Berrios presents solid SP2 value with potential low-end SP1 upside.
More Fantasy Baseball ADP Analysis