Sometimes you can smell it coming and other times it's out of nowhere. Breakouts can happen at any time at any age, and when they do happen, they become a fantasy manager's best friend.
With young, developing players who display continued improvement over a few seasons, breakouts can be seen with relative ease. However, it's never a guarantee as baseball is a humbling sport, one that kicks you while you're down. Not all paths to stardom are linear as patience, hard work, and perseverance are required to put it all together in a breakout campaign.
Of course, there were more than five pitchers who broke out in the 2022 season. A breakout is relative to a previous standard, after all, so this list could certainly go longer than five pitchers. Nonetheless, let's focus on five starting pitchers that broke out and finished among the game's best in 2022.
Editor's Note: Our incredible team of writers received 13 award nominations by the Fantasy Sports Writers Association including Baseball Writer of the Year, Football Writers of the Year, Golf Writer of the Year and many more! Be sure to follow their analysis, rankings and advice all year long, and win big with RotoBaller!
Read More!
File this one under the "saw it coming from a mile away" category.
Dylan Cease's stuff has never been in doubt, but his career didn't exactly get off to a scorching-hot start. The young right-hander worked to an even 5.00 ERA but struggled with control in the form of an 11.9% BB% across the 2019 and 2020 campaigns. However, the 2021 season officially put him on the radar as a serious breakout candidate in 2022.
Cease improved across the board in 2021, posting a 3.91 ERA while lowering his walk rate to 9.6%. What stood out most was the massive surge in strikeout rate from just 17.3% in 2020 to a whopping 31.9% mark in 2021. His resulting 22.3% K-BB% in 2021 was an astronomical improvement from a minuscule 3.9% mark in the 2020 campaign.
And then came 2022. Cease dominated to the tune of a 2.20 ERA -- third-best among qualified MLB starters -- along with a 19.9% K-BB% that checked in at 12th. Walks remain a working point as he still posted a 10.4% BB% in 2022, but he was among the most dominant pitchers in baseball.
It also appears it was for real.
Cease was the American League Cy Young runner-up and even finished with down-ballet MVP votes in 2022. All part of a breakout season for the new White Sox ace.
From a Cy Young runner-up to a Cy Young winner, Sandy Alcantara's 2022 season was a major breakout even if he too was trending in the right direction.
In fact, the 2022 season marked the third time that he's made at least 32 starts in a season. He's spent parts of six seasons in the big leagues, but made just 14 appearances between his first two seasons and made only seven starts in the shortened 2020 campaign. In other words, he's now made at least 32 starts and pitched a minimum of 197 1/3 innings in all three seasons he possibly could have.
Clearly, something was brewing here. After all, he's worked to a 3.88 ERA or better in each of his last four seasons (including 2020) and posted a 3.19 mark in 2021. However, Alcantara exploded for a 2.28 ERA in 2022, ranking fifth in baseball and second in the National League in that department.
Never a huge strikeout pitcher, the 27-year-old possesses elite control these days. In 2019, his first full season in the bigs, he posted a 9.7% walk rate, a figure that sank all the way to 5.6% in 2022. The K-B% has improved dramatically over the last two seasons.
The right-hander also lowered his home-run rate to just 0.63 HR/9 and kept his ground-ball ways intact with a 53.4% mark in that department, also a career-high.
Perhaps most telling about his career year is the fact he went 14-9 on a 69-93 Marlins club that ranked 28th in runs scored. All part of a breakout 2022 season for the Marlins ace.
The third consecutive 27-year-old to hit this list, Zac Gallen's 2022 season actually came off a down 2021 season by his lofty standard.
It was easy to see something brewing after the right-hander turned in a 2.78 ERA across 27 starts from 2019-2020, but the 2021 season wasn't nearly as smooth. Gallen slipped to a 4.30 ERA while winning just four of his 23 starts. His home run rate rose to a career-worst 1.41 HR/9 clip.
The 2022 season put any of the lingering concerns from 2021 to bed. Gallen worked to a 2.54 ERA in 2022 alongside a career-best 6.6% BB%, 20.3 K-BB%, and 0.73 HR/9. After going 4-10 in 2021, Gallen went 12-4 on a D-backs club that finished the season 14 games under .500.
Only Justin Verlander held hitters to a lower batting average than the .185 mark Gallen yielded while his 0.91 WHIP also ranked second to the American League Cy Young-winning Verlander. A .237 BABIP helped and it's well below his .263 mark, but MLB pitching leaderboards are littered with favorable BABIP figures. Gallen ranked in the league's 78th percentile in expected batting average against.
He also went on a crazy late-season run, going six straight starts spanning 41 1/3 innings without giving up an earned run. He pitched a minimum of six innings in all of them and at least seven frames in five of the six outings.
All told, Gallen's 4.3 fWAR in 2022 was good enough for sixth among NL pitchers and 12th overall. He finished fifth in NL Cy Young voting in what was a remarkable 2022 breakout campaign.
It sure didn't take Shane McClanahan long to put his name into the best pitcher in baseball conversation following a dynamite 2022 season.
In just his second season in the league at age 25, McLanahan posted a stout 2.54 ERA and 24.3% K-BB% across 28 starts and 166 1/3 innings pitched. Looking across all of baseball, McClanahan was a staple on the pitching leaderboards a season ago.
2.54 ERA (T-eighth)
SIERA: 2.82 (fourth)
30.3% K% (sixth)
24.3 K-BB% (sixth)
.193 AVG (fourth)
0.93 WHIP (third)
Not too shabby for the sophomore southpaw. He was another solid breakout threat in 2022 on the heels of a strong 2021 rookie campaign, but the improvements across the board are rather impressive.
Not only did he dominate the league in just about every area but took a serious leap forward from his impressive rookie season. McClanahan ranked in the league's 80th percentile or better in hard-hit rate, xERA, xBA, xSLG, K%, BB%, whiff%, chase rate, and fastball velocity with an average of 97 mph on his heater, a few ticks above his 96.7% mark from 2021.
There's a reason why McLanahan is going to be one of the first pitchers off the draft board in 2023. He's a top-tier dynasty and redraft option after a breakout season for the ages in 2022.
See, I told you not all breakouts are alike! Anderson's monster 2022 season was hardly visible prior to the season given his track record entering his age-32 season.
Indeed, the southpaw posted an ERA figure of 4.37 or worse in each of his previous five seasons. He was serviceable with a 4.37 ERA for the 2020 Giants and a 4.53 mark in 31 starts between the Pirates and Mariners in 2021, but no one could have predicted what 2022 would bring.
Anderson shocked his way to a 2.57 ERA in the 2022 campaign, good for 10th in all of baseball among qualified starters. He's never been much of a strikeout artist with a career 20.3% K%, but he lowered his walk rate to a career-best 4.8%, tying him for eighth in the bigs alongside Yu Darvish and Miles Mikolas.
The Oregon product also managed to avoid hard contact and barrels with the best of them.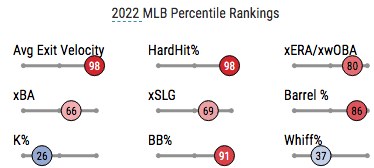 Anderson has long posted excellent hard-hit numbers, but he finished in the 38th percentile in barrel rate in 2021, leading to a 1.46 HR/9. Anderson's ability to avoid barrels helped him cut that mark in half to 0.71 one year later.
The veteran lefty was able to parlay his late breakout season into a three-year, $40 million deal with the Los Angeles Angels. If he is able to give them anything close to his breakout 2022 effort, it will go down as money well spent.
Download Our Free News & Alerts Mobile App
Like what you see? Download our updated fantasy baseball app for
iPhone
and
Android
with 24x7 player news, injury alerts, sleepers, prospects & more. All free!
More Fantasy Baseball Advice