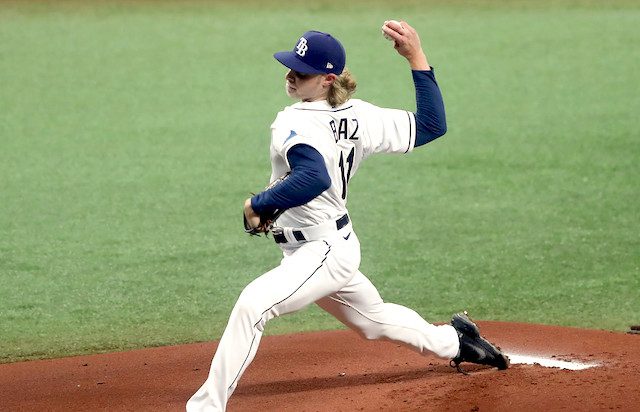 What Appears In This Article?
hide
With the 2023 season coming to and end next weekend, you're either battling for a championship right now or already looking ahead to 2024. That's why I love dynasty leagues. No matter what time of the year it is or where you are in the standings, work can always be done to improve your team for the future. And that's what we'll be focusing on here today.
Last week, I discussed four hitters to target in dynasty leagues this offseason, and I'll be doing the same today with four pitchers to target. This is an interesting group of four with very different profiles and paths to where we are now.
One of the four didn't even pitch in 2023. But for various reasons, I'm looking to target this quartet this offseason as I expect their value to rise or continue rising in 2024.
Editor's Note: Our incredible team of writers received 13 award nominations by the Fantasy Sports Writers Association including Baseball Writer of the Year, Football Writers of the Year, Golf Writer of the Year and many more! Be sure to follow their analysis, rankings and advice all year long, and win big with RotoBaller!
Read More!
4 Pitchers to Buy in Dynasty Leagues
Shane Baz, Tampa Bay Rays
As I'm sitting here on the night of September 21st, I'm envisioning a future where we rank Shane Baz as an ace for fantasy purposes. If you've followed Baz's career or seen him pitch at all, you know that potential future is a distinct possibility if he's able to remain on the mound in 2024 and beyond. But unfortunately, nobody has seen him in game action since July 2022 as Baz has been recovering from Tommy John surgery performed last September. The hope is that Baz will be 100% ready to role when spring training roles around in February.
As we head into the offseason, Baz represents my favorite pitching target in dynasty leagues. When I was able to interview Baz back in April 2020, he was a high-upside pitching prospect that hadn't quite put it all together yet. The key word there is "yet" because in 2021, Baz posted a stellar 2.06 ERA and 0.80 WHIP across 78.2 innings along with a 4.4% walk rate and 37.9% strikeout. Entering the 2021 season, Baz's career walk rate in the minors was 11.6%. Everything he said he was going to focus on during the lost Covid season was on full display in 2021 as Baz improved his command and strike-throwing exponentially.
With a fastball that can touch triple-digits and two lethal breaking balls that have had a whiff rate above 40% in each of his two Major League stints with Tampa Bay, Baz has the stuff to blossom into a true fantasy ace as long as he's finally healthy in 2024.
Emmet Sheehan, Los Angeles Dodgers
On the surface, not many people are going to be satisfied with Emmet Sheehan's 5.13 ERA through his first 54.1 innings with the Dodgers. However, the rookie right-hander has pitched much better than that surface ERA would indicate and Sheehan's xERA currently sits at 3.45 with a .183 xBA and .355 xSLG.
We shouldn't entirely go off expected stats though as those are far from an exact science, but it's the eye test that has me looking to buy right now. Sheehan's arsenal is really good. He's been throwing his 4-seamer, a pitch that garnered plus or better grades as a prospect, 62.5% of the time so far while mixing in his slider and changeup both around 17% of the time. Both the slider and changeup have missed bats consistently in the Majors with a 37.8% and 43.8% whiff rate respectively.
Sheehan's issue has been that he's allowing too much hard contact in the air. On fly balls and line drives, Sheehan's AVG EV allowed is 94.3 mph and the average launch angle off him with the Dodgers is 20.3°. On the flip side, Sheehan's groundball rate is only 32.5%. If he's able to start generating more groundballs and throw more strikes (52.4% 1st Pitch Strike%), Sheehan has the upside of a top-25 starter for fantasy. Use that bloated surface ERA to your advantage if you try and acquire him this offseason.
David Peterson, New York Mets
Alright David, this is the last chance I'm going to provide you. If you burn me again in 2024, we're through! As was the case with Sheehan, Peterson's ERA is currently above five at 5.37. It's not like his xERA is much lower at 5.08. But Peterson is still showing just enough to give me hope that a breakout season could be coming. And for the cost it will take to acquire him right now in dynasty leagues, this is a low-risk investment.
In each of the last two seasons, Peterson has had a strikeout rate above 25% and a whiff rate above 29%. Three of his five pitches have a whiff rate above 32% and four of five above 28%. But the problem is that opposing batters are hitting .314 combined off his 4-seamer and sinker, pitches he combines to throw 51.8% of the time. That mark was a bit better in 2022 but still high at .285.
This feels like a situation where shift in usage rates could really benefit Peterson. He's shown that he can miss bats and also induce groundballs at a high clip (career-high 55.3% GB rate this season), but he's going to need to show better results with his two fastballs to be a more effective pitcher in 2024. But again, the cost is so low right now, I'm willing to take a shot on him.
Robert Stephenson, Tampa Bay Rays
We started this article with a Tampa Bay arm, so let's end it with another one. In 14 innings with Pittsburgh earlier this season, Stephenson had a 5.14 ERA, 1.43 WHIP, and 13.1% walk rate. He was so far off the fantasy radar at that point, even NL Central-Only leagues didn't have him on their draft boards. But ever since Stephenson came to Tampa Bay, he's transformed into one of the best relievers in baseball. In 36.1 innings with Tampa Bay, Stephenson has recorded a stellar 2.48 ERA, 0.72 WHIP, and 41.8% strikeout rate while trimming his walk rate to 6%.
I'm not sure how the Rays continue to work their voodoo magic, but I'm definitely buying into the version of Stephenson we've seen with Tampa Bay. As soon as he joined the organization in the beginning of June, the transformation with Stephenson's arsenal begun.
| | | | | |
| --- | --- | --- | --- | --- |
| Month | 4-Seam | Cutter | Splitter | Slider |
| April | 20.0% | 0.0% | 3.5% | 76.5% |
| May | 37.5% | 0.0% | 5.9% | 55.3% |
| June | 27.5% | 32.0% | 17.6% | 22.9% |
| July | 13.2% | 73.6% | 13.2% | 0.0% |
| August | 23.9% | 67.9% | 8.2% | 0.0% |
| September | 8.4% | 76.8% | 14.7% | 0.0% |
The Rays immediately had Stephenson start using a cutter grip more and quickly phased out his slider. The cutter on average has been about four mph faster than his slider was and currently has a .108 BAA, .270 SLG, and 58.5% whiff rate. When you have those metrics on a pitch that you're throwing over 2/3 of the time, of course you're going to dominate. For the entire season, Stephenson's cutter has the highest usage rate in his arsenal and he didn't even throw the pitch until June.
Overall, Stephenson has produced a 71.1% zone contact rate, 41.2% chase rate, and a 45.6% whiff rate while also throwing a first pitch strike 68.4% of the time. Getting ahead in the count with this level of bat-missing ability is a beautiful combination.
Yes, Stephenson is 30 years old. Yes, he's in a crowded Rays bullpen. And yes, he's been mediocre up until three months ago. But these are all tangible changes and he looks like a dominant reliever moving forward that can make a significant fantasy impact. He's for real folks.
Download Our Free News & Alerts Mobile App
Like what you see? Download our updated fantasy baseball app for
iPhone
and
Android
with 24x7 player news, injury alerts, sleepers, prospects & more. All free!
More Fantasy Baseball Advice