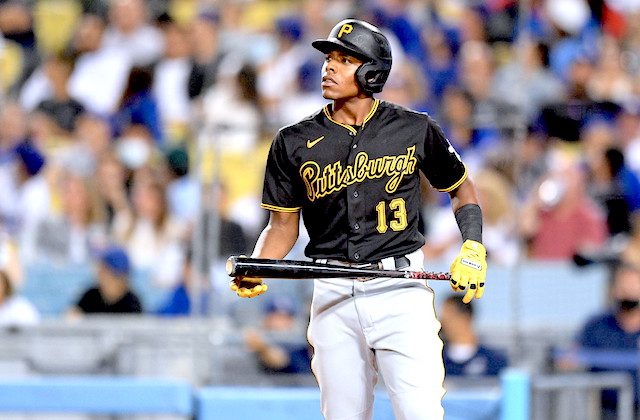 What Appears In This Article?
hide
The 2023 season is coming to an end here in a couple weeks. If the 2023 season were a baseball team, the manager would have the closer warming up to come in and get those last few outs. But even though the days are dwindling, prep for 2024 is just beginning.
That's one of the many joyous aspects of playing in dynasty or keeper leagues. When one season ends, the next one immediately begins and improving your team's future outlook can be done 365 days a year.
In my latest article here on Rotoballer, I'm going to be discussing four hitters I'd be looking to buy this offseason before their price tags rise in 2024. All four hitters have displayed some combination of impressive metrics that have me encouraged for their outlook in 2024 and beyond.
Featured Promo: Get any full-season MLB and DFS Premium Pass for 50% off. Exclusive access to our Team Sync platform, Premium articles, daily Matchup Rating projections, 15 lineup tools, DFS cheat sheets, Research Stations, Lineup Optimizers and much more!
Go Premium, Win More!
4 Hitters to Buy in Dynasty Leagues
Ke'Bryan Hayes, Pittsburgh Pirates
After being a bit lower than most on him during his prospect days, I've now become one of the higher analysts in the industry when it comes to Ke'Bryan Hayes. There's no doubting that Hayes' production, while not terrible, has been a bit underwhelming at the Major League level and certainly not what we were expecting from him. However, there are plenty of metrics under the hood that have me intrigued for 2024 and beyond.
While the overall line this season doesn't jump off the page at you, Hayes has been phenomenal over the last month. Since August 8th, Hayes has slashed .323/.373/.608 with nine doubles, eight home runs, 24 RBI, and 21 runs scored. He's only added one lone steal during this time, but seeing him finally start to put the ball over the fence consistently is very encouraging. And overall this season, Hayes' quality of contact metrics have once again been solid with a 92.5 mph AVG EV and 49.1% hard-hit rate.
Hayes' quality of contact metrics have always been good though. But the difference this season is that he's posted an all-time low 42.8% ground ball rate and an all-time high 13.2° launch angle. That's definitely what we want to see out of him and could help him finally get over the 20-homer plateau in 2024.
I'm expecting the AVG to tick up as well. Hayes is hitting .267 this season but given his blend of contact (81.3% contact), 92.6% zone contact), low whiff and SwStr rates, and quality of contact, Hayes getting up into the .280-.290 range is definitely a realistic outcome. And if that AVG is accompanied by more than 20 home runs and 10 steals, Hayes will solidify himself as a top-10 fantasy third baseman.
Yainer Diaz, Houston Astros
Despite being a top-10 fantasy catcher this season, Yainer Diaz hasn't really generated too much buzz in the fantasy community. In 349 plate appearances, Diaz is slashing .286/.309/.538 with 21 home runs, 56 RBI, and 46 scored. For catchers with at least 300 plate appearances this season, Diaz ranks 2nd in ISO, 2nd in wRC+, 1st in AVG, 1st in SLG, tied for 2nd in wOBA, and is even tied for 3rd in home runs.
But the problem is that he hasn't been playing every day due to the presence of veteran Martin Maldonado. Just look at the last six games where Diaz has started in only three of them, two behind the plate and one at DH. That could all change in 2024 though as Martin Maldonado is a free agent. It's always possible they bring him back, but there's at least hope for more consistent playing time for Diaz in 2024 and beyond.
More playing time would be a beautiful thing as Diaz's metrics are highly impressive. While Diaz is an overly aggressive hitter that currently sports a 3.2% walk rate and 44.3% chase rate, he has shown the contact skills to make it work with a 75.3% contact rate and 87.1% zone contact rate. Diaz has also shown top-notch quality of contact metrics with a 12.6% barrel rate, 90.6 mph AVG EV, and 44.8% hard-hit rate while also keeping his strikeout rate low at 18.6%.
More playing time for Diaz in 2024 could lead to him being a top-5 fantasy catcher.
Jarren Duran, Boston Red Sox
It's really unfortunate that Jarren Duran had to undergo season-ending surgery for turf toe a couple of weeks ago as he was quietly enjoying a breakout season for the Red Sox. And as someone that has followed Duran since his days in the lower levels of the minor leagues, I was very encouraged by what I saw from him this season.
In 362 plate appearances, Duran slashed .295/.346/.482 with eight home runs and 24 steals. This looked more like the Duran we saw excelling back in 2019 before he tried to bulk up and become a major power hitter in 2020/2021. That's just not who Duran is and not ideal for a left-handed hitter that plays half of his games in Fenway Park that is tough on lefty power. When Duran tried to bulk up, his approach at the plate suffered and he wasn't able to find any consistency at the Major League level.
JARREN DURAN WITH THE LEADOFF TRIPLE!

SOMEHOW HIS FIRST THIS SEASON!

He then scored on a Verdugo groundout. Red Sox lead 1-0!

— Tyler Milliken ⚾️ (@tylermilliken_) July 4, 2023
But that's not to say that Duran doesn't have solid power, because he definitely does. At least enough to be a 15-homer threat annually. He registered an 89.9 mph AVG EV and 46.3% hard-hit rate this season with Boston while improving his strikeout, chase, whiff, contact, and zone contact rates along the way. And the cherry on top of this Sundae is Duran's 97th percentile sprint speed that he's not afraid to use.
What we saw from Duran this season was no fluke. He has the contact skills to hit around .280 and the power to hit around 15 homers annually. Add in the potential for more than 30 steals as well and you have a potential top-50 fantasy player.
Jordan Westburg, Baltimore Orioles
While the first two and a half months of Jordan Westburg's Major League career have been solid, his performance hasn't blown anyone away and has created a nice buying opportunity this offseason heading into 2024. In 199 plate appearances, Westburg is slashing .276/.327/.431 with three home runs and four stolen bases. But there are plenty of underlying metrics that make him a good buy and hint at more impactful production in 2024.
Westburg has been registering good contact rates so far with Baltimore, currently sitting with an 86.6% zone contact rate and 77.2% contact rate, He's also trimmed his SwStr rate from 13.9% in Triple-A to 11.1% with Baltimore and has better than league average marks in the chase rate and whiff rate departments.
Westburg is one of just four hitters with more than 150 plate appearance this season to currently have a hard-hit rate above 45%, contact rate above 75%, zone contact rate above 85%, and a sprint speed in the 80th percentile or better. The other three are Michael Harris II, Brandon Marsh, and a player I discussed right before Westburg, Jarren Duran.
Long-term, Westburg has the skills to flirt with or exceed 20 home runs and 20 steals annually while providing a decent AVG and OBP as well. That will come from within an exciting young Baltimore offense while probably also having multi-positional eligibility. Westburg has made 30 starts at second base and 14 at the hot corner for Baltimore since his promotion.
Download Our Free News & Alerts Mobile App
Like what you see? Download our updated fantasy baseball app for
iPhone
and
Android
with 24x7 player news, injury alerts, sleepers, prospects & more. All free!
More Fantasy Baseball Advice