It's the time of year again! NBA draft season is in full effect and I was excited to participate in our RotoBaller staff league draft this week. We added some more analysts to the league this year and made it a 14-team league. We always play the standard 9-cat format on Yahoo, which is by far my favorite site on which to play season-long NBA fantasy.
It's now time to start thinking about how you're going to win your league this year and RotoBaller is here with rankings, sleepers, and all the analysis you're looking for!
This year I did my 9-cat players to target piece for our premium draft kit. I was excited to land several of those guys on my team this year, even if they weren't my early-round targets. Use promo code THUNDERDAN to save 10% off your kit this season and dominate your competition from the draft all the way to the league finals.
Editor's Note: Our incredible team of writers received five total writing awards and 13 award nominations by the Fantasy Sports Writers Association, tops in the industry! Congrats to all the award winners and nominees including NBA Writer of the Year, Best NFL Series, MLB Series, PGA Writer and Player Notes writer of the year. Be sure to follow their analysis, rankings and advice all year long, and win big with RotoBaller!
Read More!
Let's take a look at how things went down in our highly competitive draft this week. Many picks were poached from other writers and there may have been a few expletives typed in the draft chat as a lot of writers were all angling for the same players. But that's what makes it so fun!
Participants in the RotoBaller Staff League
We had a number of returning players this year and a whole bunch of fresh faces, too. Here are the fourteen managers who are participating in the league this year, listed in the order in which they drafted.
Stan Son (@Stan_Son)
Eric Samulski (@SamskiNYC)
Pierre Camus (@Roto_Chef)
Scott "the King" Engel (@ScotteTheKing)
Josh Hayes (@JoshHayesFS)
Euan Leith (@EuanOrYouOut)
Adam Koffler (@AdamKoffler)
"Thunder" Dan Palyo (@ThunderDanDFS - that's me!)
Kev Mahserejian (@RotoSurgeon)
Alex Burns (@alexfburns)
Dennis Clausen (@DennisMClausen)
Milos Zvekic (@zvekete_RB)
Jake Finnen (@HalfCourtJester)
Rounds 1-3 Analysis
Not too many surprises here, although I will admit I thought that Durant or Harden may go earlier based on the status of Kyrie Irving, who with each passing day looks less and less likely to play this season - at least for the Nets.
KAT going at #4 overall was to be expected as our staff consensus ranks have him higher than his ADP. I picked ninth and was pretty happy to get Joel Embiid there. Sabonis going 13th overall ahead of Bradley Beal and a few other second-round studs surprised me a bit, but Milos knows what he's doing and always field a very competitive team. I'm a huge Sabo fan myself, but I think he probably could have had him in the second round if he wanted.
Vucevic is my dude and was a nice value here at #15 overall. I really like what Jake Finnen did with grabbing Beal and Vuc at the turn as both of those guys could arguably be top-10 picks. Rudy Gobert went 16th and I feel like Milos reached there a bit, but sometimes you have to reach for the guys you really want in these bigger leagues, especially when you don't pick again for 20+ picks.
Speaking of reaching, I took MPJ with the 20th overall pick and I felt pretty good about it. I know Adam Koffler was not thrilled with me when I did that but he paid me back in round three by stealing my guy out from in front of me. Porter Jr. is primed for a huge season with Jamal Murray set to miss much of the year and his game is perfect for 9-cat. It came down to MPJ or Fred VanVleet and I honestly would have been perfectly happy with FVV there, too.
Russell Westbrook and LeBron James still went too early for my liking but were drafted later in our league than they will be in most leagues. Guys, these are points league players who you should not be drafting as early as you're used to and I really don't see a way either of them finishes in the top-20 without one of them getting hurt for a long period of time.
Two young dynamic guards round out the last two picks here and while I love SGA, I think Stan Son getting LaMelo Ball at 28th overall was a steal and I am sure he's pretty happy about the way that worked out.
So Stan gets a discount on LaMelo and then turns around and grabs Chris Paul ahead of Deandre Ayton? Stan, what the heck, dude? Hey, CP3 is never going to hurt your team in 9-cat and was once a top-3 player in fantasy. He had a fantastic season in Phoenix last year and is about as safe as a pick as you can make.
Justin Carter then grabbed Clint Capela after Ayton was snapped up by newcomer Eric Samulski who told us the last time he played fantasy basketball was in the '90s. I would prefer Myles Turner to Capela, but if you're willing to punt FT% then Capela is a bigger boon to boards while Turner is the better shot blocker.
Euan Leith may have had the best value on any round-three pick with getting Jaylen Brown at 35th overall. That's right around his consensus ADP, but I think he could easily push up into the top 25 this season as he and Jayson Tatum should dominate usage in Boston.
I was set to snag either Jaylen or one of our staff's favorites, OG Anunoby when Adam Koffler grabbed him right in front of me because he knew I would have taken him in round three. My consolation prize was Khris Middleton, who really fit nicely with my first two picks and helps out everywhere but blocks.
Rounds 4-6 Analysis
Let's just start here with Dejounte Murray going 46th overall. In a league full of NBA writers, several of whom I know are as high on Murray as I am this year, I'm not sure how this happened. Alex Burns was probably beside himself when Murray fell to him there and I know he was someone who was as bullish on Murray as I was.
In round four it was down to John Collins or Jaren Jackson Jr. for me. And the choice was basically made for me when Kev Mahserejian took Collins right ahead of me. Well, the jokes on you, Kev! Collins is a 9-cat stud who contributes across the board but I think his ceiling is capped in Atlanta with Trae Young and Capela eating in his shots and boards. JJJ needs to stay healthy for a full season but man, do I love his potential.
Our NFL and MLB editor Pierre Camus snagged Jonas Valanciunas at 53rd overall and I love that pick, especially paired with his first-round pick KAT. JV should beast out in New Orleans this year and continues to evolve his game with his added shooting range and passing.
Eric landed Derrick White here at 58th overall, which was sharp and I can tell he had our site rankings up when he was drafting - smooth move, Samulski! Like Dejounte Murray, White is primed for a big year in San Antonio. I was really hoping to get Isaiah Stewart here but he was taken two spots ahead of me by Euan Leith, who as a result, is going to find himself without any NBA articles this season as a punishment from his editor.
I was fine grabbing Gordon Hayward here and he is a guy I wrote up for our draft kit as a solid mid-tier value as a 9-category specialist. Even with the emergence of LaMelo Ball in Charlotte last season, Hayward still had a solid year and can contribute across the board.
Kev grabbed Collin Sexton 66th overall for no other reason than he wanted to name his team something fun (Sexton Your Mom). Sexton is boring to me, but a guard who is a boon to FG% while many others can be a drag. Pascal Siakam was finally scooped here in this round, which may end up being great value as the most recent reports have him missing as few as only two weeks of the season. Then Zion was taken, too, which also feels like pretty darn good value at 69th overall.
Yes, Ben Simmons was taken in the 6th round of a 14-team league - that actually happened. With reports that he's set to return to Philadelphia and play this year (at least for now) that's a bargain as even when he's not shooting the ball, he's a stat stuffer whose only real weakness is free throws.
I love the Dinwiddie pick here from Uncle Leo as I think he has a big year in Washington. And I like the Cade Cunningham pick by our RotoBaller radio host Josh Hayes. Cunningham could be slipping in your drafts after not playing this preseason but he should have every opportunity to shine in his rookie season for Deroit.
I took Jakob Poeltl because I have a thing for big men and because someone besides the guards have to score for the Spurs, right? But the story of round six was Alex Burns taking Evan Mobley at 74th overall! I can't even fault him as Mobley has looked terrific this preseason and Alex gushes about him on Twitter daily. He seems content to play the waiting game and let Mobley outplay Jarret Allen and continue to steal minutes from him as the season goes along.
Rounds 7-9 Analysis
Time to go a little faster here, but there's obviously some stuff that jumps out here in round seven. I think you see a lot of guys here who will be going earlier in your home leagues and that goes to show you how bearish we are on them.
Kemba Walker should score plenty this year but is a drag on your FG% and does little else. I know Adam didn't really want to take him but felt he had to at this point. Kyrie Irving is either the steal of the draft here or a wasted pick but it's simply crazy that he went this low even with a 50% chance that he might play. And I was proud of all my league-mates that no one reached for D'Angelo Russell as I feel like he's one of the more overrated players in the league and isn't anything special for fantasy.
Jake Finnen grabbed Andre Drummond here and I hope for my sake (as the owner of Embiid in this league) that he took him too high as Drum is really only going to have big nights when Embiid sits. A lot of analysts took young players or specialists in this round and here I am taking big Al Horford. I am sorry but I have a soft spot for the guy and I remember taking him in the early rounds of drafts 10 years ago and riding him to championships. That was even back in the time when he didn't shoot threes. I like Al a lot in 9-cat and I'm usually okay with non-sexy picks at this point in the draft.
De'Anthony Melton is one guy who stands out to me here as a potentially great value as either a starter or sixth man in Memphis and Jordan Clarkson is about as reliable as they come in his sixth-man role in Utah.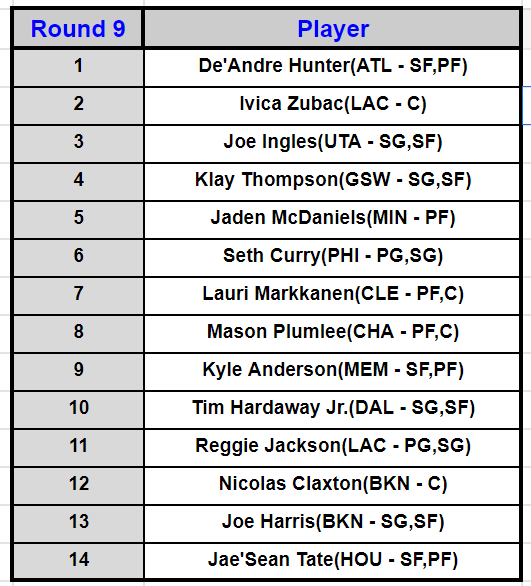 Klay Thompson could be a nice pick here if he remains on track to return by Christmas but there's certainly some nervous apprehension that goes with owning him after he's suffered two major injuries in the span of the last two years.
We are starting to see things thin out by the 9th round in a 14-team league and some of these guys are likely end of the bench types for teams in 10-team leagues. I really love Kyle Anderson and was pumped to get him and Al Horford in back-to-back rounds as both guys are stat stuffers, even if they aren't guys who play huge minutes.
Lauri Markannen and Mason Plumlee are both guys I like a lot who were taken right in front of me and Jae'Sean Tate here at the end of round nine is a young player who could absolutely thrive in Houston this season.
Rounds 10-13 Analysis
For these late rounds, I am going to skip the full round screenshots and just toss out some players who our writers grabbed well ahead of their ADPs.
Kyle Kuzma and Jordan Poole went back to back with picks 129 and 130. Based on what we saw in the preseason, Kuzma is going to have a chance to be a big part of the Washington rebuild and Poole is in line for major minutes at least until Klay Thompson returns.
Alperen Sengun went at 147 and that could end up being one of the steals of the entire draft if he keeps pushing for minutes and works his way into a consistent role (could Christian Wood be in trouble?)
Eric Samulski has been reading too many of Alex Burns' tweets about Josh Giddey and took him at pick 142 - which could still end up being a great pick as the season goes along. Eric also snagged Scottie Barnes one round earlier at 139 and made fellow writer Dennis Clausen proud as Dennis has Barnes well ahead of the rest of us in his rankings. After a solid preseason showing, he might really be onto something there.
Well, that's about it for this piece. I want to wish all of you a lot of success this fantasy basketball season and please make sure you keep coming back to RotoBaller for all of our in-season content!
More Fantasy Basketball Analysis