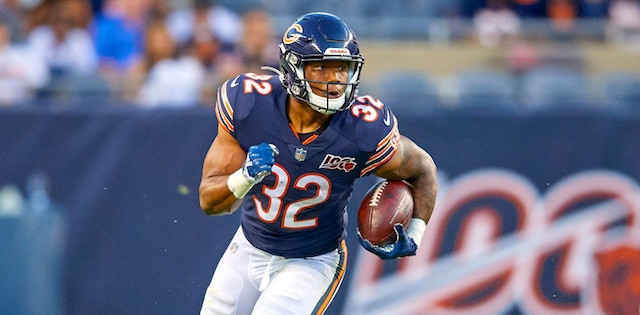 There is no doubt that the 2020 NFL season was far different than any other. We saw multiple postponements, games played on Tuesdays and Wednesdays, and countless players and coaches being sidelined due to COVID. Then there were the injuries...
Altogether it was a year we'd like to forget, but we must learn from the past in order to prosper in the future. We hope 2021 is closer to the norm but there are still lessons we can take away from the past season when preparing for our next set of fantasy drafts.
The RotoBaller NFL staff recently shared their thoughts on which strategies were most effective in dealing with the unknowns of 2020 and how we can use them to our advantage in 2021
Featured Promo: Battle it out on Bettle with your season-long lineups! Join the free RotoBaller weekly contests on Bettle -- just important your season-long lineups and enter! Winners get a free year of RotoBaller Premium access for all sports ($450 value) plus another free $50 in Bettle credits!
Join Now!
The best strategy to deal with the 2020 season was ___.
Accept the fact that player availability could change at any time - far beyond what managers had become accustomed to in previous seasons. I believe that it made us all more proficient at adapting to unexpected developments, which will serve us well in 2021 and beyond. We were also reminded that you can be rewarded for remaining patient with rookie running backs. -Phil Clark
Being patient with rookies and breakout targets. -Scott Engel
Zero RB. If you had a top-three pick and drafted Christian McCaffery, Saquon Barkley, or Ezekiel Elliott, you were basically fighting an uphill battle all season. You could have fielded a strong RB group by waiting and grabbing James Robinson, Antonio Gibson, David Montgomery, or scooping Mike Davis off waivers. -Eric Samulski
Obviously waiting on QB worked wonders. But oddly enough, this was a year where Zero-RB worked out great for managers due to injuries and COVID. -Brandon Murchison
Be as flexible as possible every week. -Dan Palyo
Draft healthy guys with high snap counts. Volume is king. -Aaron Burger
To have plenty of high-quality depth, especially at the running back position. There was a wave of injuries to big-name RBs early on, most notably Christian McCaffrey and Saquon Barkley. The unpredictable nature of the COVID-19 inactives also forced fantasy managers to adjust on the fly. If you failed to draft any impact players in the middle and late rounds, you likely struggled in deeper leagues. -Keith Hernandez
Use the waiver wire proactively to target promising pickups as soon as possible. Grabbing the right player before a great matchup or stashing the right RB as an insurance policy can make all the difference down the road. -Pierre Camus
Work the waiver wire for quality depth, rather than use your bench for lottery tickets. -Steve Rebeiro
Skillful research and the ability to adapt to the ever-changing unknown. -Spencer Aguiar
I wish I would have traded for ___ early on.
David Montgomery -Scott Engel, Brandon Murchison, Dan Palyo, Steve Rebeiro
Justin Herbert -Aaron Burger, Collin Hulbert, Ellis Johnson
Stefon Diggs -Spencer Aguiar, Chris Mangano
Jonathan Taylor -Pierre Camus, Eric Samulski
James Robinson -Keith Hernandez
D'Andre Swift -Mike Riggall
I wish I would have gotten rid of ___ by mid-season.
Ezekiel Elliott -Dan Palyo, Eric Samulski
Kenny Golladay -Pierre Camus, Scott Engel
Michael Thomas -Steve Rebeiro, Mike Riggall
Keenan Allen -Brandon Murchison
Clyde Edwards-Helaire -Aaron Burger
Todd Gurley -Ellis Johnson
Julio Jones -Spencer Aguiar
Tyler Lockett -Chris Mangano
Christian McCaffrey -Collin Hulbert
Russell Wilson -Keith Hernandez
My early strategy for 2021 drafts is _____.
Get an elite tight end early. -Scott Engel
Elite tight ends before anything else. -Collin Hulbert
Draft Travis Kelce! -Steve Rebeiro
Draft the guys whose value is down after 2020. Lots of players -- Michael Thomas, Ezekiel Elliott, Kenny Golladay, Odell Beckham Jr. -- are going to be available at a discount next year. Take advantage of that. -Justin Carter
Look at the elite players that were "busts" in 2020. For example, Michael Thomas is a steal if he slides into the second round. Same with Joe Mixon or Aaron Jones at the back of the first. From there, snag consistent, reliable players. -Ellis Johnson
Remain flexible. Once each draft begins it is wise to avoid internal overthinking concerning robust RB vs. Zero RB etc, and stay focused on the flow of that specific draft. Davante Adams fell to me at #16 in one league last summer. -Phil Clark
To be flexible with strategies in roster construction and to be open to changing my mind on certain players. I won't be opposed to the idea of spending big early on a high-end, dual-threat QB or TE while waiting on the deep WR position. -Keith Hernandez
I will still look to address the RB position early in drafts because as we continue to see, depth is king at the position as the growing committee mentality can be frustrating. -Brandon Murchison
Take more chances on rookies and potential second-year breakouts. There is no longer a waiting period for young players to be a big part of the offense at any position. -Pierre Camus
Target second and third-year studs. -Aaron Burger
Come out of the first two rounds with a stud RB and WR, and then go best player available from there on out. -Mike Riggall
I'm going to focus a lot more on concentrated offenses, like we do with DFS. Certain offensive systems funnel touches to a small number of players which gives those players more stable value and helps give you a solid floor to then take risks in other spots. -Eric Samulski
Download Our Free News & Alerts Mobile App
Like what you see? Download our updated fantasy football app for
iPhone
and
Android
with 24x7 player news, injury alerts, rankings, starts/sits & more. All free!
Win Big With RotoBaller
Be sure to also check out all of our other daily
fantasy football articles
and analysis to help you set those winning lineups, including this new RotoBaller YouTube video:
More Fantasy Football Analysis