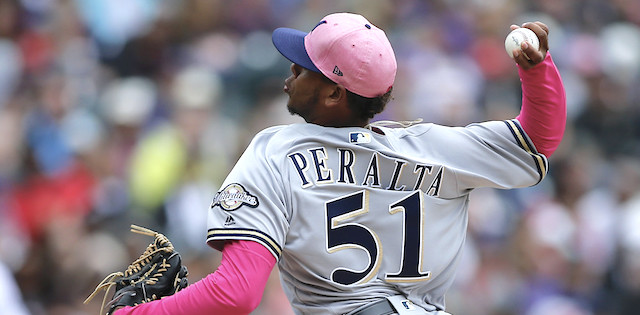 Milwaukee Brewers starting pitcher Freedy Peralta only had a 6-4 record and 4.25 ERA after being called up from the minor leagues in 2018. In his 14 starts, he allowed at least three earned runs in seven of them and walked multiple batters in 11 starts. All of that being said, Peralta is lauded as one of the top starting pitcher sleepers coming into 2019.
So why is Peralta so valuable? The first place to start is the fact that, in 78 1/3 MLB innings, he allowed just 49 hits and struck out 96 batters. In fact, through the majors and minors in 2018, Peralta struck out 188 batters in just 141 1/3 innings, allowing 99 hits. The walk issues show that Peralta is not a finished product (he has walked at least four batters per nine in each of the last three seasons), but his ability to miss bats cannot be understated.
With a known ability to limit hits and strike out batters, can fantasy owners accept Peralta's walk issues and can he be a reliable starter?
Editor's Note: Get any full-season MLB Premium Pass for 50% off, with exclusive access to our season-long articles, 15 in-season lineup tools and over 200 days of expert DFS research/tools.
Sign Up Now!
How Can We Evaluate The Diminutive Dominican?
If there is a better way for a player to start their career than Peralta, you will be hard pressed to find it; Peralta allowed one hit in 5 2/3 shutout innings against the Reds on May 13, striking out 13 batters. He then followed that up by allowing no more than three hits in any of his next three starts, pitching throwing six shutout innings against the Pirates and seven against the Royals. The issue with Peralta this season is the poor start in that four-game spell: he allowed six walks in just four innings against the Royals. In fact, after walking two or fewer batters in three of his first four starts, he walked three batters or more in all five of his July starts.
It is quite clear that there is a give and take with Peralta, as he will limit hits and strike out batters, but also will walk far too many batters. Considering that fact, we need to look both at his ability to miss bats and also to induce softer contact. Two key statistics to look at when evaluating Peralta's ability to miss bats are his swinging strike rate and his percentage of pitches swung at outside the zone. At a 28% swinging rate and 10.8% swinging strike rate, Peralta shows that he is able to confuse batters and stifle them with his fastball. He has one of the top fastballs in the league, a good thing considering that his curveball is slightly above average and his changeup (which he only threw 2.8% of the time) is neutral.
As for batted ball data, Peralta's 30.5% ground ball rate and 41.4% hard-hit ball rate stick out like a sore thumb. Furthermore, with a 52% flyball rate and his inflated hard-hit ball rate, many could say that his 8.7% HR/FB rate was quite lucky as well. His 17.5% line drive rate is the lowest of his career, but hard hit balls in the air should lead to more home runs then they did for Peralta in 2018. As bad as his batted ball stats look, though, he had a 75.9% contact rate that was top-50 among SP with at least 70 innings pitched.
Can We Bet On Peralta Being A Stable Option?
There is not a simple answer to the question above, as Peralta's issue is walks. There is a good chance that he will continue to have those issues. Given that fact, Peralta will need to limit his hard contact, an issue for him in 2018, and keep on striking out batters to get out of jams, a strength from 2018 and for his whole pro career. Peralta may not be the best option to hold throughout the season, but he is a must-stream for teams that strike out a lot.
Peralta's value comes in the fact that he is basically unowned in mixed leagues with an ADP at 321. Simply put, Fernando Tatis Jr. has yet to make his MLB debut and, will likely spend a majority of the season in the minors, and his ADP is 304. Strikeouts are a vital part of fantasy baseball, and are on the rise, and Peralta could be a good, cheap source of K's.
More 2019 Sleepers and Breakouts